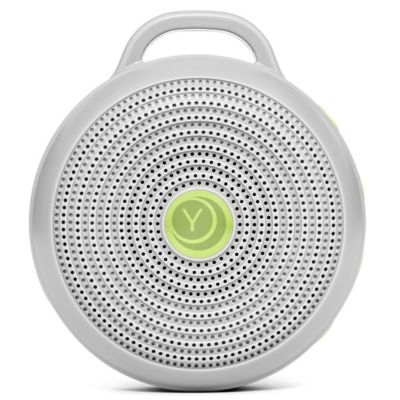 Yogasleep Hushh Portable White Noise Machine in Grey
$23.99
Get 20% off your entire purchase with coupon!
Enroll Now
Most Helpful Positive Review
Fantastic, Highly recommend
Emac
.
6 years ago
We had the original Dohn sound machine at first but it isn't loud enough for our baby. The Hush is plenty loud! Awesome you can adjust volume & type of sound. Very portable - small, light, easy to hold in hand while holding baby or clip on anywhere. Back also has a rubber no skid ring. Better than trying to hold phone & probably healthier than having phone next to baby. The on/off thing is not a big deal - slight delay after holding it to start sound. Blinking light when charging isn't too bad either. This is a must have product in our house.
Most Helpful Critical Review
Stopped working after 2 months
Dawn
.
6 years ago
I received this as a baby shower gift and used this from the day my daughter was born. First in the hospital to drown out all the excess noise, and then at home during her nap time. The charge would last for her whole 2 hour nap and the white noise could get pretty loud if you needed it to. Unfortunately after 2.5 months of daily use, it stopped working. It no longer will turn on and the light does not light up when it is charging. We took great care of it as it was only used in the house. It was great while it worked, but is poor quality since it does not last. Such a disappointment!
customer reviews
Showing 1 - 20 out of 286 reviews
Won't charge
LL . 3 weeks ago
I got this on my registry for the hospital and when we travel. I ended up using it all the time. Started having issues with charging at 6 months. Now at a year it won't work at all even if it's always plugged in. Now I'm reading a review on here that someone's caught on fire in their babies room! I feel sick this could have happened to us. I do not recommend this product. There are tons of sound machines out there. Do you research and pick a safe one. What I am doing now!
Catherine . 3 weeks ago
Worked for a couple months now will not charge.
Three units in
yelhsajane . 4 weeks ago
I love the idea but unfortunately this product keeps dying!!! Our third Yoga Hushh just died on us! Customer service has been absolutely amazing and they are letting us try a different comparable unit so we are crossing our fingers that we will have better luck with something else!

Originally posted on Yogasleep
Used Once and will not recharge. Disappointed.
Kim from Mars . 1 month ago
I received this as a shower gift for my grandson for my house. As the baby only naps here it has only been used once successfully and will not charge.

Originally posted on Yogasleep
Best white noise
BB&B Customer . 1 month ago
Definitely our top 5 items!
Disappointed
SK2022 . 2 months ago
This worked well for a couple of months, but then stopped holding a charge.

Originally posted on Yogasleep
Frustrated!
Susan54 . 2 months ago
I am a grandmother who has used the Hush monitor once a week for two months. One month ago I could not get it to turn on. Today I cannot get it to turn off. It's in the car! No buttons are operational.

Originally posted on Yogasleep
love and hate this sound machine
donttrustcats . 2 months ago
I love this sound machine cause it's so easy to use and you can take it with you on the go. It's been our main sound machine that we've used. I hate it cause it will randomly turn on and stop working. And the only way to 'fix' it is to let it die completely and then plug it in and see if it works again. We've had to do that process 4 times now this past year

Originally posted on bedbathandbeyond.ca
Sound machine won't turn off
Milana . 2 months ago
This product was great in the beginning however we've gotten the same issue multiple times - IT WILL NOT SHUT OFF! And it needs to die in order for it to stop. It drives me nuts. We've tried everything, including turning off child lock and nothing works. We've gotten a defective product and the company is not going to do anything for us. Super disappointed.

Originally posted on bedbathandbeyond.ca
Shuts off
Sleepy . 2 months ago
It keeps shutting off after about 10 minutes and I turn it back in and it does it again

Originally posted on Yogasleep
Worked until it Didn't
MELISSA . 4 months ago
We loved using this in our living room when the baby would nap there or on trips outside the house. However, it broke (won't turn on) after only 3 months of use. I expected it to last longer for the price. Very disappointed.
Love it!
Ivonne . 4 months ago
Weirdly so, my baby loves sleeping with noise around her. This sound machine is the only one she will sleep with. I also have a white noise machine but only seems to like the hushh white noise

Originally posted on Yogasleep
TA2022 . 4 months ago
One of my first items added to my baby registry! Perfect for traveling families!

Originally posted on Yogasleep
Best brand of sound machines
Jen123 . 4 months ago
I have three different sound machines from yoga sleep and they are by far the best we've tried. I have twins and had to work really hard to get them on the same sleep schedule. The sound machines definitely helped and have the best sound quality out of all the ones we've tried. We were gifted a home edics travel sound machine and a homedics with projector light but the sound quality just doesn't compare. Yoga sleep is by far the best!

Originally posted on Yogasleep
Good till they break :/
GennieP . 5 months ago
I have gone through two of these now, and while I love the features and how compact they are, they didn't last long. The first one was within the warranty. So I was able to get a replacement, but the second one has now died and I'm stuck. Sadly I would not buy it again.

Originally posted on Yogasleep
Was Great but no longer works
Grandma Chelle . 5 months ago
This is the second sound machine I have purchased for my granddaughters baby room at my home and like the first sound machine after a couple of months it no longer turns on. it will not reset, nothing about it is working. It was great when it was working but now it's nothing but a piece of plastic. We took good care of the sound machine as it stayed in one place all the time. Would appreciate a replacement or refund by Yogasleep!

Originally posted on Yogasleep
A must!!
Justin y Maritza . 5 months ago
Simple, easy, portable last more than one night on without charging
Great until it's not…
Hanks Mom . 5 months ago
I purchased this for my son and it was great, after a few months it just won't turn on anymore. We have tried charging it or having it plugged in to use and neither work, it seems to be completely dead. For this reason I can't recommend the product, it's great for travel but there are similar sizes options that may not die so quickly!

Originally posted on Yogasleep
Short life span
Momma H . 6 months ago
I have two of these and it seems the newer model doesn't last as long. I had one with my first baby 3 years ago and hers still works and she uses when she stays at grandmas. I got a another one with my second baby so he has his own and it lasted 5 months and died. Very disappointed

Originally posted on Yogasleep
Quality has degraded with newer model
Dan. . 6 months ago
We have 2 of these units and really like them. The first was with the older non-yoga branding and it's still going strong. The second we have is with the newer branding and we've experienced the not shutting off a few times, so just let it run out of battery and then it was back to normal. About a month after the 1year warranty it's completely dead and won't turn on anymore. Quality has gone down with these new yoga sleep models, looking for another brand now.

Originally posted on Yogasleep
Showing 1 - 20 out of 286 reviews