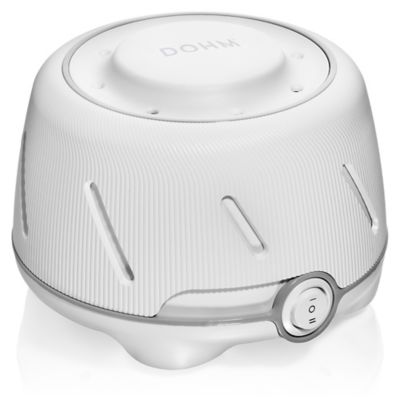 Yogasleep Dohm White Noise Sound Machine in White/Grey
Most Helpful Positive Review
Marpac Sound Conditioner for a Good night's sleep!
NANA
.
5 years ago
White noise is a great sound conditioner for your mind when you are trying to relax and get a good night's sleep. It may take about a week to get a relaxed mindset and sleep well, but the results are wonderful. We have been using this product for about 35 years and we love it and take it with us when we vacation. My children, grandchildren & great grandchildren also use them!!! I would recommend it for any age and even our dogs love it.
Most Helpful Critical Review
Quality lost with new style
Zman
.
5 years ago
The new version of the product is not as loud as the original one. Second speed is what the first speed used to be. Maybe this is on purpose but it's coming across as the quality is not as good as it used to be. Disappointing...
customer reviews
Showing 1 - 20 out of 82 reviews
I wish I could give ten stars
Gigi . 8 months ago
It was a baby shower gift for us and still we have been using for 2 years. Works without an issue. It has two different volume options which also provides to balance its deepness too. It helps our toddler to sleep without being bothered. We are able to enjoy our movie theater or to have our zoom meeting in the middle of the house. My only suggestion is it is a good idea to get a decibel/sound level measure app. So, it would help you to find where-how far to locate the white noise machine and also to see what level is the best (which is around 50 apm for babies)

Originally posted on bedbathbeyond.com
Deborah . 9 months ago
Got as a birthday gift but the sound is loud, and my husband cannot sleep. If I had the receipt i would return it for one that makes different sound...

Originally posted on bedbathbeyond.com
way way too loud
JAMB . 10 months ago
I would have to put it in another room to be able to handle the incredible volume. I definitely can't sleep to it.
Great White Noise Machine
Lauren . 12 months ago
This white noise machine is very simple and straight forward to use, and does the job soothing our LO! You turn the top to adjust the noise level, and it came with a smaller portable white noise machine too. Great pick!

Originally posted on bedbathandbeyond.ca
Works as anticipated
Sc . 1 year ago
Great! I like that it doesn't automatically shut off.
Love my sound machine!
BB&B Customer . 1 year ago
I like that we can adjust the volume and it stays on until we shut it off in the morning.

Originally posted on bedbathbeyond.com
not worth it.
pzarm . 1 year ago
Broke after 2 nights. Stopped working. Very quiet. Not worth the money at all.
Best purchase for nursery
Tiffany . 1 year ago
Have used this in the baby room since babe was born, 14 months now. Works like a dream to drown out house noises. Kid has slept through house music, doorbell, dogs barking. Actually ended up buying the portable unit to take traveling and when my husband travels for work. I know a lot has to do with the kid but this is one of the clutch items in our nursery.

Originally posted on bedbathbeyond.com
After 1 year of use, stopped working
Ren . 2 years ago
This model of sound machine is not built the way that its predecessor was. We still have a Dohm classic that we purchased in early 2018 and it still works great. This one didn't even last 10 months before it started to make weird fan noises and, only a couple of months later, it stopped working entirely. Yes, we used it daily during nap/sleep time, but we took care of it. There must have been a change in the quality of the materials used to build the the classic model versus the Yogasleep. How else can the one we purchased earlier outlast the newer one? Very disappointed!
OK at first, then not usable.
MamaBear . 2 years ago
This product was cool at first. It was for our first baby so we wanted to try all the most recommended gadgets. We'll, we bought it well before our baby was born, so by the time we got to use it for a solid week and realize that it must have some loose pieces, the return window expired. The machine vibrates, and therefore knocks loudly, and we cannot use it. We use the sounds on our Miku monitor (another buyer beware). Wish we didn't get a faulty one as we do bring this with us to the cabin, we just have to lay something plush underneath the machine so the knocking is less noticeable. I would not buy this again considering the quality we received.
Newer version
Sarah . 2 years ago
I love this sound machine but the newer version is not as loud as the older one. I still have the old one from 4 years ago and it's definitely louder than the new one
Great white noise machine
EmDmukes . 2 years ago
I love this! It sounds like a fan blowing, is easy to use and creates the perfect consistent noise. A lot of reviews say that it isn't loud well, it is loud enough to do what you need it to. If the decibels are too high you can harm your baby's ear drums! This helps my little sleep and I even got one for my bedroom too because now I can't sleep without it!
It didn't work after one month of use.
Min . 2 years ago
Totally waste of money.
So Confused
Alexa . 2 years ago
How is this a sound machine?? it is as loud as just a human blowing sound! I probably cant return it because I took it out of the box but literally its like 10 decibels of sound. Don't buy this one if you need your sound machine to help the baby sleep and drown out noise...
not great
stephanie . 2 years ago
This sound machine sounds like an old radio... it's the worst, not soothing at all. We ended up just using the sounds on our halo bassinet. Now that he's in his own room I'll be buying the hatch. It's worth it to spend the extra money
Jany . 3 years ago
Well, I used it for a while, it worked alright, but you can't choose different sounds on it and the only sound it makes is kind of annoying ... gives me headaches. So I'd better find something else
Best Noise Machine Ever
Peytons_Mom . 3 years ago
I bought one for myself and my baby. My niece was so impressed by the machine that she even asked me to purchase one for her. I cannot sleep without it.
Worked great until it stopped working
HJoest . 3 years ago
I bought this a little over a year ago and it worked very well to block out sound during that time. However it completely stopped working last week for no reason at all. I am having to purchase another one- I would think a rather nice sound machine like this would last longer than a year!

Originally posted on bedbathbeyond.com
Did NOT last 4 months... DO NOT BUY!
Katie . 3 years ago
I received this item as a baby shower gift and loved it for three months... until it started making an annoying thrumming/vibrating sound. We barely used the product for four months before this noise started happening! It doesn't matter what type of surface the sound machine is on, it vibrates and makes an extra sound... NOT the pleasant white noise sound I want my baby falling asleep to. I am extremely disappointed with the quality of this product for the price. Have already purchased a different sound machine to replace. Do not waste your money!!
Soothing
Aileen . 3 years ago
This is great! I just bought a second one because we moved the baby into his own room and I got so used to sleeping with it. It generates its own noise, so you don't get the annoying repetition of a recording.
Showing 1 - 20 out of 82 reviews