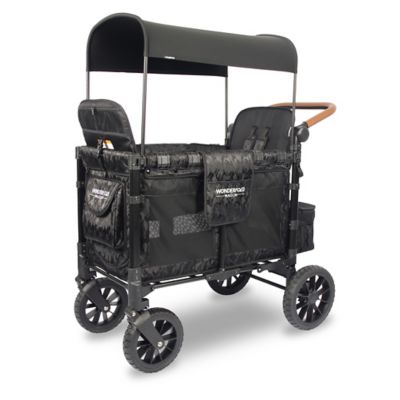 WonderFold Wagon Premium Double Stroller Wagon
customer reviews
Showing 1 - 12 out of 12 reviews
Love our wagon!
Cynthia . 2 days ago
Our wagon is literally the best. We take it with us everywhere. Very stylish and convenient to have. I let everyone know they need to get one!
Big/heavy
BB&B Customer . 1 week ago
When I first saw it I felt in love with it, I thought it was something different and nice looking, when I got it deliver my love was vanished it's extremely heavy and the folding up and down taking everything apart is tedious. My kids don't even like to ride it and when they do I end up pushing a big and heavy wagon. Not worth it.
perfect for moms of multiples!
Courtney . 2 months ago
The best quality wagon I have owned! Pushes so smoothly and the luxe fabric is a breeze to wipe down. Easy to fold and take everywhere

Top Notch Stroller Wagon
BB&B Customer . 3 months ago
Super nice and spacious. Smooth ride, easy to maneuver, and the kids love it. Currently use it for a 4.5 year old and 2 year old. I will say it's a bit heavy to lift, my husband takes care of that part.

Originally posted on bedbathbeyond.com
worth every penny
jordy . 8 months ago
Best thing I've ever bought
Love it!
BB&B Customer . 9 months ago
Very impressed with this wagon! I was on the fence about spending so much on it but I am so glad we did! Rides very smooth even on our rock driveway! I do wish it came with more of the accessories instead of having to buy them separate!
Amazing
Lisa . 10 months ago
My son hates to be confined and to sit for long periods of time. When ever we go somewhere for a day trip, this is a must and saves the day every time. It is heavy and doesn't steer like a normal stroller but it is a lifesaver. Now we are due for a second in a few months and I know this will help a lot more. Caution, even when folded it does take up a lot of space. There is a group you can follow on facebook that people have shared if it fits in their vehicle or not!
Worth Every Penny!
ASHLEY . 2 years ago
If you have been debating on this wagon for awhile, pull the trigger! It's amazing and worth the money. My 4 1/2 yr old is 55lb and 4 ft tall, I can push him in this with ease! He and his 3 yr old (30lbs) brother have no trouble fitting in this together. Highly recommend, this wagon is AMAZING!
Best wagon on the market!
BB&B Customer . 2 years ago
The wonderfold wagon is the smoothest easiest wagon we have ever owned! It's so great! Spacious, easy to maneuver, and such a great community that will help with the product! Find the groups on Facebook!
BEST PURCHASE EVER
BB&B Customer . 2 years ago
I absolutely adore this wagon, it is so easy to push and looks lovely. My kids think it is so much fun to ride in and they love being higher off the ground.

Originally posted on bedbathbeyond.com
Love my wonderfold
BB&B Customer . 2 years ago
I upgraded from a Keenz to a wonderful and I am loving all the extra space. My kids sit comfortably in it and are not crammed in the wagon. I love that I can keep them in there securely without them wandering in stores touching everything.

Originally posted on bedbathbeyond.com
GET IT
Courtney B . 2 years ago
Wonderfold has the best wheeling experience period. As a mom I love for memories made. Endless sibling togetherness. It's great!!


Originally posted on bedbathbeyond.com
Showing 1 - 12 out of 12 reviews