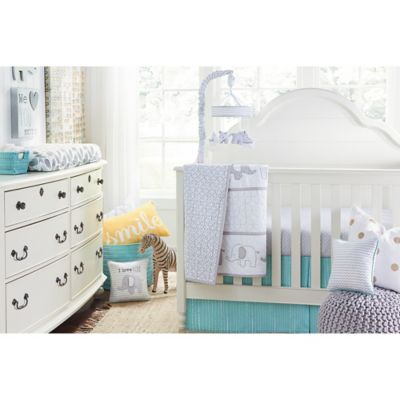 Wendy Bellissimo™ Unisex Mix & Match Crib Bedding Collection in Grey/Yellow
$15.19 - $39.99
Get 25% off & earn 10% back in points with Welcome Rewards™+
Enroll Now
customer reviews
Showing 1 - 20 out of 55 reviews
Poor quality
BB&B Customer . 1 year ago
Poor quality all around. The mobile doesn't even hang over a normal size crib!! It just hangs towards the edge, not the center. The crib attachment sticks out into the sleeping area, creating a hazard. The music box is cheap, as others have noted, and seems like it is about to break. Even when I do wind it successfully, the music plays for 30 seconds. The hanging animals had stuffing coming out of the seams, also a potential hazard. Of course, by the time I had discovered all of these things, I had taken the whole thing out of the packaging and can no longer return it. Can't believe buy buy baby would be selling such a low quality piece!
10x10 inches
anonymousshopper . 2 years ago
Read the dimensions it's cute but tiny. Not sure what it is good for lol.
Soft end comfy, but practical?
Anna . 2 years ago
Super cute and soft, white is just impractical for a changing pad. Why do all baby things come in white?!
8 inch wood art elephant.
Barb Poris . 2 years ago
This piece of wall art completes my grandson's room. Perfect corner piece completing the jungle theme !! Very well made and easy to hang.
Adorable
SLD88 . 2 years ago
Perfect addition to our nursery. Would highly recommend!
best ever
bri . 2 years ago
Super soft, warm, and easy to clean.
Soft and good quality
Pea . 2 years ago
This blanket is very soft. When it arrived, I washed it on gentle cycle with the crib sheets I also purchased. It held up well and did not pile. It also did not shrink in the dryer.
Great changing pad cover
Stephanie . 2 years ago
This is very cute and washes very well. I've been using it for over a year and it still looks like it's new.
Special art our special girl
Joey . 2 years ago
I love this piece in my daughter room! Brings me lots of joy
Cute but not great quality
Laura . 2 years ago
This quilt is so cute but I can't recommend it because after the first wash - on gentle cycle + laying it flat to dry, the stitching is already coming apart.
Looks great but EXTRA LONG..
Aviva . 2 years ago
Looks great but it's "extra long" so doesn't work well with a crib that has a drawer underneath (even on the infant setting)
My favorite changing pad cover!
Taylor . 3 years ago
It's SO cute and I just love it.
Music too short
KF . 3 years ago
I think the music box song is too short, the little elephants are cute.
Great
TTwa1992 . 3 years ago
These sheets are so cute. I haven't had a chance to use them yet but I think they will work out perfect. The only bad thing I would say is they look really thin.

Originally posted on bedbathandbeyond.ca
Completes the crib
KBROWN . 3 years ago
More of a minty color but looks really nice
Adorable look, questionable music box
Sabrina C . 3 years ago
Purchased before my baby was even born and it worked perfectly until he was about 4 months, now it skips parts of the song... don't even know how to fix that. It is super cute and my baby loves It but hopefully it doesn't get worse.
Looks and feels like a good quality mattress.
Suzy . 3 years ago
Just waiting for the baby now!
Love love love this one a lot
Summergurl . 3 years ago
Super cute and soft fits my pad cover great . Matches his room
Do not buy!
Tish . 4 years ago
I bought this for my daughter for her baby shower. When she finally put the mobile up on crib, the mobile lasted maybe 2 weeks. The musical part stops working and when you wind it back up again it will not play. To get the musical part to work you have to turn switch off then back on again and it will play for a bit but not for long. Terrible product! Do NOT BUY!
cute pillow
LindsDiTiz . 4 years ago
this pillow is so cute goes perfect with the theme for my nursery!
Showing 1 - 20 out of 55 reviews