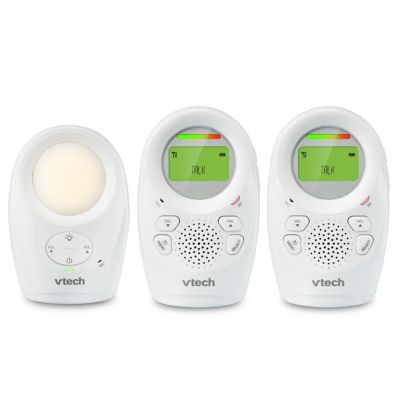 VTech® DM1211-2 2-Parent Unit Audio Monitor in White
customer reviews
Showing 1 - 2 out of 2 reviews
Audio 2 parent Monitor
Teff . 5 months ago
I really do love and appreciate this Monitor was the perfect thing for us.We use it for an adult who's recovering from a stroke this enables us to hear noises and let's us know when she's awake. It was delivered right away. Thank you so much!!
Best audio monitor all around
Madelyn . 11 months ago
I've had the single version of this monitor for three years now and have had zero complaints. I use it to listen for sounds of distress from my now 94 year old mother who lives in our guest house. When she broke her arm recently, I found I couldn't keep the single unit charged because I had it with me 24/7 so started trying the double units. I ended up searching specifically for this model after two failed attempts at the "new and improved" versions. They stunk. Volume too low, charge life a fraction of this one, unexplained beeping(so I'm not a tech-y but I tried everything in the book), and the speaker was also behind the clip that is used to attach it to your clothing so muffling the sound further. I'm so happy this one was available! Thank you buy buy baby.
Showing 1 - 2 out of 2 reviews