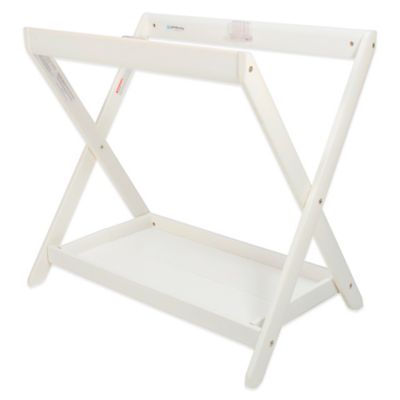 UPPAbaby® Vista Bassinet Stand in White
Most Helpful Positive Review
Worked well
SmallSpace91
.
5 years ago
We're city dwellers with a small space. We decided to use the Uppababy bassinet with this stand as our primary baby bed for the first two months. We bought the white and it's nice looking. I bought a bassinet wedge and put it under the mattress. Our boy is big and has outgrown it already so we've moved on to a mini crib. This actually worked great for us. I do wish the stand was less expensive. It was the same price as our mini crib. I'll plan to store it now and buy the clothes hamper accessory so we can eventually get more use from it.
Most Helpful Critical Review
A Tad Overpriced...
Gennie
.
5 years ago
While the stand is of great quality and of course fits the Uppababy Bassinet perfectly, I do find it to be a bit overpriced, it is only a stand after all. Not to mention it's only feature is a small "storage" space at the bottom. Not sure what we're going to do with it once baby grows out of the bassinet. The overall use of this stand is very limited and clearly Uppababy did not take this into consideration when pricing the item. Of course if there are no other stand options for your Uppababy bassinet then I would recommend this product.
customer reviews
Showing 1 - 20 out of 46 reviews
product received in sub-optimal condition
Annie . 5 months ago
Unfortunately the stand I received was damaged in at least two spots. I waited for a month for it to arrive since it was back ordered and now the return window has already closed… I'm sad that they don't check those things before shipping out to customers. For the price I paid I would have expected a perfect product.

This is not white color
Brisa . 1 year ago
I don't like the color, this is not white, looks like old white or ivory, doesn't look great with old the rest of white furniture and too expensive to look like this
Good Buy if You Plan to Have Multiple Kids
BB&B Customer . 1 year ago
Overall, if you plan to have multiples you will get your money's worth otherwise it's really overpriced for a couple pieces of wood.
Not sturdy…
Bean . 1 year ago
We have the Cruz, Mesa, Bassinet so it only made sense to get the stand for the bassinet. Baby isn't here yet but we set up the bassinet in the stand and noticed (like a previous review stated) the bassinet, once clipped in, can tilt in the stand. Extremely disappointed in the oversight of this problem. I went on countless websites to see if anyone else has the same problem/has a solution since baby is arriving soon. I'm not sure if this is a problem specifically to the 2021 products because all the older reviews don't mention this at all.
Works great!
BB&B Customer . 1 year ago
This is a great stand for the uppa baby bassinet. Sturdy and secure.
Dangerous! Please read before purchasing!
Anthony . 2 years ago
First off in terms of build quality this product is not overbuilt which I would like to see. ( Plastic clips) thin wood. Biggest issue is once clicked in the bassinet has a 2inch give to either side making your child's head lower then his feet which is very dangerous when it comes to aspirating expecially with new borns. The first night we put our baby in he kept aspirating which is quite unnerving and deadly. Once I noticed his head lower then his feet no wonder it was happening. I fixed this by placing a 2lb flat weight in the bottom where is feet are so the bassinet it would tilt up. Once this was done he hasn't done it since. Please do not use this product without weighting the feet side. You don't need a super heavy weight just enough to tilt it so his head is higher then his feet. To be honest this product should be recalled. But if you use this trick it works fine.
BB&B Customer . 2 years ago
Absolutely love it! We didn't buy it right away because it is pricey but we are glad we did. Works great. Just wish it wasn't so pricey.
Not very solid
Car Guy Dad . 2 years ago
Bassinet rocks a bit back and forth. It does not feel solid once it is clicked into the stand. This is my first baby so not sure if the baby will be light enough that it will not matter. Regardless this being our first child my wife and I did not want to take the chance. We ended up returning it and going with a more solid traditional bassinet set up. Supper bummed because we do have the VISTA 2 with bassinet and was really hopping this would be a good solution.
Very useful but expensive
Nicole . 2 years ago
Cons: Overpriced for no good reason. I wish it had the option of some kind of tray that could snap in and be used as a side table for use after baby. Pros: I loved using this! I have a small 1 bedroom condo so anything added HAS to be multifunctional. I kept this in the living room with a cute basket underneath for blankets/toys. This gave me another place to lay her down in the main living area. This is perfect traveling and used it for this function a lot! We packed this up and used this as her bed every time we went to Nini and PopPop's house. It was nice to have a higher bed while traveling and it folds up so easily.
Glad I have it, but way too expensive
Laura . 3 years ago
Overall, the product works well and I liked having it. I debated registering for this as it felt like just another thing to have for a short period, and it is ridiculously expensive for what it is. I debated just using the stroller or putting the bassinet on the floor, but I am glad I had the stand. We did use the bassinet for the first three months with our baby. She is starting to grow out of it, and honestly, I don't think she loved the bassinet. However, it worked! I will probably buy the hamper, but the price of this stand should in the least come with the hamper. This product is way overpriced! If we hadn't gotten it from our registry, I probably wouldn't have bought it myself.
Functional
hsd . 3 years ago
Sadly our baby never wanted to sleep in the bassinet so we were glad that we could get the hamper insert and still get use out of the stand. Very sturdy and functional for use beyond the bassinet stage.
Nice but expensive
Catherine . 3 years ago
We used the Vista stroller bassinet for my son to sleep in our room for the first few months so the stand was necessary. It looks great and did the job but is still a bit expensive for a bassinet stand. Hopefully I can use it as a clothes hamper but that's another item I'll have to buy.
Nice Addition to owning the Vista
LD . 3 years ago
If you own the Uppababy Vista, it's nice to own this and I have used it as the bassinet in our bedroom, but not my favorite product for the price that we have. It does not rock and is high next to bed to lift baby in and out during the night.
UPPAbaby Vista Bassinet Stand
ALopez . 3 years ago
I absolutely love this brand. Unfortunately, I did not use this as much as I thought I would,
Overpriced for what it is.
Kelly . 3 years ago
It's just a stand. It seems pretty expensive for it just being a bassinet stand and nothing else. The stand came assembled at least. It feels sturdy and the dark wood looks like it costs me as much as I paid haha. The main reason we bought this was to sit near my bed since we have limited space and already owned the bassinet from the stroller we bought. Had we not already owned the bassinet, I would have never wanted to spend so much on so little. It collapses into a nice flat piece so it can be quickly stored when not in use.
Lizw . 3 years ago
Perfect size for our small bedroom. I keep baskets at bottom with essentials like diapers and blankets.
Small bedroom
Lizw . 3 years ago
Perfect size for our small bedroom. I keep baskets at bottom with essentials like diapers and blankets.
term1234 . 3 years ago
Expensive, but works well and is easy to use
Great bassinet stand but pricey
goodvis . 4 years ago
I'm only knocking off one star because it is pretty expensive for what it is - just a wooden rack. However, it's super easy to use and a great complement to the Uppababy bassinet. I used this for the first 5 months as an overnight sleeping option for my baby and it worked very well. He's since grown out of it so I purchased the hamper component to get more use out of this piece. I wish it also came in a light birch wood color.
Great product!
msvicki . 4 years ago
Such a perfect fit with the bassinet! We love having it at our bedside and the ease of folding it up to transfer elsewhere in the house. One thing I didn't love is that the paint seems to run off a bit quickly. It happened when I kept placing a rubber exercise ball next to it. Not sure if it's just that ball that caused it but it really annoyed me how quickly the paint started rubbing off.
Showing 1 - 20 out of 46 reviews