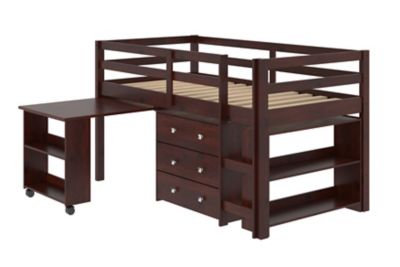 Twin Low Loft Bed with Storage in Cappuccino
customer reviews
Showing 1 - 7 out of 7 reviews
Yikes! Not worth the money.
BB&B Customer . 1 year ago
So it definitely is not what's pictured. The handles are some weird metal with sharp corners instead of being wood knobs. Then the assembly is a disaster. The parts aren't labeled so you have to go through and play a guessing game to figure out which pieces are which. Once you get that figured out the instructions are straight forward. However... you will need at least 4 people to put together the bed portion, 3 for the dresser, and I still haven't gotten to the shelves or desk portion. The holes are only partially predrilled so good luck tightening these down without killing your hands. The dresser alone looks alot sturdier in the picture than it does in real life. Oh and as for it being made out of really wood?! Haha only some of the pieces. The majority of it has a weird finish that scratches super easy. It's very cheaply made. The product is not worth the outrageous price tag... its worth perhaps a third of it at most.

Originally posted on bedbathbeyond.com
Love it
Michael . 2 years ago
Really sturdy once it was put together. Son loves it and ironically he has 2 beds. 1 on top and on underneath like a little hideaway secret cave

Originally posted on bedbathbeyond.com
BB&B Customer . 2 years ago
This is a beautiful bed set but the description is a little misleading. We thought it would be solid wood, only some pieces are. One of the wooden dowel pins was missing and we were given a broken screw. Took us 2 trips to hardware store which was a total inconvenience. Overall it looks very nice and my daughter loves is but because of this experience I will buy from a furniture store in the future.

Originally posted on bedbathbeyond.com
Nishia . 2 years ago
I wanted to rate it a five star but my product was damaged. Nothing major though! Overall the bed was perfect. I'd definitely recommend!
Twin Low Loft Bed with Storage in White
Ani P . 2 years ago
It is great product. Our son loves it. I would highly recommend it to anyone interested in a transition to a "big boy/ big girl bed" and maximize the available space and storage in the room.

Originally posted on bedbathbeyond.com
Low loft twin bed
Bed Bath and Beyond Customer . 2 years ago
Delivery was on time. Very happy with the quality and price.

Originally posted on bedbathbeyond.com
Great Bed!
BB&B Customer . 2 years ago
Well, it was a bit of a challenge to put together, but I pulled through and the finished product was well worth it! The bed is beautiful, sturdy, and solid. The wood is sleek and has a great finish. My daughter simply loves it. The bed seems like it is going to take up too much space in the room from the picture, but it really takes up no more room than a normal bed. Not too high off the floor where I can still reach and make up the bed sheets. Overall, I'm really happy with my purchase!

Originally posted on bedbathbeyond.com
Showing 1 - 7 out of 7 reviews