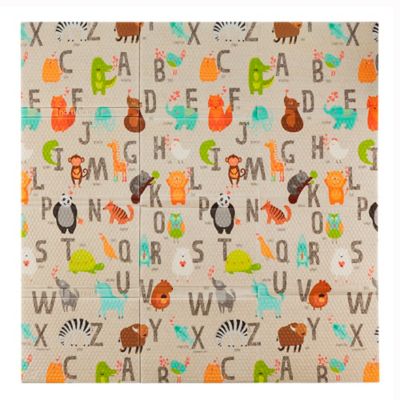 Toddleroo by North States® Superyard® Folding ABC Play Mat
$44.99
Get 25% off & earn 10% back in points with Welcome Rewards™+
Enroll Now
customer reviews
Showing 1 - 20 out of 33 reviews
Love this mat
Baby . 1 year ago
This mat is by far my little one's favorite thing to be on. He loves to talk to the animals on the mat & points to them when I say who they are. I love how easy it is to pack up & store. It is great for the price in my opinion.
Our grandson is mesmerized by this wonderful mat
cesar callan . 1 year ago
The texture, colors, patterns, animals make this his most interactive toy, nine months old and loves to run his fingers across the mat. The folding away in to a tiny package is quite handy to use at the non-primary location where a permanent mat would work best. Since infants toys need to always be improved safety, use and functionality, the pad could be thicker, unless you lie it over a carpet, not a hard floor
Great foldable foam mat
Mamabear . 2 years ago
I really like this mat for my baby. I got it for him when he turned 5 months as he was starting to crawl and roll around more and we have hardwoods which are not great for babies noggins! The overall quality is really good considering it withstands my 70 lb dogs walking across it and not getting ruined. It also does not move on the floor easily which is great for me and for my baby. The only thing I don't like is that there are large indents in two parts where it folds up and they provide no cushion there. My little one has rolled over and his head fell into one of these cracks as he rolled and he would cry which shows me that it is significant enough of a difference that it does not provide any cushioning. These sections are only about 2 inches wide though and this only happened occasionally. Overall, I would say for the price I would definitely recommend this mat and buy it again.
Baby Mat
FA . 2 years ago
Easy to clean and take along on trips!
We love it!!!
BB&B Customer . 2 years ago
Love this pad for the play yard! Love the print for our baby guy. Great for on the go too as it folds up nicely and can easily be put in even the smallest of trunks! Over all we love it at our house!
Good play mat, but not a learning tool
HK Benny . 2 years ago
The mat itself is great! Thick, easy to fold, not ugly. However, the alphabet ends in YXZ and I can't for the life of me see it in the correct order.
Toddleroocarmen
Nickt . 2 years ago
Good functional product, appears to be of good quality. The price was reasonable.
Play mat
Margaret . 2 years ago
very good quality , 8 mth old loves the pictures and tries to pick them up, lol!
I love this mat!
Ali . 2 years ago
I bought this mat for my infant and it was everything I wanted and more. It folds nicely, is easy to clean, and the cute colorful design keeps my baby entertained. When it's folded, he likes to climb on it and pull himself up. We also used it as a room divider when we wanted to keep him contained to a certain area. Overall a very versatile reasonably priced purchase!
egarcia0823 . 2 years ago
This is a great play mat! Folds up easily and is easy to clean if baby spits up. Glad we chose this one.
Easy, convenient
wubooMOM . 2 years ago
This mat is great. I use it for our deck or yard. It's easy to hose down or wipe off. And it's easy, super quick to fold.
Caitlin . 2 years ago
Great mat! Really easy to clean if your little one spits up!
Awesome mat!
Pang . 2 years ago
This mat is a must have! It's thick but also soft. It's also a pretty good size for a great price! I've seen many mats that are smaller or the quality isn't as good and it costs way more. I love how you can easily fold it up when not using or when you need to bring it with you. It also comes with a bag that you can put into and carry.
Loveeeee
Kelly . 2 years ago
This my is awesome. Bigger than we expected. It's not super thick but it's perfectly fine. Beautiful colors and design. . Folds up nicely and goes back in the bag easily for quick clean up. Only thing I should mention is this is a solid mat; you cannot remove it like you can tiles so the size does not change. I read this in the info before hand but I fear some may not be aware.
Great product
MKD . 2 years ago
Great size play mat. Nicely padded. Fun pattern with ABCs. I returned it however because I didn't like the texture of the mat, and some areas were indented in/out according to how the mat folds.
My Son Loves it!
Katerra . 2 years ago
we have hardwood floors so I wanted to get a good mat. I saw this one and thought it was so cute! It was WAY bigger then I thought, that worked out great for us! Its pretty thick so don't have to worry about them falling and it hurting!! Folds up SUPER easy!
perfect floor mat
Sydney . 3 years ago
My son loves it. It is very padded and the design is really cute
perfect floor mat
Sydney . 3 years ago
My son loves it. It is very padded and the design is really cute
Great Mat
Mike . 3 years ago
Love this and our baby loves it also! Would deff recommend
Folding plat mat
Fabiola Muldrow . 3 years ago
This super yard is awesome & convenient ! However my 8 mo old constantly crawled right off , she's on the go and looking forward to walking. We didn't get the full use of it but I would definitely recommend.
Showing 1 - 20 out of 33 reviews