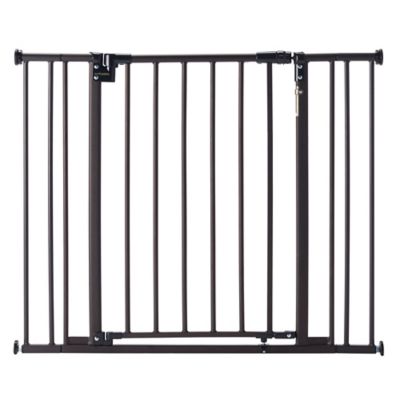 Toddleroo by North States® Light The Way Gate® in Bronze
customer reviews
Showing 1 - 4 out of 4 reviews
Hands down the best baby gate
BB&B Customer . 1 year ago
I absolutely love this baby gate. I live in a tri level townhouse and this was the perfect for the stairs. Not only is it incredibly functional, it was extremely aesthetically pleasing. The light ideas helpful, the top lock was fabulous, and overall unbelievably sturdy. LOVE LOVE LOVE this gate!! (I own two of them)

Originally posted on bedbathbeyond.com
just terrible
yang . 2 years ago
Vague installation guidelines. Very unstable to keep it up.

Originally posted on bedbathbeyond.com
The best gate.
Jonjon48 . 3 years ago
We have tried other gates, this one is by far the best. It is well made and the lock is 20-month old proof, at least for now, she is pretty smart. We love the LED feature.

Originally posted on bedbathbeyond.com
This is the best gate I've ever seen and used!
Doxiedoglady . 5 years ago
This gate is wonderful. I love the lights on it that come on when it gets dark so you can see it and not trip over it. I also love the fact that the bottom bar is actually flat on the floor and not raised up like some gates. No high stepping over it! And it has a nice wide opening to move things through it. I purchased 4 of these! Love it!

Originally posted on bedbathbeyond.com
Showing 1 - 4 out of 4 reviews