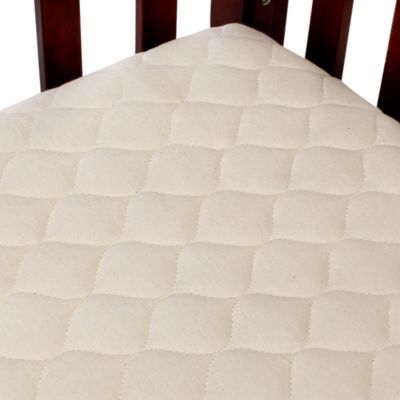 TL Care® Waterproof Crib Fitted Mattress Cover Made with Organic Cotton Top Layer
$31.49
was $34.99
(10% off)
$25.19
Get 20% off your entire purchase with coupon!
Enroll Now
Most Helpful Positive Review
Definitely get it
HappyMama
.
9 years ago
Love the soft, plush feeling that my baby gets that is still safe in the crib. Have the Lullaby mattress and this fits perfectly. My baby spits up a lot so we have to change sheets and the pad frequently. Never has the dampness gotten onto the actual mattress. A previous reviewer noted that, for her, she didn't see the point of this since it does get went under the sheet and most mattresses are waterproof and wipe-able. For me, the reason for this is to make the bed softer instead of baby lying on top of the cold firm mattress. I'd register for at least 2 of these. Totally worth it!
Most Helpful Critical Review
Polyester is not organic...
CJB723
.
9 years ago
While the cotton layer may be organic, the polyester (derived from petroleum) middle and back layers are certainly not organic, far from it.
customer reviews
Showing 1 - 20 out of 37 reviews
Works great
HappyMommy . 4 months ago
My toddler has had a few overnight diaper leaks since buying this mattress protector and every time it's done it's job and kept the mattress dry. It's holding up from washing but I do let it air dry. It's super easy to put on… just like a fitted sheet.
Nice and fits well
Amanda . 2 years ago
Nice quality. Five stars. I'm so happy these fit well, better than most mattress protectors and sheets.
Not good quality
Blah . 2 years ago
Worst product I have purchased for baby....followed washing instructions and it lost its shape easily and I don't think it is organic....
Absolutely avoid this product
Mgb . 2 years ago
Under no circumstance should you consider this product
Crib Mattress Cover
Snoweypup . 2 years ago
«::A::» «::W::» «::E::» «::S::» «::O::» «::M::» «::E::»
So far so good
Christopher . 2 years ago
So far so good, purchased 9 months ago.

Originally posted on bedbathandbeyond.ca
Works
Melissa . 3 years ago
Worked like a charm... 30 minutes later and the mattress was bone dry.
good quality
katie . 3 years ago
More white in person. Fits crib well, washed and dry on delicate and has held up well
perfect for my son
HappyMother . 3 years ago
this waterproof crib mattress is amazing. I recommend it to anyone who has a baby.
First 2 fantastic, quality gone downhill
Twinmom2019 . 3 years ago
2 years ago we bought one for our daughters crib. No problem. 1 year later we buy another, again no problem. Last may (2019) we bought two more for our twins cribs and then another 2 after that for back ups. So we have 6 of these. After repeated washes (washer and dryer) the first 2 are fantastic, the other four stick together and do NOT flatten. I can barely get them on the mattresses. Our twins have GERD I'm not not washing. That is so impractical. If you don't plan on washing them fine but if you do be warned it's now a pain. Very disappointed almost a year later.

Originally posted on bedbathandbeyond.ca
Weird after 3 washes
MamaBear . 3 years ago
Organic is important to me so I bought this for my baby's crib. After the second wash the plastic liner was stuck together and bunched up nside the fabric and after the 3rd wash an elastic band came loose within the fabric creating a uncomfortable line up the middle. Poor quality and now I'm out the money and have to find a new waterproof liner.
Great!
ShoppingQueenBee . 3 years ago
Good quality and serves its purpose. No complaints. I've had it for 6 months now.

Originally posted on bedbathandbeyond.ca
Great Quality
Ana N . 3 years ago
Great fit for the standard size crib, really soft and no annoying plastic sound/noise. I can't tolerate any synthetic, polyester or acrylic clothing or even gear for my baby. Of course the mattress protectors need to have the inside layer made of synthetic material to be waterproof, but you can't feel it outside on this one at all, which is great.
Nice
Sally . 3 years ago
This is nice but it's hard to put a fitted sheet over it. Our mattress is waterproof, but I like that this gives a little extra padding. I don't think it's really necessary though.
Durable and effective
C Cagle . 4 years ago
We bought this for our first child and bought a second for the next child (both still in cribs) as the first one is durable and still functioning well. We have always washed and dried our in the washer and had no issues with durability. Comfortable and quiet for the baby!
My baby never slept so good!!!
Mommy of two . 4 years ago
My son is not a sleeper at all (wish he had my daughter's flexibility to sleep anywhere) and I've tried everything to get him to stay in his crib (including buy a number of other mattress pads, sheets, playpen mattress pad...I mean everything!) and sleep even for a short nap and he just would not do it! Normally, even if I attempted to put him in his crib while he was asleep he'd wake up screaming as soon as he knew he was in there. I decided to buy this one since it felt comfy and kind of resembled my bedding, well it did the trick, bc this boy has had zero issues since day one of putting him in! I'm at a loss because just like that everything changed for him. He still isn't sleeping through the night, but he is sleeping a heck of lot longer and being that his naps have always been 15-20 min here and there and now jumped to 1-2 hr naps, I'm one happy mama and he's a happier baby!
Not Thick Enough
Rock . 4 years ago
It's not as thick as I thought it was.
Luxurious soft
Mimi . 5 years ago
Purchased this in pink and love how soft fabric is. Think this will be great when cold weather hits. Ordered another today in purple!
Soft and plush
Mominnyc . 5 years ago
I tried other brands and even the nonorganic version of this one, but this one was by far the softest and the most plush. Not too plush for baby but just makes the mattress more comfy. I like the quilted aspect and it fits the mattress well. I liked it so much I bought 2 for when one is in the wash.
gift
Cathy . 5 years ago
this was purchased for a gift - delivery was quicker than I expected the product has not been opened or used yet but looks full just as I expected.
Showing 1 - 20 out of 37 reviews