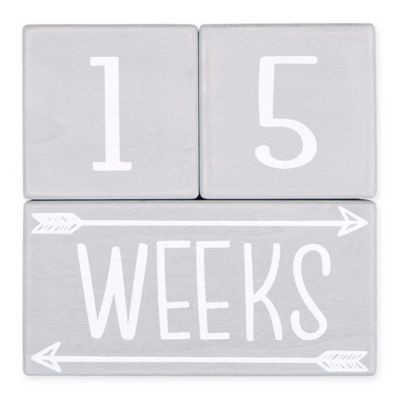 The PeanutShell™ 3-Piece Milestone Block Set in Grey/White
customer reviews
Showing 1 - 8 out of 8 reviews
Do Not Purchase
Bethany . 11 months ago
The milestone blocks are useless, only lets you do upto 6weeks, then you have to drop one of the blocks bc there is only one 0. So really frustrating. Do not buy
doesn't work for all weeks
lauren . 12 months ago
How can you sell blocks that are specifically meant to be used to track the number of weeks for a baby when the blocks don't allow you to capture every week within the first year?! Beyond frustrating!
Great gift
Catherine . 1 year ago
Cute for weekly and monthly milestone photos
Does not allow all weeks
Usha . 2 years ago
It wasn't until I got to 44 that I realized there was only one 4 on one block. So 44, 45, 46, 49 can't be done. Very annoying since I've been taking pictures since his 1st week and I realize this now. Used photo shop for the weeks I am missing.

Buy them! So cute
Rachel BBB Customer . 2 years ago
I like the gray color and these are perfect to include in photos so that you have captured the milestones. Totally worth it
Cute but stupid..
Jolene . 2 years ago
Love the grey and white neutral theme. Annoyed the 0 and 7, 8 are all on the same block and there is no 0 on the second block so can't display 07 Weeks, 07 Months etc for example. As I did for 01 - 06. Also, NO 9? Is mine defective or am I supposed to use the 6 upside down? Looks obviously like a 6 to me. Stupid.
False description, did not get what I wanted
BB&B Customer . 2 years ago
I ordered this specifically because I wanted block that said days weeks months years. Came home from the hospital after having my baby and found the package was delivered. I went to take a 1 day old photo and the block actually says weeks months years grade, which is exactly what I was avoiding buying when looking at age blocks. Grade doesn't make sense because there is no option for jk or sk, so you have to wait until gr 1 to use it. Don't put days option in the description if it is not actually on the blocks.


Originally posted on bedbathandbeyond.ca
I love these!
Eliz123 . 4 years ago
I use them all the time, for all three kids' milestones and I used them during pregnancy as well. I love the color that is neutral and matches every photo shoot. I like the size- I have seen photos of milestone cards that are so small, you can barely see the number! These are right-sized, not too big or small. I have even bought them for friends as a baby shower gift.

Showing 1 - 8 out of 8 reviews