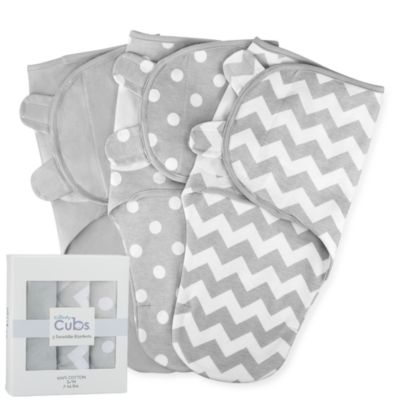 Swaddle Blanket Baby Girl Boy Easy Adjustable 3 Pack Infant Sleep Sack Wrap Newborn Babies by Comfy Cubs (Small (0-3 Month), Grey)
$29.95
was $41.99
(29% off)
customer reviews
Showing 1 - 12 out of 12 reviews
Extremely Satisfied
Newmom . 9 months ago
Love this product from its design down to its practicality. Super easy for a quick compared to when I used to swaddle the old fashioned way. Saves me a lot of time! Also- the item was delivered so quickly. Highly recommend, very satisfied.
so soft and comfortable!
Judith . 9 months ago
I love it ! It Huggs my baby. It came on time. I'm really happy with this product!

Im loving this!
BB&B Customer . 9 months ago
Ive always used the traditional swaddlers for sleep but this is a life saver! It has strong velcros, so much less time consuming and works so much better! Im loving it. Great quality and prints
Reliable comfy lightweight swaddles
Sarah B. . 9 months ago
I love these swaddles! My baby has a hard time sleeping when he's not in somebodies arms and these allow him to be comfortable on his own. They are softer and more flexible than other brands that I have tried and they are so easy to use.
These are a lifesaver with a newborn!
Freeda C . 1 year ago
This is a must-have for every new mom! These swaddles have been a lifesaver for us, they are the only swaddles that my newborn hasn't been able to break out of. It's so simple to use, and the Velcro is amazing!! It closes so perfectly and keeps my baby snug throughout the night. I love how soft and cozy they are, and the designs are adorable. It comes in such a nice packaging, perfect for gifting too!
The Best Swaddles!
Ruth . 1 year ago
I love the Comfy Cubs Easy swaddles, they are super comfy and made really well! My baby now sleeps through the night, i am forever grateful!
wonderful products!!!
BB&B Customer . 1 year ago
I'm so pleased that I purchase this item the quality is amazing. and my baby sleeps through the night with it.
Love there baby swaddle!
Leah . 1 year ago
These swaddle are so comfy and easy to use! My baby loves them and they are super easy to clean.
Super soft and cozy
San . 1 year ago
The newborn swaddle blankets by Comfy Cubs are so easy to use. It really helped to get newborn comfortable with a swaddle and I can never get it right myself so this was a great buy and helped baby fall asleep faster and stay comfortable. The fabric feels soft and comfortable and the packaging is also nice and very giftable for a newborn baby shower.
Calms the baby very well!!
BB&B Customer . 1 year ago
I used this on my nephew who I was babysitting today. The quality is well made stretchy fabric that allows the baby to move, but the Velcro holds up to the movements! Would highly recommend this product!
BB&B Customer . 1 year ago
Looks just like the picture. R Great quality!
Better than expected
Victoria . 1 year ago
Very soft. A little longer than I expected, so they'll be usable longer (I hope). Very strong velcro!
Showing 1 - 12 out of 12 reviews