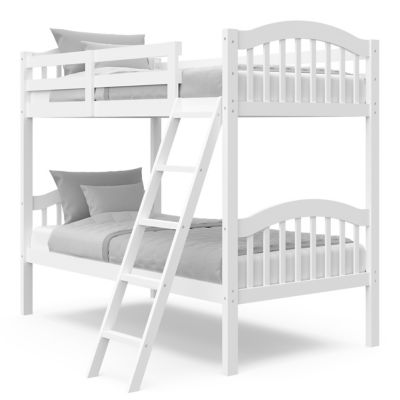 Storkcraft Long Horn Twin Bunk Bed in White
customer reviews
Showing 1 - 18 out of 18 reviews
Great bunkbed
Thania . 2 months ago
[This review was collected as part of a promotion.] We are in need of space and this bunk bed was a great choice for our needs. We love the design and the two beds are completely detachable so you can reconfigure the room as your little ones grow up. Make sure to find a mattress less than 8" inches thin, we took this picture before being aware of that, but we end up having to change our mattresses for defenses.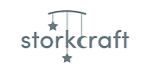 Originally posted on storkcraftdirect.com
Love it
Rebecca . 7 months ago
Great product, very well priced and great quality.
Perfect first bunk bed!
Bekah . 8 months ago
My oldest turned 6 this season so we made the leap and got this bunk bed. It was self explanatory to put together- but I recommend setting aside a full day or two to put it together and an electric screwdriver. The bed is low enough that they don't feel crowded up top, but high up enough off the ground for under bed storage. I love that the ladder is slanted and not completely vertical- it makes going up and down much safer and less scary! My boys are OBSESSED!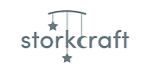 Originally posted on storkcraftdirect.com
Toni . 8 months ago
How long does it take for 2nd box to come
Ladder can't be moved
Right side ladder :( . 9 months ago
We had previously bought a storkcraft bunk bed set and liked it for the quality. Was very disappointed when this set arrived and the ladder can only come down the right side (on our other set it can be easily flipped). Wish this had been clearly called out in the listing.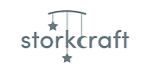 Originally posted on storkcraftdirect.com
Great bunkbed!
KJones . 1 year ago
We purchased a set of these bunk beds for our granddaughters when they come to visit. We liked them so much that we ordered another set because we have four older granddaughters (2-8) and a one year old who is still in a pack n play. They are built very sturdy and we have had no problems with them.
Love it!
Re . 1 year ago
It's pink and it's adorable. Really sturdy and seems like it will last for years. The perfect fit for my kids room.
so frustrating and terrible
bottom . 2 years ago
The sole purpose for me buying this is because of the other raving reviews . Unfortunately for my case the bed came incomplete without screw or instructions and after pulling everything out I have to wait weeks for this to be corrected and the phone rep did not seem very friendly or eager to help correct the problem.
Fantastic Twin Bunk Bed for my Twin Girls
Bucky . 2 years ago
I bought this bunk bed set a couple weeks ago and it is fantastic! All the bed parts were labeled A through P so you knew exactly what everything was. All the hardware came in a bag and was separated and numbered so you knew exactly what screws went where. My father in law came over with his power tools and helped me put it together (power tools not needed but makes it go faster). We got it assembled in about three hours and it looked amazing. My twin girls (age 4) loved them and were so excited to go on them. Looked so good that the 6 year old boy was jealous he didn't get his own bunk bed so he had to sleep the first night on the top bunk with his sister.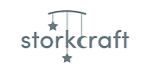 Originally posted on storkcraftdirect.com
Great bed for the price
BB&B Customer . 2 years ago
I have a 3 year old and 7 year old and this is perfect for them. It's sturdy and took about 2 hours to assemble with assistance from my dad. I love the pink color it's not bright but more of a softer pink. Still pretty bright but it matches everything. I love the removable stairs incase little bit decides she wants to climb up at bedtime.
Great value
New mom . 2 years ago
Pretty easy to put together.
Space saver and good value for the money
Not important . 2 years ago
I put this together by myself over a month ago. Not all parts were labeled in my set but everything was there. The directions could have been a little clearer, but my husband translated. The beds do wobble a bit, but I'm not sure if that's poor construction or because the beds are not intended to have two rough preschool boys wrestling and playing :) But for the size, price, and wood type you cannot beat. This will not take up half of the average size room and there's lots of room for storage underneath—-I bought some clear storage containers for toys and there's still room for them to "hide" underneath. I do want to look into vertical (longways) slats for added sturdiness under the mattress. All in all we are happy with our purchase :)
Perfect
Angel P . 2 years ago
Perfect for my 6 and 3yr old. Sturdy
mommyof3 . 2 years ago
Fastest delivery ever! I ordered on Saturday received on Tuesday. Came in two separate boxes, pretty pink for my girls. I had been looking everywhere for affordable bunk beds. It seems like BBB never disappoints and always has what i need.
Bunk bed
Bed Bath and Beyond Customer . 2 years ago
Bed is quite sturdy for the price .
Sturdy!
Susy . 2 years ago
[This review was collected as part of a promotion.] We are so happy with our new bunk bed! easy to set up. It gives my girls a lot of floor space to play etc. The stairs and railings are safe. Also love how sturdy it is!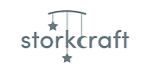 Originally posted on storkcraftdirect.com
Great bed
Nayelirangel . 2 years ago
I am so happy with this purchase. We did not use them as bunk beds but wanted the option of still putting the railing on one fo the beds for our 3 year old which we were so happy we could do still. I'm 7 months pregnant and was able to build both beds alone myself it didn't take long and it was so easy! They look so cute in my girls room and they absolutely love them. The price is great and I was very happy with the quality.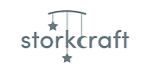 Originally posted on storkcraftdirect.com
High quality
JT83 . 3 years ago
High quality for affordable price. Easy to assemble and just perfect for small space
Showing 1 - 18 out of 18 reviews