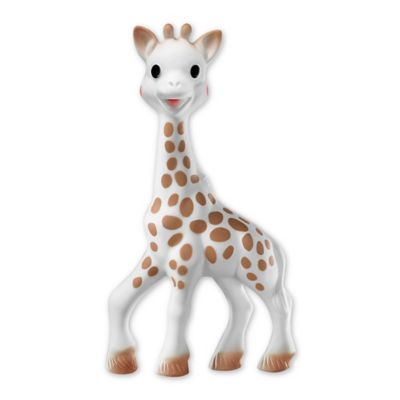 Sophie la girafe® Teething Toy
$21.59
Get 20% off your entire purchase with coupon!
Enroll Now
Most Helpful Positive Review
Best Gift Received
kjok
.
10 years ago
To be honest, I did not register for Sophie. I thought the price exceeded it's potential benefits. However, I received this at one of my baby showers from a mom who said it was her daughter's favorite. I politely said thank you, and thought this thing was boring and dumb. THEN I washed it and gave it to my son at about 3 months. It is by far his favorite toy! He loved the squeak and could hold on to it with ease. Then he started teething. Oh boy! Sophie's ears, nose, hooves, knees and even tush are teethers for my son! He loves each body part equally! I've tried other teethers including vibrating teethers and teethers with water and teethers with gel. I've tried all shapes and sizes both in and out of the fridge. He just looks at me when I try them over and over and goes back to Sophie! It's been a saver the last two months!!! Have I mentioned Sophie is a breeze to clean after I step on her?! Love, LOVE Sophie!
Most Helpful Critical Review
DANGER
MomofBK
.
10 years ago
DANGER! Google: Sophie the Giraffe Choking. In addition...look at SaferProducts.gov and search Sophie. Today my 5 month old daughter rolled on top of her Sophie the Giraffe toy and the front leg became lodged in her throat. Her mouth turned blue/purple and she vomited a bit as she choked on the toy. When I rushed over and picked her up from the face-first position, the giraffe was sticking straight out of her blue mouth. I pulled the giraffe out and attempted to soothe her as she gasped to catch her breath. She seemed ok once she caught her breath, but as it was a pretty traumatic experience for both of us, my husband and I drove her directly to the ER. Her oxygen levels were normal at this point, but her throat was red from the leg being lodged and then pulled out. This was so terrifying. I have been a basket case all day. PLEASE, PLEASE, PLEASE warn and be warned, as the soft, pliable, chewable rubber was easily lodged quite far down her throat with the weight and force of her simply rolling onto it face first.
customer reviews
Showing 1 - 20 out of 156 reviews
A bougie classic :)
MWB . 1 month ago
Yes, she is expensive, but YES she is worth it. I originally registered for Sophie for her popularity/ clout, but we use her because my little loves the perfectly hard/soft natural rubber on her gums. it has been one of her preferred teethers and I highly recommend,
Baby doesnt seem interested in it?
Laura . 2 months ago
I am a first time mom. I bought this when I was pregnant because I had a 20% off coupon and I'd heard that this was a "must-have" item. My baby is now 6 months old and is still completely uninterested in this teether toy lol. He gets bored with it and doesn't interact with it at all like he does with some off his other toys. Im hoping that once he starts actually teething that maybe he will start interacting with it. Perhaps he is just too young for it right now. I hope so because it wasn't cheap.
squeaker doesn't work
Brianna . 2 months ago
My 5 more nth old has never loved a teething toy so much and he has many! But his little squeaky doesn't work
A favorite!!!!
Teri . 3 months ago
As soon as baby can reach out and grab stuff, this is a great teething toy - lots of easy ways to grab it, lots of easy ways to get it to their mouth and it apparently feels good on the gums! Every parent and every grandparent's house should have one!
A baby must have!
MegWB . 4 months ago
It's expensive, yes, but it is one of those toys:tethers you just need for a baby. It's the OG of bougie tethers but it lives up to its name.
Sophie
Aunt Cyndy . 5 months ago
Easy to hold, eye catching and perfect for teething.
Cute
Mary Jo . 7 months ago
I've seen many babies with Sophie so I had to get it for my grandchild that will be born in December
Baby loves it!
BB&B Customer . 7 months ago
I didn't get what all the hype was about this but my baby loves Sophie!

Originally posted on bedbathandbeyond.ca
smells really bad
GGgg . 8 months ago
smells really bad and bad for kids!
great product
Katie . 8 months ago
My son loves this toy/teether. He can get the legs to the side of his mouth which he can't do with a lot of teethers but I don't think it's worth $26 maybe $10
one of the best teething toys
Carolina . 10 months ago
My son has absolutely loved this toy since the second we handed it to him. It's brought so much relief to his little gums now that he's teething. It's definitely a lot more pricey in stores than online but I would 100% recommend this to any new parent


Originally posted on bedbathandbeyond.ca
favorite teething toy
chrissy . 10 months ago
Soft and baby loves it
great teether
Holly . 11 months ago
Wish I would have purchased when my baby was around 5 months instead of 10months. She would have had it early on and been more interested from teething start. She does like that she can chew on different areas and rub on gums. It's durable, bendable and small enough to hold. We will see if she likes it more when her top teeth come through.
Best teether ever
Patricia . 12 months ago
You won't be disappointed this is the only teether I will buy for ever shower I go too
Great but doesn't last very long
BB&B Customer . 1 year ago
We love Sophie, she's my sons favorite thing to chew on but after just three months the toy has split. There is about a 2 inch split along the side of the neck. Since this is constantly in a babies mouth bateria will start to grow in cracks that you can't clean so now it's garbage. I wouldn't repurchase even though he likes it. It's just too expensive to not last longer.
Our Baby's Favorite Teether
Rebecca . 1 year ago
Our little guy (6mo) has probably ten teething toys at this point and showed very little interest in any of them until we gave him Sophie. He loves her!
Sophia's Favorite
Barbara . 1 year ago
I just have one great grandchild, Sophia. I bought this before she was born. Now, every time I see Sophia, I see this toy. She loves it and I am so happy I gave it to her!!! Love Bed Bath and Beyond. Thanks!!
Gift for Niece&Nephew
JDO . 1 year ago
Loved it online and it was on her wish list. It is very cute but was disappointed when it arrived as it was only packed in a plastic bag and the package containing Sofie was crushed. Will have to reorder. Hopefully next shipment will arrive in better condition.
Delicious
TCT . 1 year ago
My granddaughter loves Sophie! Perfect toy for teething! She holds it constantly. It's her new best friend, even better than her pacifier!
damaged box and dirty product
Jina . 1 year ago
My package was delivered in a very bad condition, box was broken and product inside was very dusty, I can not give it to my baby, because it was definitely in a used condition! I am so mad and had very bad experience with this purchase!


Originally posted on bedbathandbeyond.ca
Showing 1 - 20 out of 156 reviews