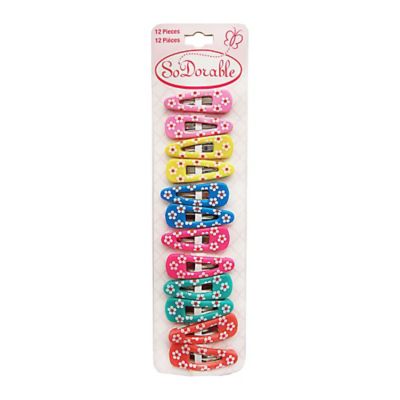 So' Dorable 12-Piece Covered Snap Daisy Hair Clips
$3.99
Get 20% off your entire purchase with coupon!
Enroll Now
customer reviews
Showing 1 - 7 out of 7 reviews
Cutest hairclips
Patricia . 10 months ago
These hair clips are so cute and stay in place!! Such good quality!!
Gifts for new grand parents.
Cori . 2 years ago
I was able to purchase two gifts, one for "Grandma" and one for "Grandpa". You need to offer more gifts for future grand fathers. Maybe a personalize cup or gift as the traditional names like Grandma or Grandpa does not described the new generation.
Uncomfortable
Krystal . 2 years ago
These are poorly made making it difficult to click in and out of place due to the plastic covering, which inofitself has less than ideal edges underneath. Wish I kept the receipt to return, they aren't getting used as my daughter screams to even see me try to come put one in her hair. Garbage.
Super cute but don't recommend
Danielle . 2 years ago
I bought these clips for my toddler to tame the hair that is always falling into her eyes. I like the sturdy design of the actual snap - they never fell out. However, the plastic on top of the metal clip (with the pattern) has some rough edges underneath, plus the gap between the clip and the plastic, means that it is constantly catching strands of hair which makes it super difficult to remove without ripping out multiple hairs,
Little hair snaps
Corey . 3 years ago
Just love these little darlings! Wish you had more color options! Nice purples and lavenders and lots of pinks! Little girlie colors! Thanks!!!!!!

Originally posted on bedbathbeyond.com
incomplete
Johana . 3 years ago
I ordered this for an easter gift and it was received INCOMPLETE! I also paid for gift packaging and it wasn't. Horrible experience, I DO NOT RECOMMEND PURCHASING WITH THIS COMPANY
Snap daisy hair clips
Grandma . 5 years ago
Cute but doesn't hold well in fine hair.
Showing 1 - 7 out of 7 reviews