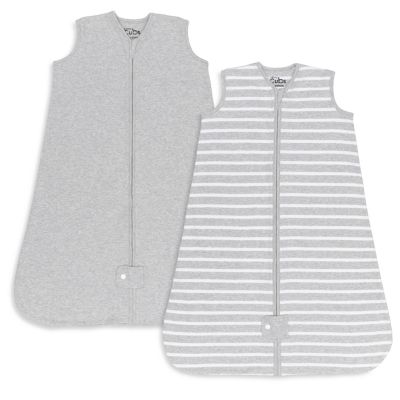 Sleep Bag, Sack for Baby, 2 Pack, Breathable Wearable Blanket Swaddle for Newborns and Toddlers, Cute and Comfortable Onesie, Cotton Softness by Comfy Cubs (Grey, Medium)
$32.99
was $39.99
(18% off)
customer reviews
Showing 1 - 11 out of 11 reviews
Perfect for air conditions or chilly environments!
Miriam . 7 months ago
I got this as a gift for a friend for a newborn. The baby loves it!! She is able to sleep better knowing the baby is warm without any choking hazards/ blankets, and baby is able to sleep better. We also use it for outdoors to helps with the chill without overheating the baby! Excellent product would highly recommend!
so comfy and pretty!
BB&B Customer . 7 months ago
Material is so soft and the design is lovely. I can't wait to give it to my friend at her baby shower
Great safe sleep blanket sack
Mom of three . 7 months ago
Great sleep sack for safe sleep. Blanket material isn't too thick or thin. I use it with a long sleep onesie to ensure my little one isn't too cold at night. Will definitely buy more. The dual zipper action is a great benefit for late night diaper changes
Soft and breathable
ELB . 7 months ago
Love the soft material. Very useful that they are sleeveless so they can be used in the warmer months! Love the gray color as it very gender neutral! thank you comfy cubs! can't wait to try your other products!
love the fabrication!
Judith . 7 months ago
It's super soft. I love that it's not too thick or too thin. It zips up really nice and easily!
Super Soft and Comfortable
BB&B Customer . 7 months ago
Really love this sleep sack set - it's so soft and comfortable for my baby
Cozy and safe
Sandra . 7 months ago
The Comfy Cubs Sleep Bags, Sack for baby are very easy to use. They have a zipper and a button so zipper doesn't bother baby. They are super soft and comfortable. They keep baby warm without overheating. It makes me happy to know I don't have to worry about baby's safety as these solve any issues with blankets. They look super cute on baby also and come nicely packed for a good gift as well.
Great sleep sack!
Happy Customer . 7 months ago
This sleep sack has a really nice cotton stretch. The material is super breathable and the fit is great!
Great product
BB&B Customer . 7 months ago
These are great sleep sacks. They are roomy enough for my baby to move his legs around freely while snug enough to be safe. I love the grey pack that matches my babies crib and pajamas. They are a really nice material that keeps my son warm and cozy while being light enough for the summer. Overall these are fantastic!
My baby loves this!
BB&B Customer . 7 months ago
These sleep sacks are really soft and breathable, My baby was comfortable, but not too warm, and also looks cute in the neutral grey color/pattern! They are lightweight enough to layer with a pyjama onesie all night and cozy enough to wear for day naps with shorts/t-shirt or just diaper underneath. I would definitely buy these again and it would make a perfect baby shower gift.
Great quality
BB&B Customer . 9 months ago
My daughter won't sleep with another sleep sack. The zipper is super smooth and washes well in the washing machine. Highly reccomend!
Showing 1 - 11 out of 11 reviews