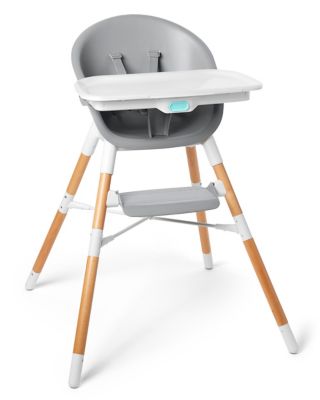 SKIP*HOP® EON 4-in-1 High Chair
customer reviews
Showing 1 - 20 out of 25 reviews
Great High Chair
Momofthree . 1 month ago
Easy to set up and take apart. The seat angles back slightly so the child can't reach items placed further back upon the tray table. Plastic topper tray makes for easy clean up. child restraint straps are very secure.
Great high chair
BB&B Customer . 2 months ago
Love this high chair. I purchased another high chair first and hated it so bought this one. This high chair is easy to clean, and I was so impressed it hasn't had food stains on it, event after eating bolognese! My child also is much more comfortable and enjoys meal times more!

Originally posted on bedbathandbeyond.ca
Easy to clean
BB&B Customer . 3 months ago
I love how easy this is to clean. The highchair we had before would get food stuck in books and crannies and it always looked dirty. This is sleek, very easy to get totally clean and is cheaper than similar styles.
Hard to install
BB&B Customer . 3 months ago
I spent 2 hours trying to put this chair together. I have twins and didn't bother to open the second box. After trying to put this chair together realized the parts did not align. Will have to return.
Love The High chair
Cvvv . 4 months ago
[This review was collected as part of a promotion.] I bought this high chair after comparing other models and prices. I love that the high chair grows with the child. I love that it's easy to clean and that it has a harness for my child who moves around a lot which prompted me to buy a highchair instead of using a booster seat

Originally posted on carters.com
EASY TO CLEAN!!!
Amanda . 5 months ago
If you are going the route with baby led weaning, this is your high chair! I returned the one I originally got from my shower and exchanged it for this and I couldn't be happier!
Love this highchair
Laurabethb . 5 months ago
Baby just started consistently using this about three weeks ago. She's five months. She leans a bit to the side so we have to shove a towel behind her. I would love an insert for babies. That being said, it's very sturdy and I feel safe with her in it. The buckle is tight however it does loosen with time. Had a lot of trouble the first few days but it's tight but comes apart ok now. It's a steric ally pleasing as well. I would definitely recommend this one to a friend.
Originally posted on skiphop.com
Buckle is Unusable
Shelbz2057 . 7 months ago
The buckle on the harness is very poorly designed. I couldn't get it open after trying for 30 minutes and my baby wasn't even in it. That would've made it even more difficult. It's a good high chair but know that you will need to purchase a replacement five point harness to be able to use it.

Originally posted on skiphop.com
Buy it
Kayleen . 8 months ago
10/10 easiest to clean! I'm on my 3rd child and I wish I'd of had something this simple clean with my first two! I bought a competitor's brand with all the bells and whistles but the cloth on the comfy seat back padding was SO hard to clean, let alone try to scrub the food that was smacked into nooks and crannies out! This design is sleek, convertible, & way to clean! Love it
Easy to assemble!
Kgstorm . 11 months ago
Easy to assemble and convert to toddler chair. Only tricky part is to not lose the feet for the chair. Would be nice if there was a place to hold the pieces under the chair when it is a high chair.
Great high chair!
CS3 . 11 months ago
We've had our high chair for about a month and it is great! We love the look of it and the adaptability it will have one day. Our son is still a little too small and slides a bit, but as he grows I know it will work well for him. I wish the foot rest was adjustable for his height, but that's my only concern.
Modern, easy to assemble
CA . 11 months ago
We purchased in January 2022 with the goal of selecting a chair that our child could growth with and that is easy to clean. The chair checked all the boxes! It was easy to assemble, has a modern look and is light weight. Very pleased with the purchase and would recommend. One thing to note, the chair is made out of plastic. I'd love to see more options made out of sustainable material.
Ok
Achevygirl88 . 11 months ago
Not worth the hefty price tag
Easy to clean and good looking!
hjn923 . 1 year ago
[This review was collected as part of a promotion.] I was looking to change from my bulky, hunk o' plastic convertible high chair and I'm so glad I found this one. This one is so much better looking and fits with lots of different styles. The first thing my husband said after our toddler used it was how easy it was to clean! The different options for how to set it up make it useful for our toddler and baby who will be new to table food. The harness system is easy to use, the adjustable footrest is helpful for different ages, and I like that you can take the leg holes off to make it a booster chair. The only thing I wish about it is that it had attached storage for the parts you weren't using or a storage bag to keep them all together.
Originally posted on skiphop.com
Beautiful and easy to clean
MiamiMommy . 1 year ago
[This review was collected as part of a promotion.] I love this high chair! It is so well designed. I put the high chair together in under 10 minutes. The instructions were simple to follow, and the pieces were clearly labeled and easy to connect. There are so many clever design features. The footrest can be flipped the other way so it can be made higher or lower. The high chair tray lifts up and out with one hand, which makes it so much easier to use, especially when holding a baby in one hand. I love that the top buckles stay connected unless purposely removed. I also like how the dishwasher-safe tray liner saves me from having to wash the whole tray after every time my baby eats. The best part is that the high hair is super easy to wipe clean. Spills and crumbs are gone in seconds. I haven't used the high chair as a booster, toddler seat, or big kid chair yet for my son, but I love that it can grow with him and the parts are easy to switch out. The high chair is sleek and modern and looks beautiful in my dining room.

Originally posted on skiphop.com
Love this high chair
Myka And Stone . 1 year ago
We were really nervous as it had no reviews but we love this. It's so easy to clean and take the tray off with one hand we love it.
Cute and functional
picoblanco . 1 year ago
[This review was collected as part of a promotion.] I love this high chair and it looks so great. I've only used the high chair part of it so far but I'm happy that I will be able to modularize it over the years as my baby grows. My baby seems very comfortable, she is secure, and I have zero concerns about her safety while sitting in it. I have found that it is really easy to clean, which was an absolute necessity with the messy eater that I have on my hands. I got this chair to test out and was happy enough with it that I bought a second one for the twin. Great high chair that will last many years and adapt with my kiddos.
Originally posted on skiphop.com
Excellent Features!
jzhang678 . 1 year ago
[This review was collected as part of a promotion.] This toddler's 4 in 1 high chair is excellent all arounds in terms of quality. value and utility. This product can be used as high chair, eating chair and big kids chair that is esily reconfigurable thanks to the flexible and modular design of the chair. All parts are well made and designed to fit any parents' needs for thie child and it certainly has helped me significantly. This chair is very safe and easy to use and to maintain. My kid seats comfortably within this chair. I am a big fan of this product and would recommend this to other parents!
Originally posted on skiphop.com
Awesome High Chair
Dezzz . 1 year ago
[This review was collected as part of a promotion.] This is a great high chair. It has a modern sleek style that looks great in my home. I love the fact that it is a high chair, dining booster, tableside booster and chair for big kids. It gives me the comfort of mind that my baby can grow into the chair and we will be utilizing it for a long time. It was extremely easy to assemble and lightweight which makes it easy to move around. My child fits great in the chair and seems to be very comfortable. The tray is easy to detach and washes great in the dishwasher. I love this high chair and would recommend it to all parents.
Originally posted on skiphop.com
Grows with your baby
elazo56 . 1 year ago
[This review was collected as part of a promotion.] Super cute and stylish high chair. Love the wooden legs. This took longer to assemble than expected. Pros: stylish, easy to clean, grows with your baby. Tray slides out (but not completely) so it's easy to get into. The tray also has a removable clear cover so it's very easy to clean. Love the idea that I'll get lots of use out of this. After 4 months with my baby, my garage was already filling up with large baby stuff that I would no longer use. Cons: It would be nice if there was a seat insert to make it a little more comfy slash fill in for smaller babies. There isn't much storage, just a little under the seat for the extra straps. Note my baby is using the high chair so I can't comment on the other converted seats. I love the flexibility but I don't feel completely comfortable with the booster chair on my dining chairs since my chairs are upholstered and the legs of the booster seem like they could slip off even if there are rubber feet.

Originally posted on skiphop.com
Showing 1 - 20 out of 25 reviews