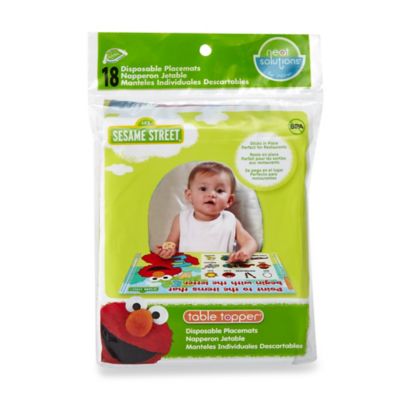 Sesame Street® 18-Count Table Toppers®
$7.99
Get 20% off your entire purchase with coupon!
Enroll Now
customer reviews
Showing 1 - 8 out of 8 reviews
Waste of money!!!
Chloe . 6 months ago
These are a waste of money! Do not buy! They literally rip as you are putting them on the table. These should not even be sold.
Crappy quality
Jilly . 1 year ago
Love the idea of these disposable table toppers. My babe loves the pictures on them, but the quality is soooo cheap. Almost every single one of these came out of the pack with slits already in the plastic. (Slits are where the plastic was folded.) They either rip while I'm trying to put them on the table or baby pinches the plastic and the whole things rips. I really wish they were just a little better quality because they would be perfect!
Sturdy!
BB&B Customer . 2 years ago
These placements are strong enough to be cleaned and used several times.
Travel
Noura . 3 years ago
I purchased this before flying to Orlando so I can put this on the food tray when my kids eat snack. I love the adhesive feature on the back it keeps the mat in place during snack time
Great!
Cheryl . 5 years ago
Perfect for using anywhere especially restaurant tables that you're not sure if they're clean or not
Good idea
Liz427 . 5 years ago
These are great for taking our 11mos old out to eat! She did start to figure how to peel it off but I think that was from boredom
Sesame Street Table Toppers
Penny . 5 years ago
I purchased these to basically use at restaurants for my 15 month old grandson. He loves pointing at the pictures and naming the characters. Elmo is his favorite. I also use them at my home, when they visit, because I have a distressed table and the toppers keep food from getting into the "distressed" cracks. :) I would recommend them! I have purchased several more packages to keep on hand, for when I run out!!
Great Product!
NannyHugs . 6 years ago
These things are awesome at restaurants to keep little fingers away from as many germs as possible! The Sesame Street characters are perfect, too.
Showing 1 - 8 out of 8 reviews