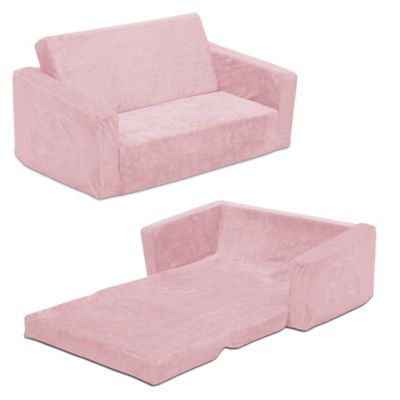 Serta Perfect Sleeper Wide Convertible Sofa to Lounger in Pink
Most Helpful Positive Review
Exactly what we wanted!
Jenn
.
2 years ago
Just a perfect little comfy couch for our toddler grandkids! Easily assembled, just pop the foam inserts into the sleeve and zip shut! fabric cover is soft and has cute Serta lambs imprinted into the fabric. Add all this to a good price!
Most Helpful Critical Review
Love, but already ripped at seam
Clare
.
2 years ago
We purchased this couch on March 27th and received it April 2nd, which was great for our family! We purchased it for our 1.5 yo and our 3 yo to share. They love it and they can fit on it together. Overall, the fabric is very nice and soft and the cushions are nice and thick. Unfortunately, we noticed a ripped seam and we haven't had it a month. I might understand if it were at the armrest/seat junction as (though the couch is pretty structured) the arm rest can be forced over if a kid played or stepped on it, but it's not. When the couch is unfolded the rip is just on one of the straight sides of the cushion. Hoping we can get a replacement cover. If we are offered a replacement cover I would definitely recommend this product as the rip seems to be a fluke. If not, it's too expensive to rip in a months time!
customer reviews
Showing 1 - 20 out of 49 reviews
It's ok
Crystal . 2 months ago
Bought 1 from Amazon, 1 I picked up from the store. The one from Amazon has much thicker foam and is more sturdy. I'm hoping this one fluffs out nice, but I'm not that hopeful. The one from Amazon fluffed out in less than an hour, this one has been out for a couple hours and still looks the same. This one was also much more expensive. Was hoping this one would blow my Amazon one out of the water and so far it hasn't.
Falling apart
Jin48 . 4 months ago
Bought this sofa/lounger in June 2022 for my then 11 month old. 4 months later and he is now 15 months and the lounger is coming apart at the seams!! The lounger is kept in his oversized play pen for him to nap on. This is not acceptable for a baby/toddler as they put everything in their mouth. He has figured out that there is foam inside of it and wants to pull the foam and put it in his mouth. I am now only able to use it after he has fallen asleep and laid on it and then watched in case he wakes up. The material is soft and the size is good for little ones but the quality of the sewing is not there at all!!

BB&B Customer . 5 months ago
My 2 year old loves i. He sleeps there n lays down during the day
good product, confusing instructions
SomeoneLogical . 5 months ago
Overall the product looks nice and should be something very simple to put together; less than 15 minutes. As with many child products following the directions and attention to detail Is a must… a small mistake can cause you hours of rework but most products come with clear instructions that if followed properly will leave you will a happy outcome… whoever wrote these directions clearly wasn't filled in on this concept. Vague terminology and inaccurate details (such as in step 2 and 3 commenting that the ink dots need to line up) caused me to second guess myself. Inaccurate graphic instructions showing inconsistencies just created doubt in what is otherwise a logical instruction process. I suggest the person that wrote these instructions tries to follow them and then does some self reflection on their ability to write instructions. Advice to others, just put it together based on your gut as if you try to match up everything to the instruction manual you will add an extra 30 mins of unnecessary assembly time.
manufacturing issue
mamaof3 . 6 months ago
The product it's self is awesome! My little loves having his own sofa. Putting it all together was another story…the pieces weren't labeled correctly at all. It took a good 10 tries, a few YouTube videos later in order to get it together properly.
Disappointed
CNJs mom . 6 months ago
I thought based on the pictures in the advertising it would be great. Also based on the brand Serta I thought the quality would be top notch. This is not as stable as pictured. The side walls or arms flop over with any weight put on them so you cannot lean on them. My 1yr old fell over when he sat down on it. It's fine if you lean it against something or great a a nap mat.
awful
Hanna . 9 months ago
It's extremely flimsy. Should have bought the elephant chair they had there that was cheaper instead of this. Hard to put together and just over all sucks

Bought on BuyBuy Baby
BBB NE Customer . 9 months ago
The foam inside is kind of flimsy and not very thick . Thought that it would be sturdier foam since brand is a mattress mfr. Also, I struggled to put this together. When in couch mode my 2yrc old grandbaby could only get comfortable in the corners because the foam bends when he leaned back. Also the depth of the base portion did not seem to be enough for my little guy. The description said wide enough for 3 children to sit but I believe only 2 toddlers would be able to sit comfortably together. He kept pushing himself backwards to try to sit more comfortably. I have to say the cover is very soft and comfortable to touch. He wasn't interested in the bed option but that would probably would have worked okay.
It's so cheap ! I will never buy from there agai.
Melanie . 12 months ago
It's horrible will never order from there again.
Precious!
BB&B Customer . 1 year ago
Just as pictured! Love the gray! Bought for my 18 mtg old grand baby and she loves it!! And it's stylish enough to leave in our family room!
We absolutely love it!!!
BB&B Customer . 1 year ago
This little couch is so comfy and my son loves it. I can sit on it with him and we've both fallen asleep in it before for naptime. The cover is removable to wash.
jamesmodeler . 1 year ago
A cheap product, not well made
Do not buy
Customer1234 . 1 year ago
You get what you pay for. There's a reason other brands cost way more. This is a horrible item. Do yourself a favor and go spend an extra 50$ for a higher quality product. Incredibly disappointed. My dogs pet beds are a better quality.
Adorable!!
BB&B Customer . 1 year ago
We got this for our 14 month old niece for Christmas. I loved it right away after assembly. Sooo cute & soft! She took to it right away with big smiles and giggles as she sat, laid and played on it! Assembly didn't take long (maybe 15-20 minutes) but make sure you follow the directions closely. The pink dots are supposed to be on the foam to ensure you assemble the foam facing the correct position.

Eh
Ela M . 1 year ago
I wanted to love this so much. It comes with different foam blocks and you kind of built it yourself but I wish the whole thing was one piece of foam because if you slightly lean on the armrests they just push out since theyre not attached on the inside.
Serta Perfect Sleeper - Not so Perfect After All
Laura . 1 year ago
I'd like to return this item. By the time we put it together, it felt like a toy rather than a sleeper. How can I get my return and get a refund.
Not as pictured!
karen . 1 year ago
This appears to be a small "couch" for toddlers! However when received it is more like doll furniture due to size! It has zero support & flops backwards when sit upon. Sorely ☹️
This is the best sofa bed
Arlette . 1 year ago
Love this sofa because is so comfortable my daughter love it, she sit or sleep so comfy. I00% recommend
Love it
BB&B Customer . 1 year ago
My 14 month old loves this. She loves to lounge ha. She sits in it to watch cocomelon and dives onto it like a wrestler for fun. I feel bad we didn't buy this for her sooner. Very well made. Pink is prettier than expected. Not an eyesore in the home. I get to nurse her lying down on it together if I want to nurse her to sleep, then finally get to the dishes. She will nap there safely. Before we were unable to leave her on our actual couches unattended for fear that she might fall. Also, the Serta mattress is super soft and can support my weight. Problem is always trying to get my dog off of it because it's so cozy. We may need to buy him his own dog bed... his paw stains wash out easily.

Love/ hate
MABEL . 1 year ago
I loved this product until it was time to clean it. Instructions say to simply put a paperclip in the hole of the zipper and pull to unzip.... 5 paperclips, 3 cuts on my fingers and 10 minutes with a set of plyers didn't work. I had to stick a pen in the zip and break it to try to fix it later. Amazon had negative reviews about the zipper too but I ignored them. Now I understand. Before all that... I was obsessed with the comfort & my little one absolutely loved it.
Showing 1 - 20 out of 49 reviews