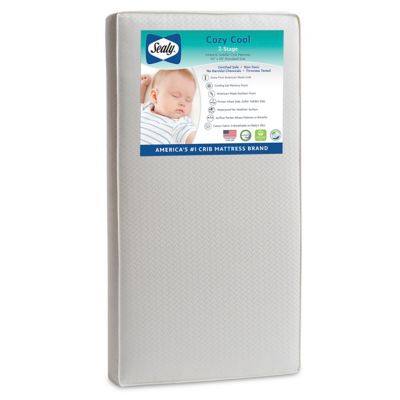 Sealy® Cozy Cool Hybrid 2-Stage Crib and Toddler Mattress in Glitterati
customer reviews
Showing 1 - 4 out of 4 reviews
Yes!
BB&B Customer . 11 months ago
This is a tight fitting mattress for the crib. Offers great support and it is worth the money.

Originally posted on bedbathbeyond.com
Baby loves her bed
BB&B Customer . 2 years ago
My little one hates her bassinet and loves her crib. I believe it's because this mattress is so comfortable for her. Would recommend and would purchase again.
Cozy cool hybrid 2 stage crib mattress
Sandy . 2 years ago
It's exactly as described in your website. It feels great to the touch and we know our grand baby will sleep comfortably.
For my great-granddaugher!
Kathleen . 3 years ago
This mattress is for my soon-to-be born great granddaughter. I reviewed the purchase with my grandson and granddaughter before purchasing. They agreed they liked this mattress. Purchase was shipped directly to their home and they seem most delighted thus far.
Showing 1 - 4 out of 4 reviews