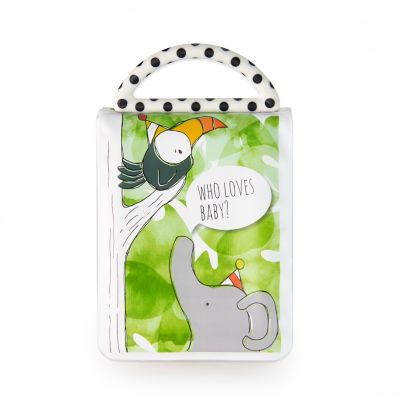 Sassy® Who Loves Baby? Look Book Photo Album
$5.59
Get 20% off & earn 5% back in points with Rewards™+
Enroll Now
customer reviews
Showing 1 - 20 out of 32 reviews
Perfect for family acquaintance
MegWB . 2 weeks ago
We live out of town from the rest of our family so this is a great way for us to show our baby family picture and help them know them without being able to see them in person all the time. It's soft, easy for little hands and easy to carry anywhere.
Perfect 1st Photo Album
Stephanie . 5 months ago
Love how photos can be interchanged, and yet the book is "baby safe"!
Great for family photos for baby!
julietabouli . 1 year ago
I love this photo book for babies. My only complaint is that it with a completely different cover than what is pictured.

Originally posted on bedbathbeyond.com
Great Book and Identifier
Jennifer . 2 years ago
This book allows you to add pictures which can either be of people or items you are teaching your child to say.
Perfect gift!
Sandy . 2 years ago
Bought this for my daughter. She loves looking at all the family photos. Since then, I have bought several as gifts. The last was for a baby shower when asked to bring a book instead of a card.
Chewable photo book
MM . 2 years ago
My granddaughter loves this book.I wanted her to have photos of us and her parents and aunts so she might remember us, as we live far away.
Second time buying
Martian2 . 3 years ago
Great gift and very child proof for years of photo viewing fun.
Great Black White Pic book
Grams . 3 years ago
Love this black and white shapes book. Later can add pics of family members who love them. Can be chewed on and cleans easily for tethers.
Perfect for a baby
Marie D . 3 years ago
When my daughter was almost 1yr, she started developing a fascination with pictures of people she knows, so I bought her this soft photo album. She has loved it ever since. She loves flicking through the pages and telling us who she sees in the photos. Great little album for babies.
Wouldn't buy again
MEW17 . 4 years ago
I was excited to get this for my son as a lot of our family lives out of state. Unfortunately, the slots on each page don't cover the whole photo. The picture sticks out (which makes it easy for the baby to pull it out) and also leaves creases on the photos from turning the pages.
fun idea!
Lindsay . 4 years ago
We live far from family and this book will help our daughter to recognize her family!
Only one I could find
Mommar . 4 years ago
I wish it held more than 6 photos. Also 4" x 6" photos had to be cut to 4" x 5 1/2" to fit. Great idea, though.

Originally posted on bedbathbeyond.com
Perfect for teaching baby family members
Donna . 4 years ago
I bought these when my grandchildren were babies. I put pictures of family in it and they learned the names and faces of family members. One of their favorite "toys!"

Originally posted on bedbathbeyond.com
Great little book
lohutch88 . 5 years ago
This album is perfect for photos of family and friends we don't get to see in person all the time. Our son loves looking at the photos (11 months). I wish there were a couple more pages to fit more photos. The photos don't fit all the way under the protective sleeve - about 1/2-1 in sticks out on the inside edge. It's not terrible, but I'd prefer the photos to be completely covered. Overall, it's a great little book!
Look book photo book
DaRardin . 5 years ago
I absolutely adore this book, I bought one for my out of town granddaughter, I have to go buy more for my out of town family that just had babies as gifts :)
Wonderful little photo book for baby!
meekes . 5 years ago
Love this photo book for my grandson who loves to look at pictures of his Mom, Dad, Grandparents, Aunts & Uncles, cousins, friends. It's easy to switch out the photos. Very easy to clean the book which is a great feature since he puts everything into his mouth! Yes, I highly recommend this photo book.

Originally posted on bedbathbeyond.com
Loved it.
Ellyn . 6 years ago
The photo book is exactly what I wanted as a gift. She can play with it without damaging the pictures. Great gift idea.

Originally posted on bedbathbeyond.com
Perfect church toy
Laura615 . 6 years ago
We love this because it's quiet, but full of various patterns. Our 6 month old looked through this and chewed on it for the entire church service. We don't plan to put pictures in this.
Great idea!
ljoy . 6 years ago
I think this is a great book idea, for the younger months to chew on.. but also as they get older to start recognizing names/faces with the pictures! Durable, textures and great design
DeeDee . 6 years ago
My granddaughter loves this. I bought it when she was 5 months old, and now at 8 months she still enjoys playing with it and chewing on it.

Originally posted on bedbathbeyond.com
Showing 1 - 20 out of 32 reviews