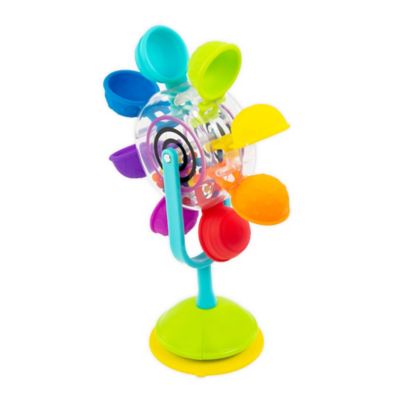 Sassy® Whirling Waterfall Bath Toy
$10.39
Get 20% off & earn 5% back in points with Rewards™+
Enroll Now
customer reviews
Showing 1 - 7 out of 7 reviews
suction does not work
courtney . 7 months ago
Would've been a really nice toy if it actually worked like it was supposed too and unfortunately my spouse threw the box away already so it's just wasted money..dealt disappointed
Does not suction
Devon . 2 years ago
Like the other reviews say, the suction does not work at all. Don't waste your money.
Great item
Ann19 . 2 years ago
[This review was collected as part of a promotion.] Purchased for my grand

Originally posted on bedbathbeyond.com
Does not suction
KimN . 2 years ago
I wish I would have checked out the reviews before purchasing this in-store. The suction feature does not work - I would love to say this is because of the ever-so-slightly textured surface of our tub bottom, but sadly it doesn't suction to the smooth sides of the tub either. Luckily it only seems to bother us parents, though, as our little one doesn't seem to mind at all that we have to hold it in place the whole time she plays with it. Still a fun toy for her! Just leaves me wondering if there's one out there that is both fun and sturdy.
Suction not that great
Silnana . 3 years ago
My lil one loves this as she learning how to pour water from a cup, only issue i have with it is that i have to hold it, it won't suction to any surface an we tried all different surfaces
Suction cup
Kate . 3 years ago
The suction cup does not stay attached as well as I would have liked, especially since it is a bath toy. Otherwise, it is a quality toy and my baby loves it!
Useless
StephNYC . 3 years ago
No matter how I try this will not stick to the tub unless the suction cup is COMPLETELY submerged in water, meaning the pinwheel part is also half submerged rendering the toy totally useless.

Originally posted on bedbathbeyond.com
Showing 1 - 7 out of 7 reviews