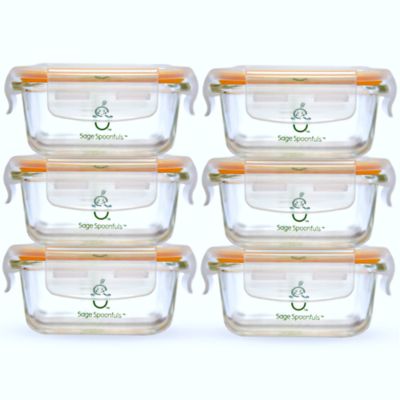 Sage Spoonfuls® Tough Glass Tubs 4 oz. Baby Food Storage Containers in Clear (Set of 6)
$23.99
Get 20% off & earn 5% back in points with Rewards™+
Enroll Now
customer reviews
Showing 1 - 20 out of 44 reviews
Love these little tubs!
Mama P . 11 months ago
I have had these awesome little glass tubs for a few months now and they have held up very well (I have to add, I haven't dropped them either so… I can't say how well they will hold up to falling on hard ceramic kitchen floor lol) . I have hand washed them and machine washed the glass tubs with no problems. I personally don't like putting the lids in the washer because the seals do come off quite easily and I'm afraid they will fall off. I fill them up with my own home made baby food, snap the little lids on and pop them in the freezer, and then just put them in the microwave to heat up. I have let them thaw before heating and have popped them right off the freezer in the microwave with no problems. I definitely recommend them!

Originally posted on bedbathbeyond.com
Great Quality Baby Food Jars
DKHGirl . 2 years ago
Love these baby food jars. I make my baby food with a Vitamix (best investment EVER) and store it in the freezer in these containers. Making my baby's food was VERY important to me as I can't believe the stuff they add to jar baby food and how long the shelf life is (even organic). These jars come in great sizes, are air tight, durable, stackable, and freeze, defrost, heat well. So happy I went with these, I have a couple other brands (Oxo the quality has gone down and WeeSprout lids strip very easily).
Perfect for Kid's... Very good product
Sagar . 2 years ago
Very good product. Perfect size for 1 serving and kids love the colorful lids.... Even used for Ginger Garlic paste and other similar small quantity of food.....

leak proof very tough glass!
dmdrago . 3 years ago
Love love love !!! Perfect for on the go! They are completely leak proof ! I've tested them with liquids and no spills! They have also fallen on the floor have been totally fine. I tend to use more glass but the worry is always that it will break but with these you do not have to worry. They are made so well, they are so thick and sturdy. Perfect for leftovers and to pack food for daycare as well. Amazing product !
Say goodbye to PLASTIC containers!!!
SC . 3 years ago
I love this glass tubs, and here are my reasons: bpa free, safe to microwave, safe to be in the freezer, easy to clean, it has portion size, thick glass = durable, leak proof, and it is the perfect size to keep in my purse for my sons go to snacks!!!
No Spills!
Happilyeverbells . 3 years ago
These are great for on the go, I'm always tossing snacks in my purse or diaper bag and I don't have to worry about anything spilling! They are also very convenient and easy for my little ones to use.
Durable and Convenient!
tabithanicole . 3 years ago
These glass tubs have been amazing for me as a mama on the go! Instead of packing a big bag of snacks, I'm able to pack my son's snacks in these glass containers. I also store his leftovers in these as well. Since they're also microwavable, it makes my life so much easier. So thankful for these glass tubs!
Love these!
Leteshia . 3 years ago
I got these tough glass tubs and I absolutely love them! They are the perfect size and I love that they come with measurement markers. I also love they they can be frozen and can go in the microwave as well. These are perfect for storing food for my littles!

So Versatile- Baby, Toddler, Kids & Even Adults!
Bed Bath and Beyond Customer . 3 years ago
I love how versatile these tubs are! Not only do they make meal time for my little one easy from freezer to microwave, but they are great for adults too. I can use it for lunches and snacks on the go and I never have to worry about the glass breaking! They're so tough-- even dropped from the high chair tough!


Originally posted on bedbathbeyond.com
These are a GAME CHANGER!
MadiDepiero . 3 years ago
I love these tubs. They are so easy to clean and store. They are leak proof and drop- proof from the high chair! My favorite part is that they go straight from the freezer to the microwave or oven! Saves me time and makes meal time for baby easy!

Perfect for any age !
Ashley91 . 4 years ago
As a Mom of a one year old and a newborn, I am all about products that help make my life easier. These jars are great. My toddler loves to drop and throw things but I do not have to worry with these since they are so durable. The fact that they can go directly from the freezer into the microwave/oven and then into the dishwasher is my favorite part. Also, most baby products are only good for a certain amount of time where as these jars are perfect from the time you introduce purées all the way through meals prepped for toddlers and beyond. Definitely recommend these to everyone!
So convenient!
Sarah . 4 years ago
These are so perfect for snacks on the go! They are a great alternative to zip lock bags. Perfect for meal prep if you want to make a lot of meals in bulk and freeze in these containers. You can freeze foods directly in these and place them directly in the microwave to defrost. They are also spill proof and very durable
We Love Tough Glass!
kelseachambers . 4 years ago
These jars are the best! We use them for everything! They are sturdy so when your baby throws them (because we know how they love to throw things ;) they don't break! The design on the lid is probably my favorite part though, who doesn't love a cute design?! These are a great addition to your home to help reduce waste of plastic bags and other plastic storage containers!
Best tough glass
Lucianna . 4 years ago
These tough glass containers surely surprised me to the max! Not only do they seal and lock in the freshness of food but they really are tough. My son has tossed them around and they've hit the ground and hit a few walls and we have no cracks, no breaks, absolutely nothing wrong with them. We have also tested them out and left fruit in there all day, as well as vegetables all day and when we come back to check on them, they are still very fresh and crisp. These containers are super for on the go, as well as storage for home! Definitely worth every penny
Best of the best
Thepetitemom . 4 years ago
Move aside other tough glass jars, these bad boys are the bees knees. My son has thrown them across our hard wood floor and not a single break, chip or crack. They hold the perfect amount of food, for baby and adults for lunches. I love the fact they are air tight and will keep avocados and bananas from going brown for at least 24 hours.
Perfect size, easy to clean, great containers
ESTHER . 4 years ago
I bought these back in October and I have been using them for my son's snacks and lunches. They are the perfect size and I love that they are durable glass. Works great for my 1 year old and for my 5 year old. I prefer glass over plastic containers so this is great for storing and heating. My 5 year old was able to open these by himself which is a big plus.
Perfect for Every Age
arynh . 4 years ago
The tough glass jars are something that every family can get use out of! They are great for storing purees, putting in lunch boxes, or saving dinner leftovers. My favorite feature is that they can go right into the oven. Every mom can use a few less dishes, if you know what I mean! And they really are tough! The day we got them my 2 year old dropped them on our wood floor and they were no worse for the wear. Excited for all the use we will get out of this product!
Thank you tough glass!!! OMG!!!
Tailyr . 4 years ago
I was using my sons baby bottles to store his homemade food
Love this product!!
CCase . 4 years ago
I've been waiting for a durable glass product to come out and this hits the mark for sure! It is beyond durable! The air tight is just that, air tight! I love prepping my baby food in these and all portioned our for me! So excited about these jars!
Love it!
Alexa . 4 years ago
I really love these jars! The are safe, easy to clean, perfectly portioned and durable (which is very important considering my son loves throwing everything off of his high chair!)
Showing 1 - 20 out of 44 reviews