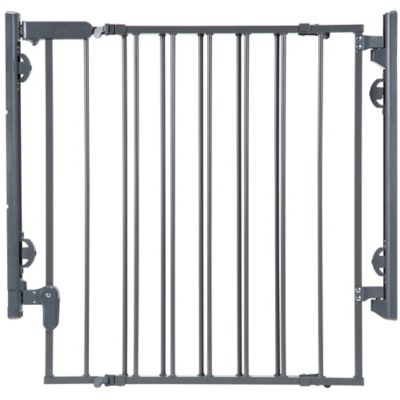 Safety 1st® Ready to Install Gate
$67.99
was $84.99
(20% off)
Most Helpful Positive Review
This Gate is a parent's dream!
undefined
.
6 years ago
I cannot stress how easy this gate is to install! As a parent, trying to figure out what gate would work out best in our home was a job in itself. Once we realized that our toddler was very independent when it came to stairs, we knew we needed to make some decisions. Since this is our second child (and much more active than our first), we did a lot of research on a gate for Top of the Stairs (needs to be a hardware mount) and ease of installation because NO PARENT HAS HOURS TO INSTALL A PRODUCT. You literally pull the gate out of the box, open the locks at the top, slide the gate open to the size of your staircase (or opening), tighten the screws (the screws are amazing! They look like wall dog screws), lock the gate and you are done. It literally took 7 minutes. The gate is so sturdy and it was one of the best purchases I have made so far in parenthood. Time is money now a days!
Most Helpful Critical Review
DONT DO IT
Ashley
.
6 years ago
Ended up in the ER last night, because of this gate. My 17 month old pushed on it (when latched and closed) and it opened she fell down an entire flight of stairs! (12-13) and we pray she's okay. So far everything seems okay, but I cannot believe that it happened and I'm so upset that I trusted this gate! FYI it was mounted to the wall correctly, and the actual latch failed not the wall part.
customer reviews
Showing 1 - 20 out of 90 reviews
Online purchase (Baby Gate)
BB&B Customer . 7 days ago
Great product but wish they would have disclosed that it was a returned used item. Tie wraps and bag with parts were open and taped shut.
Buy this only if you want to damage your house
Bed Bath and Beyond Customer . 6 months ago
Nothing about this gate works. The cheap, flimsy rail locking devices don't lock the rails together at all, too weak to provide function or safety so the gate does not line up well or even latch well. Now I have to remove it, return it, buy something else and patch up the holes in my walls. Really regret buying this product.

Originally posted on safety1st.com
I would NOT recommend this gate.
Bed Bath and Beyond Customer . 7 months ago
I would NOT recommend this gate to anyone. Operation of the gate is the most difficult thing ever. The slide and push mechanisms (spring actions) are very stiff and do not work. Unless you have another access out of the room you are trapped. I would consider this product a safety hazard and think it should be recalled by the Product Safety Commission.

Originally posted on safety1st.com
Gate does not work in drywall
Bed Bath and Beyond Customer . 8 months ago
What drew me to this gate was that it specifically said it would work in drywall. After less than a week on use (without the kids present, so no climbing or standing on it) the drywall screws have all come loose on the gate side. It works well, as long as you have not intention of ever opening it. If you do want to use it as a gate, I would strongly recommend you look somewhere else. At best, this buys you a couple weeks of use and a wall left behind as a mess. Don't buy

Originally posted on safety1st.com
Width adjustment latches
Matt . 9 months ago
The 4 latches to adjust the width do not close tight causing the width to slide around and the gate to not securely close. Serious safety issue. This pretty much happens every time you open and close the gate.

AMAZING Quality
RNND . 9 months ago
This is our first baby gate and we absolutely love it. It's easy to install, is bolted to the wall so we're sure it's secured in place, and it's super easy to open and close. Our baby already put it to the test by shaking it many times and it doesn't budge!

Originally posted on bedbathbeyond.com
Item purchased September 2021 and it's broken
Stephanie . 10 months ago

easy to install
Sheila . 1 year ago
nice

Originally posted on bedbathbeyond.com
Crappy welds
BB&B Customer . 1 year ago
The welds are on one side of the end bars and they brake real easy my kid almost fell down the stairs.

Originally posted on bedbathbeyond.com
Great For a While
amoreetutto . 2 years ago
We purchased a few of these when my daughter first showed signs of movement. We've been using them for about 6 months now, About a month ago, the one that we use most frequently started getting stuck - it takes some effort to open it now since it seems the latch isn't opening when you try to unlock.
received someone's return
notshoppinghereagain . 2 years ago
Did curbside pick up today. Found out when I got home that the gate they gave me was someone's return. Gate is scratched, has no installation hardware or instructions. Garbage waste of my time.
Well done. Very good quality and install in 3 mins
Ian . 2 years ago
As a new parent I was looking for something that could safely mount to drywall at the top of my basement stairs. The screws included have heavy coarse threads and went right through metal corner bead and into wood using a standard cordless drill. Its really nice how you simply place the gate in the opening with the packaging still on then screw it to a wall or banister, or both.

Originally posted on bedbathandbeyond.ca
Bad service!
BB&B Customer . 2 years ago
I can't write a review about product because you sent wrong item after I waited almost a month. You offered no compensation for your mistake. That is no way to treat a loyal customer. I will never order from Buy Buy Baby again!
Says "install anywhere" - not on stair bannisters
Veronica . 2 years ago
This is completely useless if you do not have a flat wall space. Doesn't work at all for stairs.

Originally posted on bedbathandbeyond.ca
Very Sturdy
JerseyArtGirl . 2 years ago
This gate is perfect at the top of our stairs. Highly recommend if you can't use a tension gate.
Easy to install and baby is safe!
Mama mees . 2 years ago
Highly recommend! It looks attractive, easy to install, and perfect for the top of the stairs because baby won't be able to push the gate over since it's drilled into the wall! It will stay open if needed so you can carry stuff down the stairs without having to open the gate each time
Great Gate. Terrific directions.
BB&B Customer . 2 years ago
Excellent product, very well made. I needed to place the gate at a difficult location. It was for the top of the stairs of a cape and it had to be attached to decorative molding. One screw went into the molding and the other screw went into the wall. It worked out great and is very sturdy. This was a much better alternative then a pressure gate.
Easy to install
Antoinette . 2 years ago
Great product. Easy to install and open one handed. Trust completely on stairs.
Great gate and safe
Angela . 2 years ago
This is a great gate option for the top of stairs. It's safe, easy enough for adults to open once you figure it out but would be difficult for little ones. Easy to install.
Great gate
BB&B Customer . 2 years ago
Sturdy, no tripping hazard, easy install. The only negative is my son hangs on it and that messed up latching shut but still works well
Showing 1 - 20 out of 90 reviews