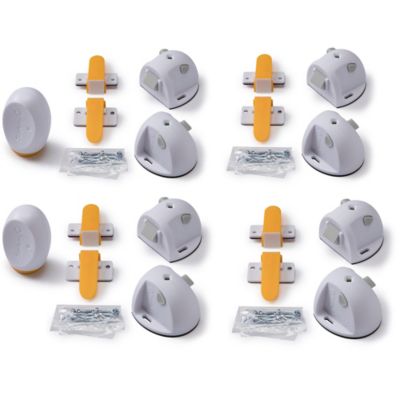 Safety 1st® 8-Pack Adhesive Magnetic Locks with Keys
customer reviews
Showing 1 - 20 out of 52 reviews
Love the concept!
Cari . 4 months ago
These locks work great and are hidden behind the cabinet door. My only complaint is there are 4 locks with only 1 key. So we are always looking around for the key and walking from one side of the kitchen to the other to unlock the cabinets that we needed to baby proof!
Several locks in the pack didn't work right
Grant . 9 months ago
There must be no quality control at Safety 1st, or it's a bad design. Two of the eight locks in the package were defective, and I got locked out of my cabinet. Don't recommend, try a different brand.
Several in the pack did not work
Bed Bath and Beyond Customer . 1 year ago
The magnets that did work in the pack are wonderful. Sadly, there were three magnets that didn't engage when in the "lock" position.


Originally posted on safety1st.com
Magnets stopped working, locking drawers closed
Joan . 2 years ago
Within 6 months of putting these on all our kitchen drawers and lower cabinets, 3 of the magnets stopped working, locking the drawers closed. In order to get the drawers open again, we had to hack it by sticking something into the narrow gap, to either press the switch turning the locks off, or actually pry the adhesive off. We broke 2 of the locks in the process, and nearly damaged the drawers, as well. We were locked out of the drawer for days before figuring it out the first time. It was only a few hours to gain entry into the drawers for the next 2, since we'd done it before, but each time was a bit unique, given different placement of the drawers and what's next to them, as well as slightly different placement of the locks within the drawers. We're now considering whether to take them off everything preemptively, in case more of the magnets fail and lock us out of other drawers/cabinets.
Great Locks
BB&B Customer . 2 years ago
Work well & easy to install
Easy to install
Kate . 2 years ago
Woks well and is easy to install.
Didn't fit our cabinets
richardnw . 2 years ago
Sitting in a drawer because they didn't fit our style cabinets, especially the turntable corner cabinet.

Originally posted on bedbathbeyond.com
Great locks!
Brandy . 2 years ago
There are easy to apply and keep our son out of cabinets and drawers even when he is hanging off of them with all his weight. They also kept us from having to drill anything into our new cabinets or putting anything on the outside so we can have a clean look to the kitchen. We liked these so much we got them for my mom's house as well since he goes over there a lot.
Junk
Shannon . 2 years ago
My 1 year o old yanks on the drawer and it opens!

Originally posted on bedbathbeyond.com
MamaG . 2 years ago
Baby is 14 months and these are holding up well. Looks nice from the outside. Sometimes you have to double check that it's pulled shut. Stays locked even though baby likes to pull on them hard.
Excellent
Carrie . 2 years ago
Very easy to install, and they work very well.

Originally posted on bedbathbeyond.com
Not the best design
Allison . 2 years ago
Two days after installing the lock my four year old pulled the lock open, which also pulled away the veneer lining the interior of the drawer. I think this could have been prevented if the locks didn't allow you to open the drawer two or three inches before the lock catches. Kids can yank on the drawer repeatedly, banging the drawer back and forth a few inches. The extra space also allows small fingers to get caught and trapped. I was able to reach inside the drawer and switch the lock to the unlock position without using the magnetic key. A better design would prevent the drawer or cabinet from being opened even a tiny bit. Try Jambini magnetic locks on Amazon. They are a better design for half the cost.

Originally posted on bedbathbeyond.com
great if it worked
NewSuburbanMom . 3 years ago
I love these but in an 8 pack 2 didn't work. The backing on the item was defective and would not come off. This is expensive to have 25% not work.
Great Produce But Did Not Work On My Cabinets
BB&B Customer . 3 years ago
This is a great product, but they did not work on my cabinets. Right where the locks go, my cabinets and drawers have an extra layer of wood which made the magnet ineffective. So just make sure your cabinets and drawers are not too thick.
Worth the $$
Nick . 3 years ago
Love these things. They are built well, super easy to install and effective. It's great that you don't need to drill just stick them all on. I had heard it's easy to misplace the keys but with one on the fridge and one stuck to the dishwasher we should be fine. They are invisible which is fantastic compared to the mammoth locks I bought which went on the outside and looked totally obnoxious
Love them!
Bed Bath and Beyond Customer . 3 years ago
I absolutely love these locks. I think that the key to lock ratio is perfect for places such as a kitchen because you don't need that many keys but have cabinets everywhere. However, I have Repainted both my kitchen and my bathroom cabinets so I had to remove the locks to paint them and now I can't find replacement adhesive so I have to buy all new locks in order to put them back on which is very disappointing.

Originally posted on safety1st.com
Can you get new adhesive for them?
Bed Bath and Beyond Customer . 3 years ago
I love the locks. I put them in my daughters bathroom, but then I repainted the cabinets and had to take them off to do that. Is there a way to just buy the adhesive parts so I can still reinstall the locks and use them on my newly painted cabinets?

Originally posted on safety1st.com
Just as advertised
Carrie . 3 years ago
We used these to puppy-proof several kitchen cabinets. They were easy to install and work very well.

Originally posted on bedbathbeyond.com
Works well but inconsistent quality
Elisa . 3 years ago
Only thing that works for my super strong baby. But one of the locks got stuck in locked mode (wouldn't open with the magnet) so we had to force the door open REALLY HARD, breaking the lock (and almost our cabinet) in the process. Expect better for the $$

Originally posted on bedbathbeyond.com
These will keep your children safe
Charlene . 3 years ago
Easy to install. Quality product. Can disengage when not using.
Showing 1 - 20 out of 52 reviews