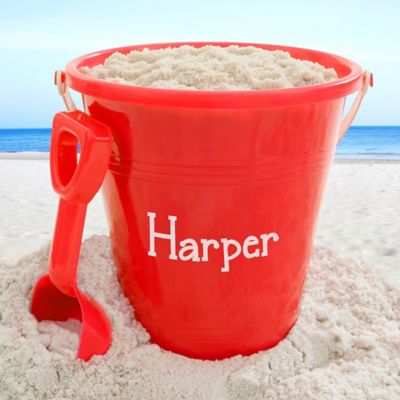 Personalized Sand Pail & Shovel in Red
$10.39
Get 20% off & earn 5% back in points with Rewards™+
Enroll Now
customer reviews
Showing 1 - 2 out of 2 reviews
Lovvvve!
DIane A. . 1 year ago
I love it for our 1 year old grandson❣️

Originally posted on bedbathbeyond.com
Ridiculous
Jaycee . 2 years ago
Ordered this May 23rd, received on July 1st and it was literally a bucket with STICKERS placed on it with the name I provided. This is NOT customization, it was very disappointing!! I could have bought stickers to place on any simple pail, this is very sad. No where does it say "pail with stickers" this is cheap and I would not recommend. Shipping took a month and a half for this "personalized" sticker bucket. NO thanks. 6 weeks turnaround is not acceptable.

Originally posted on bedbathbeyond.com
Showing 1 - 2 out of 2 reviews