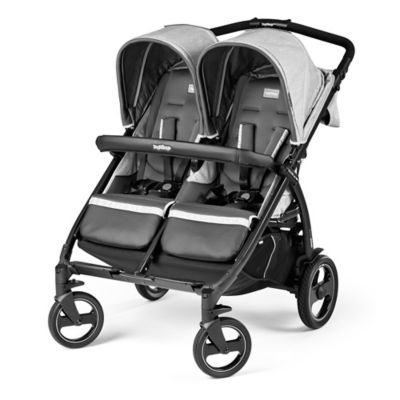 Peg Perego Book for Two Double Stroller in Atmosphere Grey
$519.99
was $799.99
(35% off)
customer reviews
Showing 1 - 5 out of 5 reviews
LOVE
Sammy . 3 years ago
We love our book for two! We use it with our perego Nido 325 and it fits perfectly with adapter, but a bit clunky. We fit through all doorways though. & it's Disney compatible! Easy to fold. Happy with our purchase
Easiest double stroller
Elle . 3 years ago
I purchased this stroller for my 20 month old and newborn. After 6 months or stroller shopping and debating, the book for two was the best option. VERY easy to maneuver (my 20 month old is 27lb and infant is 6 plus the car seat) and I can push with one hand, very easy to fold and carry into the car, super easy to add in the adapter for car seat for my infant as well. I was worried about it being too wide to fit through doors, but I haven't had a problem. The only things I don't like about the stroller is the fact that there's no tray or cup holder for kids or for me. I bought 2 universal cup holders and put them on the handle bars. With an almost $700 stroller I would expect it to come with a tray or cup holders. But otherwise I love it and it's very comfortable for the kids as well.
Super nice!
jjoxley . 4 years ago
I bought this to side-by-side stroller replace my double stroller that was front and back. My son was too tall to sit in the rubble seat, but I was hesitant this one would be hard to maneuver and go through doorways. Not the case! Fits like a glove and collapses to fit easily in my trunk. My son seems much more comfortable which is great! I bought the primo viaggio infant seat adaptor for my newborn to ride on the other side and it is great. Can't say enough good things about the stroller. I'm a Peg product lover!
Great quality and slim for a double
bcsman . 6 years ago
We have owned multiple double strollers and we have not enjoyed any as much as we have with the Peg Perego double. It is well built, looks fantastic and takes up quite a bit less space in our car than the others have.
Meli . 6 years ago
This stroller is not worth your money at all! The stroller collapse in half when you go up or down stairs with the babies in it! When I try to return it they told me I couldn't that I was supposed to have more common sense not to have my babies inside of it while I'm going upstairs. I have bought other strollers that can go up and down stairs without a problem! If you live in New York the stroller is not for you! What a waste of my money truly upset!!!!!
Showing 1 - 5 out of 5 reviews