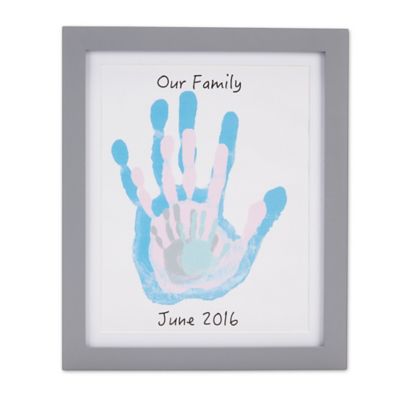 Pearhead Handprint Frame in Grey
$17.59
Get 20% off your entire purchase with coupon!
Enroll Now
customer reviews
Showing 1 - 6 out of 6 reviews
Making Memories
The Turner's . 1 year ago
I received my order and we can't wait to do this with all of our children.

Originally posted on bedbathbeyond.com
Waste of money
JandA . 2 years ago
Not great if you layer the colors. All of our handprints showed up til we did our babys handprint. The light blue that was supposed to be a mint color didnt show up on top of the gray at all. We will be re doing this with different paint. Could have just bought everything cheaper elsewhere.

Originally posted on bedbathbeyond.com
fun diy
Bed Bath and Beyond Customer . 2 years ago
Easy to use and fun to do as a family. Great quality.

Originally posted on pearhead.com
Handprint whoopsies
Carsons mama . 3 years ago
Very cute idea, although the paint can get very messy (obviously) and dries Very quickly. Make sure you know exactly what you want to do/where you want hands placed. No do overs!

Fun memory
BSquared . 3 years ago
It was fun to make this even though we had to wait for the paint to dry before putting the next handprint. We'll definitely be doing this again in a few years!
Don't bother
Anonymous . 5 years ago
The paint sucks for layering, I tried doing it in the order like the picture and you can't see the grey at all. I basically paid for the frame, which is way to much. You might as well just buy a frame and paint from from the store. it'll work out to be cheaper and better.
Showing 1 - 6 out of 6 reviews