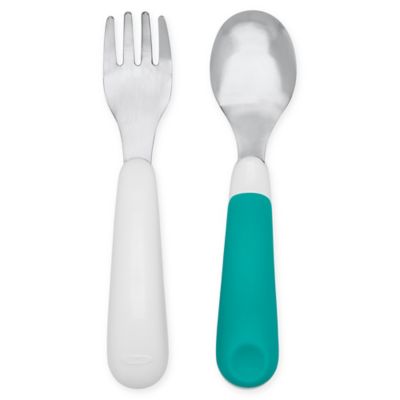 OXO Tot® On the Go Fork and Spoon Set with Travel Case in Teal
customer reviews
Showing 1 - 13 out of 13 reviews
The best!
MD . 1 month ago
Seriously, these are the best utensils for little hands. We've tried several different sets, and the curve on these really help the littles learn how to use utensils while eating.
So helpful
Blo . 12 months ago
We keep these in the diaper bag for my toddler. Easy to hold & he can use easily. Love the case so they stay clean or contain the mess after being used.
Very sturdy
One Happy Mum . 2 years ago
My daughter loves and uses it daily. It has helped her transition to use utensils. I also love that it comes with a case. On the occasion when we do go out, the case is useful for that.
Great set; beware of color
GINA . 3 years ago
Cute set! Love that it comes with a case. The color (as shown in pictures) is very misleading. The set is essentially white and the only color portion is the back of fork and spoon. Essentially a small part of the actual product has color. Was under the impression each set was a totally different color.
Great first cutlery!
Gehrtz . 3 years ago
We used a few different brands, and this one was a hit! I like the handles, they are easy for little fingers to hold. The fork is also slightly curved which makes it easier for my toddler to get food into his mouth. Will be buying a second set!
Good for pre-K
Kel . 3 years ago
I love that it came with a case. It keeps everything clean when packing lunch for my 3 years old
Wouldn't purchase again
JCWE . 3 years ago
The teeth of the fork were bent when I opened the packaging.
Useful
Nicole . 3 years ago
The fork and knife are of great quality like all OXO products and comes with a convenient carrying case. The color is beautiful and my sons loves to use them.
Love this!
Rachel . 3 years ago
I love this as it comes with a carrying case! Also the spoon is nice and deep and the fork is not sharp and safe for kids.
Great set
Ginny . 3 years ago
I bought this for my Grandson so he is ready to eat wherever he is. It is well made and easy for him to use.
Great product
Kate123456 . 3 years ago
Great - would buy again
Great product
BoyMama1 . 3 years ago
Love this product and carrying case, permanently lives in the diaper bag so we're always prepared! Just wish i would've been able to tell the color before I purchased.
Clean feeding
Aikonblazer . 4 years ago
Positives: flat tip makes feeding easier and cleaner, convenient in case, and curved handle fits your hand nicely. Negatives: case does not close well with spoon inside
Showing 1 - 13 out of 13 reviews