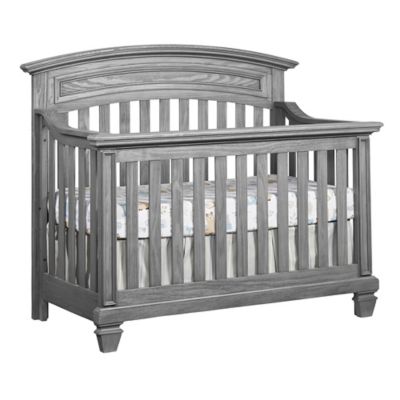 Oxford Baby® Richmond 4-in-1 Convertible Crib in Brushed Grey
$463.99
Get 20% off & earn 5% back in points with Rewards™+
Enroll Now
Most Helpful Positive Review
Love the color
Larkin5
.
4 years ago
Bought this for our sons and it's absolutely beautiful in person. I love the wood detail and the color. No sprinters or blond wood on ours like other reviewer stated. This crib seems very sturdy and very easy to put together.
Most Helpful Critical Review
Awful odor!!
Jackie27
.
4 years ago
We bought this two months ago and we're theilled when it finally arrived. It was beautiful and we were more than ready to set it up in the nursery. However, when we unpacked it we were surprised at the very strong stench of wood stain coming from the crib! We ended up dissembling it and leaving it in our garage with a fan on it for over a month - and it still smells!!! Yes it looks nice, but it is definitely not worth the toxic fumes for our little one. It's as if it was stained but never fully allowed to dry before being packaged up. Buyer beware.
---
Hi we&#39;re sorry to hear about this issue. Please contact us at (877) 328-9222 so we can get this taken care of for you. <img src="https://s3.amazonaws.com/stratos-logos/logos/MDesignVillage.png" alt="MDesignVillage" title="MDesignVillage" style="display: bl...
customer reviews
Showing 1 - 20 out of 68 reviews
Had it for 3 years now!
Boymomma . 11 months ago
I just wanted to post now that I've had this product for almost 3 years. We have almost every piece to the collection and it's absolutely beautiful and still holding strong. We don't have any paint issues, odors, or splinters. Looks like the day we bought it and we get compliments on it all the time!

Originally posted on bedbathbeyond.com
BB&B Customer . 1 year ago
Our children loved the crib it was everything they had hoped for. Not used yet
Love it!
Latorria . 1 year ago
The bedding is very nice. My husband only had to put the crib together. Everything else was already together. We simply love it!!
Love the furniture but hard to come by.
BBB Customer G . 1 year ago
We purchased the crib and dresser set for our sons room around two years ago before he was born. We love how sturdy it has been for us and the color is perfect. Now that it's time for him to be in a toddler bed it is SO hard for us to come across the toddler rail available. I've been keeping an eye out for over 8/9 months now and haven't had any luck. Also seems to be a mix up when purchasing the conversion kits for the full size so I am hesitant for that purchase. When we did purchase at buybuybaby the sales rep did warn us that to buy it when we could because the company could possibly stop making the product. Hopefully this is not the case!

Originally posted on bedbathbeyond.com
Paint smell and chipping
Adriana . 1 year ago
I purchased the crib, dresser, and nightstand for my first born. I was so excited especially of the color and design on the crib. When I opened the box it smelled very strong of paint fumes. My baby was sleeping in his bassinet with me at the time so I gave it 4 months to air out. Yes it took 4 months! Once the smell faded away and started using it I noticed within 2 months of usage it started to chip on the dresser and crib. I even got a smaller splinter on my finger. I always worried that my son would rub his hands on the crib and get one too. Although the color and sturdiness of the furniture is good (which is why I gave 2 stars instesd of 1) I definitely would not purchase again for my second baby or recommend this product to anyone. Its definitely not worth the risk of baby getting hurt or the money.

Originally posted on bedbathbeyond.com
Terrible
Jennifer . 1 year ago
Painted chipped within six months and my child wasn't even using it.. looks like trash. Awful awful. I bought better furniture for a quarter of the price of this set. They should not sell this anymore!


Originally posted on bedbathbeyond.com
Paint Chipping All Over
Deanna . 2 years ago
I have the crib and dresser, both have issues with paint chipping all over the pieces for seemingly no reason at all after very gentle normal use. Be aware if you buy this you need to seal the entire thing or the paint will just chip and it will look terrible. For the price this is unacceptable.
Terrible Paint Chipping!!
Deanna . 2 years ago
The set is sturdy, but for seemingly no reason massive paint chips come off the top of the dresser and crib and make this piece look cheap and terrible. Either do not buy or put some kind of sealer over the paint immediately upon receiving it. mine started chipping right away and by one year it looks horrendous.
Recommend
BBBAby . 2 years ago
I've had this crib for 3 years now and the only complain is the cleaning. As any baby would, milk was spilled on the wood and it has been very hard to clean from the grain. We have tried multiple things, nothing has worked. The paint does chips off pretty easy so careful when building, moving around or cleaning. It has a beautiful design.
Crib railing
BB&B Customer . 2 years ago
Very upset and concerned about the way my grandson is able to chew the wood off the railing. My daughter pulled a piece of wood out of his mouth last night. How can this crib pass the safety codes when a baby is able to chew the railing. I can send pictures if needed. I bought my grandson this crib and I'm very upset the quality and safety of it.
crib
Katie . 2 years ago
Beautiful crib. Very sturdy. Easy to put together. Will be using all way to a full size bed when the time comes. Definitely worth it.
It's not white
Sonia . 2 years ago
I ordered the white version to the awesomely gray I saw in store. The photo for the white is actually white in comparison to what I have here. Next to the white furniture I have already purchased for the nursery this crib is not white like the pictures. It's actually very frustrating to have this beige crib next to white dresser knowing they don't match. Highly disappointed. Fine details on the crib aren't great either. Overall it's aesthetically pleasing but once you look hard enough you find all its imperfections. Not recommend in white. Buy the grey

Originally posted on bedbathbeyond.com
light paint scratches, poor workmanship
dani . 2 years ago
This was a registry gift. It was easy to put together but the paint job isn't great after thoroughly inspecting it. I have the dresser that matches and it has worse paint and structural problems. This whole collection doesn't adhere to professional workmanship. I cannot recommend the crib or anything else in the collection.
Assemble
BB&B Customer . 2 years ago
Where can I find a video on how to assemble my mattress spring is giving me a tough time!

Originally posted on bedbathbeyond.com
Beautiful
Kayla . 2 years ago
This is a beautiful crib and it is very sturdy. We love that it will grow with our baby to a toddler bed and then to a full bed!
Absolutely Love this crib!
Giselle . 2 years ago
My daughter just turned 14 months old and we are expecting another baby girl! Our "Irish Twins" will be sharing a room. We ordered this crib again. High quality, beautiful look! I highly recommend.
WE LOVE IT!
Arianna E . 2 years ago
best purchase ever!!! We love the color and the material! we also love the fact that is a convertible crib!
This crib is great!
Alexandra . 2 years ago
The crib and all the matching furniture came packaged very nicely. The wood is very sturdy and looks beautiful. We are so excited to have a matching set for our sons room. We are even a little jealous that he has nicer furniture than we do!! Would highly recommend. Looks just like it does in the picture.
Simply Beautiful!
Yarielee . 2 years ago
I love this crib because of the details in the wood and how sturdy it is. It's super easy to assemble. This was the perfect crib for our nursery.
Gorgeous!
Lorraine . 2 years ago
Everybody is beyond thrilled and loving the crib. It's extremely durable and sturdy and was so easy to assemble. The directions were simple to follow and it was up in no time. This is exactly the look that was wanted for the nursery! Happy, happy, happy with the item.
Showing 1 - 20 out of 68 reviews