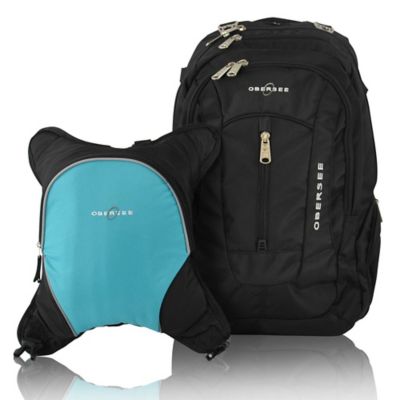 Obersee Bern Diaper Bag Backpack with Detachable Cooler in Turquoise
$79.99
Get 20% off your entire purchase with coupon!
Enroll Now
customer reviews
Showing 1 - 20 out of 75 reviews
Great diaper bag
Kristin . 4 months ago
There was one plastic secure buckle that came broken, but not a big deal. Overall it's a nice size diaper bag! It fits everything without being too bulky.
Quality!
AZ . 2 years ago
This diaper bag is amazing quality. It has so many compartments that are well thought out. I can see this lasting forever. This works great for me and my husband.
Great Bag
JHoy . 2 years ago
This is a great diaper bag backpack. It's very well made and has great space. My husband and I love the cooler and the fact we can use this when we don't need it for our kids.

Originally posted on bedbathbeyond.com
definitely seems sturdy, good unisex choice
Bianca . 2 years ago
My husband pushed for this diaper bag because he didn't want to carry around something too feminine. It looks just like a regular backpack and probably could be used as such. We haven't used it a ton yet, but the quality seems good and we expect it to last a while.
best thing ever!!
Thejesus . 2 years ago
This is best baby backpack ever.
Great bag
BBB_AJ . 2 years ago
This is very strong and versatile bag for both diapers and everyday usage

Originally posted on bedbathbeyond.com
Love it!
Anonymous . 2 years ago
Received the bag as registry item and we love it! The bag is plenty big, solidly constructed, and well organized. The detachable cooler is also a nice feature since we don't always need it, but when we do, it's great to have. It's a bit larger than maybe your standard diaper bag, but it's so well organized that things don't get lost and it's not difficult to manage the size. Love it!
Great bag
BB&B Customer . 2 years ago
This bag helps you stay organized, it's easy to carry and I love the cooler. The bag isn't girly either, so my husband doesn't mind carrying it.
Great diaper bag
Patricia . 2 years ago
this diaper bag was a gift for my son and his wife. Baby is not here yet, but she is thrilled with the quality and is looking forward to using it. It is just what she was hoping for.
Looks great!
Meagan . 2 years ago
I haven't had a chance to use this yet, but its my third diaper bag and I am super excited about this one. I switched from a diaper bag to a backpack with my last one and it worked great. This one has a lot of compartments, I love to have a spot for everything and be organized and this I can see will allow for this. I also am excited for the cooler, I usually nurse and probably won't use it for milk however I am excited to use for snacks like yogurt when she gets bigger and for my older girls.
Perfect unisex and outdoorsy style diaper bag
SabrinaD . 2 years ago
Our baby hasn't been born yet so we haven't had any practical use of the backpack yet, however the look and style of it is great. I like that the cooler piece can be removed and that the backpack looks like a regular backpack and not a diaper bag. My husband likes that as well so it will be easy for us to share. Very spacious inside and comfortable to wear.
Universal, sporty and spacious
Azizah . 2 years ago
This is my first time buying baby diaper bag. I was lookinh for something that looks universal, sporty but comes with lot of space and compartments. No regrets, I just love this bag so far

Originally posted on bedbathbeyond.com
Great bag
Cheryl . 2 years ago
Good quality, I love the many pouches, easy to wear and looks great! Bonus that my husband can use it too!
Great combo diaper backpack
KimberlyH . 2 years ago
This Is a great backpack. Love the cooler for the bottles!!! Lots of pockets and the size of the Bern is perfect. Not to small and not too big!! Can't go wrong with this bag!!! Can't wait to get the tote as well. As a mom you can't have too many bags!!!
Sporty,spacious and universal diaper bag
Azizah . 2 years ago
The moment I opened my package, I fell in love with Obersee Bern Diaper Bag Backpack. It perfectly fits my style as a mom who loves outdoor and sporty. It comes with many compartments that makes me easy to organize my baby's stuffs inside the bag. My husband loves it too as it suit both man and woman

Originally posted on bedbathbeyond.com
Good Diaper Bag
Michael . 2 years ago
This product came as described. The cooler is a nice feature in that can be detached. The bag durable and has many compartments for storage.
It's really just a backpack
JenSanCan . 3 years ago
A backpack as a diaper bag is definitely good for leaving parents' hands free for wrangling little ones; however, this one is a bit overpriced and really nothing special. The loops on the top for stroller hooks is a plus though. I'd recommend getting a less expensive backpack over this one.
As a dad this is perfect
Jonathan . 3 years ago
Couldn't be better. I love this bag, it has all the pockets for everything you can think of. The bottle bag holds cool perfectly, and very comfortable!
Awesome diaper bag!
Shannon . 3 years ago
I love everything about this diaper bag/backpack. It has the perfect amount of room for everything my baby needs. I also really enjoy having the cooler to keep bottles and snacks cool. It is also nice having a pocket for my keys and phone so I don't have to dig through everything to find them.
Diaper bag
Leah . 3 years ago
I purchased this for my husband for his first father's day. Our daughter hasn't arrived yet, but I wanted him to have his own diaper bag for her. I have a coach tote style diaper bag for myself, and he doesn't want to use mine cause he says it's too much like a women's purse/handbag, lol, so when I gave him the obersee diaper bag, he was so excited that it looks just like the backpack that he uses for work. And he loves the fact that it has a compartment for everything and came with his own diaper changing pad and detachable cooler. Overall, he really loves it and was so excited to have his own diaper bag
Showing 1 - 20 out of 75 reviews