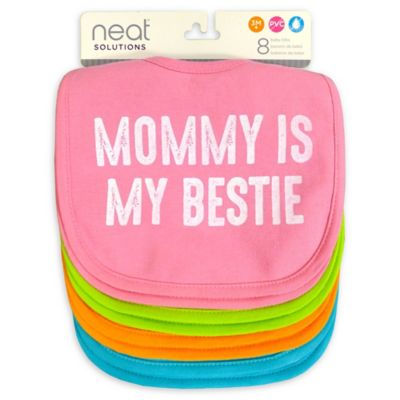 Neat Solutions 8-Pack Mommy is My Bestie Infant Bib Set with Water-Resistant Lining
$15.19
Get 20% off your entire purchase with coupon!
Enroll Now
customer reviews
Showing 1 - 5 out of 5 reviews
Bib pack
Courteney . 3 years ago
Fine basic cotton bib. I got them to wrap in individual gift bags for mine and my husbands families to share that we were having a girl. They were a good deal to get the message across to multiple people! Other bibs say- grl pwr, princess, sass queen, and some others.

Bibs
Eliza . 3 years ago
Great bibs and the large size for. Good from infants to 1 year.
One of my FAVS
Kiah . 3 years ago
LOVE these stay dry despite of the amount of drool my baby has got going on
PERFECT FOR OUR LITTLE DROOLER
Zakiah . 3 years ago
These were 1 of the best bibs purchased. We kept buying bibs because we couldn't stand a wet bib on our little one or the bib didn't do much. THESE are hands down the best for a little drooler.
Poor quality
Mpa . 3 years ago
Gave baby puréed food and put the bibs in the wash. Bibs came out stained and wrinkly-like. Really poor quality. Especially after Baby ate anything green, the bibs stained green. Not practical.
Showing 1 - 5 out of 5 reviews