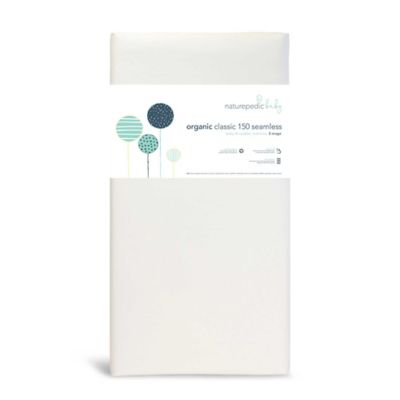 Naturepedic Classic 150 Seamless 2 Stage Crib Mattress
customer reviews
Showing 1 - 9 out of 9 reviews
Great
Nycole . 12 months ago
People are so strange. It's a mattress, and it does exactly what it's supposed to do. It's durable, it's safe, and if you get the waterproof mattress pad like suggested it'll last. I am buying a second one for my newborn. We love it.
Stain
Gerald . 12 months ago
You would think at this price level the product would be delivered in a good shape, when we opened the packages, the mattress was having multiple black stains, disappointing.
great quality
Diana . 2 years ago
Great quality and worth the extra money for peace of mind for baby.
Not waterproof and flawed
KimM . 4 years ago
I just bought this mattress for our baby. (1) I expected the surface to be slick and wipeable, and it does not feel that way. I would still need to use a mattress protector with it. (2) there are small perforation holes in the side of it, which also seem like a flaw that would make it not waterproof. (3) It is larger than the measurements given say, a little too large for our DaVinci crib. I can get it in there, but when I pressed the corner began to RIP against the crib. I REALLY want to return and exchange for another mattress but my husband threw out the packaging already lol. I am going to try to call BBB to see if they can help, if not this really will need extra effort to change the sheet, and a mattress protector.
Soooo heavy
Cagirl1022 . 4 years ago
I have very few purchase regrets re all things baby. This is one of them:-( it is so heavy and with a mattress cover on its nearly impossible to change without my husband's help - and I'm pretty strong. I'm not sure how we'll manage once we lower the crib.

Originally posted on bedbathbeyond.com
Naturpefic classic 150 two stage crib mattress
LiDeG3 . 5 years ago
I purchased this for my grand baby and my daughter purchased one for her home. Wonderful mattress, well packaged clearly marked which side was stage 1 and the other stage 2. Highly recommend.

Originally posted on bedbathbeyond.com
Too large for Davinci Emily Crib
Bed Bath and Beyond Customer . 6 years ago
I was really excited to get this mattress after a lot of research. Unfortunately, it didn't fit our Davinci Emily Crib (which is also greenguard approved). We called customer service and they quickly sent instructions for how to return it for a full refund. Then we went to Buy Buy Baby with a measuring tape and found another Naturepedic option that was a little smaller and fits our crib great.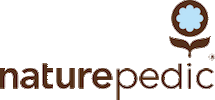 Originally posted on naturepedic.com
Good Quality Organic Mattress
Bed Bath and Beyond Customer . 7 years ago
I love that this product is made from organic materials and will be healthier for my baby to be laying on and breathing in for the next few years. The edges are sealed and smooth, no place for debris to hide. The mattress is very firm and fit super snug into my crib frame, leaving no room for body parts to get caught around the edges.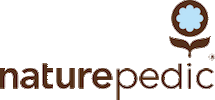 Originally posted on naturepedic.com
Grateful for peace of mind thanks to Naturepedic
Bed Bath and Beyond Customer . 7 years ago
I bought this for my daugher's first baby wanting his sleeping environment to be as organic and free of toxic materials as possible. After extensive online research of all possible options it was clearly going to be a Naturepedic mattress and bedding. The website selector feature and incredible number of options made it so easy to meet all my criteria and preferences with no trade-offs or compromise to be made. Non-toxic materials, no flame retardants which was paramount, perfect weight, made in the US, 2-stage feature, waterproof top. The baby seemed to not like his bassinet or any other sleeping spots until he was put in his crib - my daughter called me laughing and amazed that he was so obviously happy on this mattresss - and the sheets. Very gratifying and worth every penny - I'd happily have paid more for the peace of mind we all have with this quality mattress. It's a perfect gift for grandparents to give and I've recommended it to several friends and expectant parents. So rare these days to find a product of any kind that is "perfect" regardless of the cost.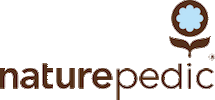 Originally posted on naturepedic.com
Showing 1 - 9 out of 9 reviews