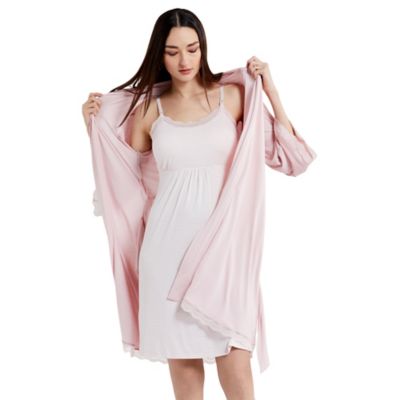 Motherhood Maternity® Large Nursing Nightgown and Robe Set in Pink/White Stripe
customer reviews
Showing 1 - 3 out of 3 reviews
Really soft and pretty, but came with a hole.
Skyler V. . 3 months ago
I really liked this set when I opened it, it's very soft and I was excited to put it into my hospital bag. I wanted to wash it first, but immediately when it dried I noticed that the robe had a hole in the back! Now the tags are off, so I doubt I will be able to get another robe. This was an expensive set, and I expected more from it.

Originally posted on Motherhood Maternity
Great Set
Margaret D. . 1 year ago
I really enjoy the soft nursing gown. It is a huge help to nighttime feeding. The robe is the real star of the set though. It is buttery soft, the way the ties are situated it stays in place so easy. That's my biggest complaint with most robes, not staying in place. The lace detail is very nice and feminine. Overall it was a great purchase!

Originally posted on Motherhood Maternity
Robe is super soft
Kathy S. . 1 year ago
This was a gift for my daughter. It's is soft and fits nicely with the gathers in the back.

Originally posted on Motherhood Maternity
Showing 1 - 3 out of 3 reviews