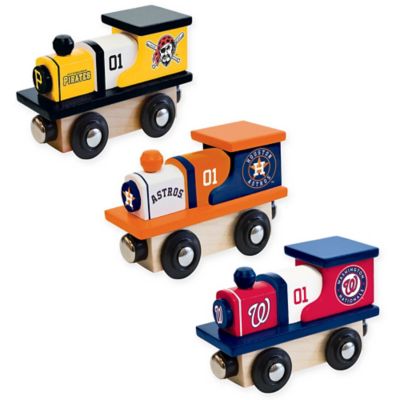 MLB Team Wooden Toy Train Collection
$9.59 - $10.39
Get 20% off & earn 5% back in points with Rewards™+
Enroll Now
customer reviews
Showing 1 - 3 out of 3 reviews
wooden toy train
BB&B Customer . 11 months ago
I was very disappointed in the size of this toy train. I guess I need to ready line for line when ordering. The picture and discription so different. I need to return these. The price that was charged for a matchbox size train is ridiculous. Phillies or not....................
this is Pirates not penguins
Grammyd . 2 years ago
The picture shows Pittsburgh Pirates but write up says penguins. I was glad I took a chance and ordered it. It is as the Pirates and that's what I wanted for my grandson .

Originally posted on bedbathbeyond.com
Love it!
janetd . 4 years ago
Huge Astros fan and this is just perfect!!

Originally posted on bedbathbeyond.com
Showing 1 - 3 out of 3 reviews