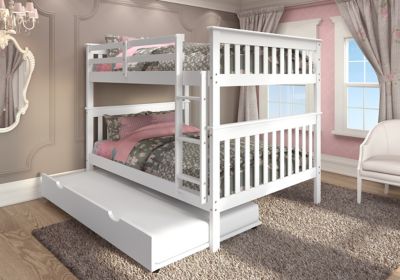 Mission Full Over Full Bunk Bed with Trundle in White
$664.99
was $891.99
(25% off)
customer reviews
Showing 1 - 10 out of 10 reviews
my girls love these !
SamR . 1 month ago
got these for my 12 and 7 year old. they love them. takes a while to put together . instructions are pretty clear. think I had one little issue. once assembled they are beautiful and sturdy IF ASSEMBLED CORRECTLY.
no hardware
settle . 6 months ago
No instruction!
Shamika . 8 months ago
My girls are only 4&7 not big at all the wood on the outside of the top bunk broke from her leaning on them. The wood is no good I expected these beds to last for the price! It's not been a month yet
White bunkbed with trundle
sarai . 1 year ago
Honestly very disappointing it's been a couple months I called when I was missing pieces they never reached out ever again it's not worth it and if you want to ship it I mean it's a lot of work I will never buy from here for beds
Unstable low quality
BB&B Customer . 2 years ago
The quality of the wood is horrible. The holes are misplaced. Not sturdy once put together.
Poor quality
Grace . 2 years ago
I had to use a kitchen knife,hammer, and other objects to cut and break a thick chunk of wood that was blocking a hole needed to attach another piece of wood with a screw. I'm not a carpenter. I don't have wood cutting tools laying around. A lot of the holes were improperly placed.The wood is very poor quality. This product is not sturdy, Do not waste your money!
Beautiful beds
Renee . 2 years ago
Beautiful beds, relatively easy to assemble.
Unsatisfactory
Desiree H . 2 years ago
Most of boards/parts were scratched and damaged.

Good but...
BB&B Customer . 2 years ago
I was putting the bed together and when it came time to place top bunk over bottom bunk noticed that there was no hole on one of the bottoms to the top bunk bed post. No hole for the wood dowel and now i can't place the top bunk on the bottom bunk. I checked to see if i had messed up a bottom post for a top post but i didn't. Reached out to customer service and they said the would email me a solution in 2 days but now it's been over a week and a half.
Very dissatisfied
K Carr . 2 years ago
At first I was so excited to set up these bunk beds for our twin girls, then I started to realize there weren't just 1 Or 2 flaws but 4 and 2 being more than just a scrape or nic in the wood. It's not until my husband was putting it together and noticed what looked to be wet chipping paint on the top of the ladder to get to the top bunk, I came to check it out and touched it and it got my fingers completely white and covered, I have pictures as well of each issue, and it has such a strong smell that I don't even want my girls near it until we figure out what it is and why this happened, it seems to strange to me that this would even be an issue we would have to deal with, along with a huge piece of wood under the top bunk so whoever would be on the bottom bunk could easily get a nice injury to their hand or arm depending if they go anywhere near it, which is very easy to locate and see clear as day, it is completely warped wood. The other 2 issues were With chipping paint and dents to areas which unfortunately are not hidden. To be honest I wasn't even going to complain or send a review until the paint and the wood that could cause a problem.
Showing 1 - 10 out of 10 reviews