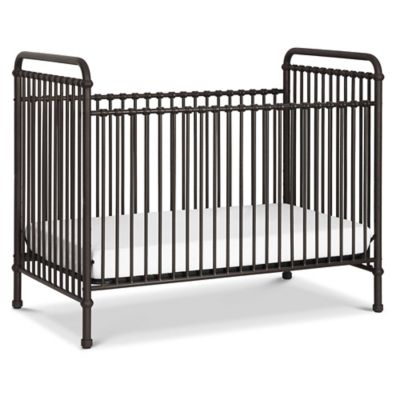 Namesake Abigail 3-in-1 Convertible Crib
customer reviews
Showing 1 - 20 out of 40 reviews
super cute crib… just came with no threads
tnb007 . 7 months ago
The crib is super cute, but we almost had to return a piece because the top bar had no threads! Thankfully my husband has a threader so we were able to finish assembling it. One of the railings also came with some scuffed paint. We haven't opened the second crib yet (we have twins), but are hopeful it's in better condition.
Way more brown than black and came scratched up
Dissapointed . 10 months ago
I feel like I paid a million dollars for a crib that was returned. It looks like someone put it together and returned it. It's all scratched and has scratched circles. I read the reviews and everyone said it was more black than anything and it's brown. Contemplating returning it, but it's such a big box.
beautiful but faulty
Parker . 1 year ago
Purchased this crib back in April 2021. Three of the four sides are now showing signs of some kind of rust where the vertical bars meet the horizontal bottom bar. I'm guessing the fourth side is doing the same but I can't see it as it's up against a wall. The crib was immediately brought inside when delivered and has never been exposed to any sort of liquid. The first time we noticed it, we cleaned all the posts and made sure to thoroughly dry everything but the rust spots keep reappearing each time that we clean them. Extremely disappointed in the quality of this crib.


Originally posted on bedbathbeyond.com
Beautiful crib
ccorona . 1 year ago
This is the second time I buy this crib. I bought it on white for my daughter back in 2019 and now I bought it for my son. Love the look.

Rust
Mfs . 2 years ago
I looked at all the reviews and did not see any reviews on rust for this crib. However we just unpacked and we're disappointed to see 5 rust stains on the one side rail. We emailed customer service and they offered 11% off or a try a replacement:( Love the crib, disappointed by quality a bit.
Elegant and Sturdy
BB&B Customer . 2 years ago
My husband and I love everything about this crib. Installation was easy and took about 20 to put together. We purchased the gold color and pictures do not do justice. It's beautiful!
I love this white crib
Angelika . 2 years ago
We love our Million Dollar baby crib! My daughter's going to be 2 yr old next month, we'll be switching to toddler bed very soon :) 5 stars!

Originally posted on bedbathbeyond.com
Heavy Well Made Crib
Kelley . 2 years ago
We bought this crib from buybuyBaby after we saw it in a local furniture store. It is excellent quality, heavy and solid. I would 100% recommend this. It fits regular size crib mattresses.
Beautiful
BB&B Customer . 2 years ago
This crib is absolutely beautiful!! It was easy to assemble, my 8 year old did most of the work with hubby just tightening at the end! Can't wait for little one to use it.
Beautiful Classic Crib
Ana Alexander . 2 years ago
We love the look of the antique brass and it was quick to put together. It's heavy iron and feels very sturdy. Can wait to pick bedding!


Originally posted on bedbathbeyond.com
Pretty crib, wish it was made correctly
BuyBuyBabyShopper . 2 years ago
I love the style and color of this crib but unfortunately one of the screw holes wasn't made properly so the crib cannot be put together safely. Mainly giving three stars as a result of the poor customer service I received when trying to get a replacement side rail. I was asked by the customer service rep if I could "just find someone to help me fix it?" rather than Buy Buy Baby assisting me.
Allisonlarae . 2 years ago
Ordered this crib in white and it's absolutely gorgeous!!!! Put it together pretty easily as well! Super excited for baby to be here
Love
Kristen . 2 years ago
I bought this for my 7 month old to finally transition into his own room. It is absolutely beautiful and very sturdy.
Cute but you can see the black base
BabyE . 3 years ago
Pretty crib but ours came scratched and you can visibly see the black base that holds the mattress even with a crib skirt.
Looks great
BB&B Customer . 3 years ago
So far we love it. Sturdy and gorgeous in our babies room

LOVE this crib
Lauren . 3 years ago
Beautiful and well built. Can't wait to have our baby so we can use it!
Meg . 3 years ago
Love it! And the crib mattress for snuggly in it when it arrived


Originally posted on bedbathbeyond.com
In Love!
Erica . 3 years ago
This crib is super sturdy, easy to assemble, and an overall beautiful piece for our farmhouse style nursery... Would look great for either gender! Highly recommend!
Amazing quality, beautiful crib!
Mary Jane . 3 years ago
I bought this crib for my son and daughter in law and they are in love. The crib is amazing quality and looks perfect in the soon to be babies room. Highly recommend this crib! A short time after purchasing the crib it went on sale and customer service honored the discount for me as well.
Love!
Cassidy . 3 years ago
I love this crib! My husband and I saw the darker version in store and it immediately caught our eye. When we went online and discovered they also had white and gold Versions of this crib.. It is perfect! Well-made, sturdy and very different from most bulky wood styles. Highly Recommend!
Showing 1 - 20 out of 40 reviews