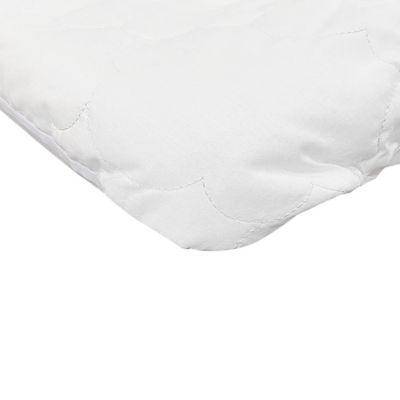 mighty goods™ Fitted Crib and Toddler Mattress Pad Cover in White
$8.80
Get 20% off your entire purchase with coupon!
Enroll Now
customer reviews
Showing 1 - 10 out of 10 reviews
Melted in the dryer
Shane . 7 days ago
The plastic melted in the dryer after the first wash, even though it said it was tumble dry low. I tried to return it, but because I didn't have the original packaging, even though it had been less than a month since I purchased it, and it was ruined, I wasn't allowed to get a refund. Pretty frustrated with buybuy baby and will likely not shop out here again.
Must have mattress cover!
Kaylee . 4 months ago
This waterproof mattress pad cover is the perfect size for any standard sized crib mattress. It's very soft and absorbent, and it makes minimal noise when baby is rolling around on it. It's also very durable and has held up well after washing numerous times. Definitely a great quality mattress pad for a great price!

Everything you would expect.
Jenna . 5 months ago
The crib sheet felt soft to touch even with the waterproof barrier, extremely easy to put on my daughters standard crib mattress, and will be perfect when we begin potty training to prevent "accidents" ruining her mattress. I washed the sheet and it held up well in the wash and looked as it did when I opened It. I am happy with the product.

So far so good
Gius . 5 months ago
Very nice quality mattress pad. The top part is made 100% cotton, it has a very nice pattern and it is soft enough to be used alone - like you don't need an extra bed sheet if you want. The backside it's made of polyester to be waterproof. It fits my standard toddler crib mattress and it has an elastic mesh on the side so it could fit a bit larger mattress. The dimensions are 71 cm x 132 cm for reference. I was expecting a bit of crinkly sound from the back material but I've been using it for a while now and there's no issue at night ( the crib is in our bedroom). We didn't have any incident with our kid for now but I've tried to spill a bit of water when using it the first time and it stayed there and didn't penetrate, mattress was fine. I've washed it following instructions and used the drier on low/cold setting to avoid shrinking.

Great mattress protector!
Ashley . 5 months ago
This waterproof fitted crib sheet is just what you need! My little one is drooling EVERYWHERE right now, so changing sheets happens often… thankfully this mattress protector has held up and prevented anything getting onto mattress! It held up great in the wash and fits the crib mattress perfectly!

It works.
G8rdiana . 5 months ago
This mattress pad protector fits perfectly on our crib mattress. Its very loud to the touch, but is definitely not as loud once on the mattress, so that was a great surprise. It is waterproof and does a good job at containing the moisture. It goes on easily and has mesh clear side panels. I love anything white, washes easily and remains intact post few washings. Great product!

Waterproof Mattress Cover
Camryn . 5 months ago
These are very tight fitting on the mattress like they're supposed to be. They don't make a lot of noise when she moves around on them and so far have kept her mattress free and clear of any accidents. She seems to not mind them.

Good but load crinkly noise
Rachel . 5 months ago
This mattress protector fits my standard crib mattress well. The reason for the 4 stars is that is does make a crinkly loud nose from the material when touching it. I could hear it when my little one was laying on the mattress and sliding her feet. I am not sure if this will go away over time but it is noticeable at first. It does have a mesh scrunched side to fit over the mattress. It has not come undone yet so so far so good.

Great crib pad
Danielle . 5 months ago
This crib pad is great quality! The material us soft and thick. The waterproof lining doesnt make that crinkle noise i expected from the vinyl. It fits nice and tight around the mattress. I recommend this product

Must buy matress cover
Pamela . 5 months ago
Fits the mattress perfectly, washed before use and it's still in perfect condition. It kept the mattress dried when my toddler dropped her cup of water on it. It's soft enough on top so it doesn't make any sounds from the plastic on the bottom.
Showing 1 - 10 out of 10 reviews