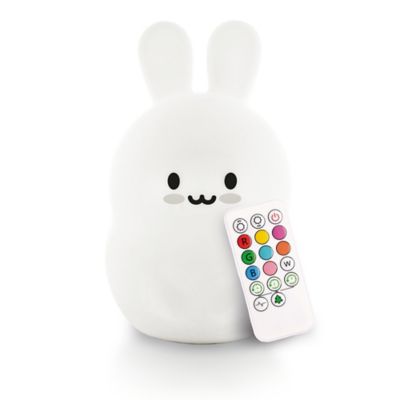 Lumipets Bunny Nightlight
$17.49
Get 30% off & earn 10% back in points with Welcome Rewards™+
Enroll Now
customer reviews
Showing 1 - 20 out of 25 reviews
Wonderful Nightlight Upgrade
Julie F . 5 months ago
We got this nightlight as an upgrade from a cheap old one, and it was worth the price! Super cute animal options, we got the bunny because our 2 year old loves bunnies. Easy to use remote, multiple color options, and a good dimmer. The dimmer and color options were important to us, which is what initially attracted us to this particular nightlight. It works well, is easy to clean, and the battery is pretty good (we also typically put it on the dimmer options). The rechargeable battery is so helpful, and a charging wire is included. Highly recommended for any age child! Pick the animal friend your kid will like best, and I will bet money that they'll love this nightlight! Letting them choose the color is a nice bedtime bonus to help them feel "in control".
Super cute!
AvaMaria . 1 year ago
These are wonderful little lights...with so many color changing options. Soft silicone. I believe you can tap these on and off. My daughter moves the ear and it comes on. They are actually bigger than what I expected so that's great. It's a fun little nightlight for the kids. No funky toxic plastic smells either, so that's a huge plus!

Originally posted on bedbathbeyond.com
Love it!
BB&B Customer . 2 years ago
So happy with this lamp! Our area has many electricity blackout and this lamp works even without electricity! Didnt know when I purchased but its definitely a plus :)
CUTE but poor packaging.
shoppedout . 2 years ago
I ordered this cute lamp as a shower gift. The box it came in was damaged. Very flimsy, lid was torn, box bent and dented. So very disappointed. Don't want to give this as a gift.

Originally posted on bedbathbeyond.com
USB connection does not work
Road runner . 2 years ago
The USB connection does not work. The led light can not be charged by the USB connection.
Love these
June . 2 years ago
this was a life changer getting my son to sleep in his own room. Now both sons have one and I'll buy one for any more kids in the future

Originally posted on bedbathbeyond.com
Lumipets nightlight
Gail . 2 years ago
It was a gift for someone expecting a baby . They absolutely love it! They love the different settings it has for the different color lights and the fact that they can control how bright the light is all with the remote!!

Originally posted on bedbathbeyond.com
Soft, could be used for all ages, Love it.
Grandma D . 3 years ago
Wasn't sure what to expect but when I received, I was so happy. I bought 2, one each for my 4 mo and 1 mo granddaughters. The 4 mo loves this and plays with it all the time. when you hit the bunny color changes. The 1 mo is used as a night light. This is great for all ages and not expensive.
Cute
Ashley . 3 years ago
Cute. We bought two for the same room and the same remote controls both. Unable to change that feature.
Almost perfect
LittleLionMom . 3 years ago
I love this night light except for the fact that it doesn't turn on with the remote. I need to turn it on by clicking on the button on the back of the actual light; then after that I can use all functions from the remote, including turning it off - BUT not back on! My baby also loves it now that he's a little older (6 months) & there aren't any issues with him playing with it or randomly trying to gnaw at it since it's so soft.
So cute
Gigi . 3 years ago
My daughter loves this bunny nightlight. It's so adorable and unlike any other I have seen. The colors are fun and easily changeable via the remote. Also if you tap the bunny it changes the colors too. Also has a rainbow mode that switches through the colors to lull kids to sleep. Keeps a really long charges and is rechargeable from the included cable. Has a sleep timer too. Really cool light for kids of all ages.


Originally posted on bedbathbeyond.com
Perfect for young kids
Silybily . 3 years ago
The soft silicone is perfect for small kids. I like that it has a remote to change the colors and brightness and can also be changed by tapping on it. This is a great night light and is easily charged with the included cord and lasts a few days on one charge.

Originally posted on bedbathbeyond.com
Adorable
Sweetpea . 3 years ago
Such a cute nightlight, it's a silicone type material so there's no fear of it breaking. It has some very pretty and soothing colors, that are just right for soothing fussy babies

Originally posted on bedbathbeyond.com
So cute!
Rsrs2 . 3 years ago
These are awesome for any age, honestly. I love how it feels and the multi color lights brighten an otherwise dull room. I'd think this would be a great gift up to age 16.

Originally posted on bedbathbeyond.com
Soft to the touch and a sure favorite toy!
C Forbes . 3 years ago
I absolutely love this! This is soft and squishy and so comfortable for my 7 month to hold and hug on. I chose the bunny due to the ears being a bit narrow making it easier for him to pick up on his own. He loves lights so this was for sure perfect for him. So many settings! We generally use it on the Christmas tree one so it changes colors and catches his eye. I also love the fact that it is rechargeable and doesn't require batteries. Charge lasts a long time too! He holds and hugs on this all the time and is a favorite toy for him. So glad I found this!


Originally posted on bedbathbeyond.com
Soft color night lamp
Lali . 3 years ago
I brought it for my son, who love to play with it also, just he will press the bunny and it will change the color, it is kids safe. It is like squeshe toy and very soft. It has the remote which is very easy to operate. I recommend this to must have lamp in every kids room.

Originally posted on bedbathbeyond.com
Adorable
Sweetpea . 3 years ago
Cutest little nightlight with a choice of colors. It's made from a soft material that feels like silicone. It has the cutest face, which is so important with children. It comes with a remote control. And I think it's great value


Originally posted on bedbathbeyond.com
Amazing, a day & night time saver!
HappyMama . 3 years ago
Lumipet has come to the rescue! Due to our night light not working because of power outage sent my child in heavy fear of being alone in the dark last month. I knew I had to do something that even a power outage would not effect. Our LumiBunny brought excitement and all day and night comfort to my little girl. It's awsome remote allows her to chose colors while also allowing me to control the timer and power usage. Plus not hot to the touch, soft and easy to clean. Being WIRELESS charging is the biggest bonus this product has too!! My baby girl is happy and I know I made a good choice

Originally posted on bedbathbeyond.com
Loved it!
Atiksh . 3 years ago
I bought it for my son and he really loved it..He can sleep and play with it...It is safe for kids....It's material is soft so i can't harm kids...Lights are soft and perfect for night...Comes with remote which has various color changing features...Worth the price...Thank you!

Originally posted on bedbathbeyond.com
This light is too cute!
Ehssss . 3 years ago
I bought this a few weeks ago for my nephew who is really into lights, especially those he can operate himself. He taps it over and over, can use the remote, and turn it on and off. It doesn't even have to be plugged in, just charged. It's also safe for him to use because it doesn't get hot. This is a very creative, functional product and clearly made with kids in mind.

Originally posted on bedbathbeyond.com
Showing 1 - 20 out of 25 reviews