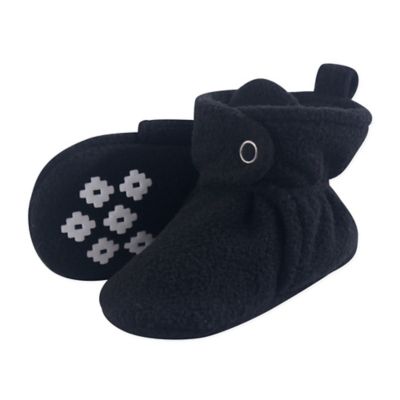 Little Treasure Size 0-6M Fleece Scooties in Black
customer reviews
Showing 1 - 10 out of 10 reviews
Great booties!
BB&B Customer . 1 year ago
I returned other shoes and got these instead. Absolutely love these! The only drawback is I wish it had 3 snap sizes instead of 2 because they are still slightly big on my son's foot.
Soft shoes
Wkm . 2 years ago
Easy to put on. The only shoes my grandson like to wear
Booties
Cekent . 2 years ago
Cute style, seemed to run a little small
super cute but not worth it
Jennifer . 2 years ago
These are so cute! I didn't feel like the sizing was accurate and they kept falling off. If I could go back in time I wouldn't have bought them, just a waste of money.
Softest booties
Rac . 2 years ago
I love them supper soft
Love these booties!
Jessica . 3 years ago
Great quality, and keeps baby's feet warm!
Needs another button
Kelly2829 . 3 years ago
I was hoping my baby would keep these on, but she was still able to pull them off just like any other sock. I wish the closure had more buttons to make them tighter if you want. I just needed them to be a little tighter.
Easy to Use
first time eater . 4 years ago
Snaps are simple, even on fast moving baby feet.
Easy to put on
RJG22 . 4 years ago
These are great little booties that were easy to put on our son, and also kept his feet warm. They also fit is foot even though he has a very wide foot. Highly recommend.
Always stay on
candrews . 4 years ago
My daughter loves these booties. She is very active and they always stay on! They are quick and easy to put on and she doesn't pull them off. She uses them in her walker, and with the grips on the bottom she's still able to get around just as fast. She's 5 months old and I bought the 6-12mo because she has chunky feet, and she's almost grown out of them already. I will definitely be buying another pair soon!
Showing 1 - 10 out of 10 reviews