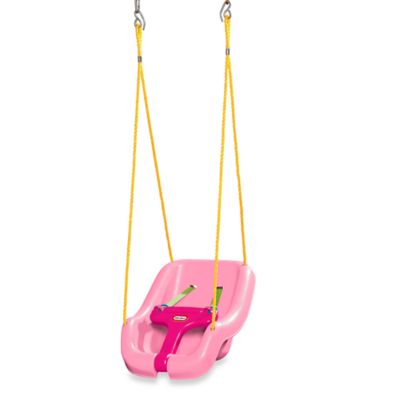 Little Tikes® 2-in-1 Snug N' Secure™ Outdoor Baby Swing in Pink
$22.39
Get 20% off & earn 5% back in points with Rewards™+
Enroll Now
Most Helpful Positive Review
She loves it
Tina
.
4 years ago
Easy to attach to our swing set and my daughter just loves it.
Most Helpful Critical Review
Instructions?
cohensmom
.
4 years ago
um cute swing, it was given to us as a birthday gift for our soon to be 1 year old son...we have yet to put it up because where are the instructions? all I got was a pamphlet of things saying dos and don'ts that are common sense. There was nothing in there about what to hang it from or what the hooks look like to hang it from, nothing in there about the proper size hooks to buy, nothing! no tools needed my foot. If I didn't think my son would love it so much I would take it back...it should really come with all the hooks and stuff needed to install it.
customer reviews
Showing 1 - 20 out of 169 reviews
Baby loves this swing!
Michelle . 2 months ago
Baby loves this swing! Be careful how wet it gets outdoors though. We had to buy new one due to mold. Great swing!
Swings
BB&B Customer . 2 months ago
Little Tikes always make great products. These swings are great

Originally posted on bedbathbeyond.com
Swing
Mill . 3 months ago
I bought 2 swings for my grandchildren. The adjustable straps wore out and broke, not even a year old. I bring them inside in the winter. Now what do I do?
Originally posted on MGA Entertainment, Inc.
locks are the WORST
LC1234 . 7 months ago
Save yourself the hassle and frustration and go for a product with easier straps to unbuckle, ESPECIALLY if you are a mom that keeps longer fingernails (impossible). We literally leave the straps buckled 24/7 to put our infant in and out and it's annoying!
Originally posted on MGA Entertainment, Inc.
Perfect addition to our play set!
JMSawinski . 11 months ago
We received the 2-in-1 Snug 'n Secure swing for Christmas from my sister and it's working out great! Our son loves swinging next to the bigger kids and he's completely comfortable while doing it. The safety features of the swing keep him secured in place (so no worries for us!). Thanks little tykes!

Originally posted on MGA Entertainment, Inc.
Little Tikes swing
Rhonda . 1 year ago
This was purchased as a Christmas gift for my granddaughter so it hasn't been used yet. It came packed well and in good shape and we can't wait for her to try it.
Not very "snug 'n Secure"
kyky . 1 year ago
So we've had this swing for a year, but started using it around 5 months ago. We have never any issues, I would have given 5 stars except for the fact that my daughter fell out of the swing today. We made sure it was buckled and we heard both the "clicks" so we know it was tight and secured as should be. My daughter still fell out. I'm not sure if I have a defected swing but I am very disappointed.
Originally posted on MGA Entertainment, Inc.
my baby lovesss it
hasan . 1 year ago
literally this is the cheapest swing in the market and the safest for baby. good for babies over 8 months old. just wish the rope was longer its soo short!! i lvoe that it has extra straps for baby which you can remove when they get older so this will last a long long time!!

Originally posted on bedbathbeyond.com
Love it!!!
Adriana . 1 year ago
It is colorful, and has a great safety belt. Totally worth it!!!

Originally posted on bedbathbeyond.com
Outdoor Swing
Kelly . 1 year ago
Exactly what we were looking for. Our 8 month old enjoys it. Easy to install. We attached to wooden poles but can hang from pretty much anywhere, even a tree.
Cute swing
Kathryn . 1 year ago
I had ordered a bucket seat for my baby to go with our new swing set, but my baby isn't large enough for it yet. This is a great solution--reasonable, sturdy, and my now 6 month old can lounge comfortably while enjoying being in his swing instead of being forced to sit upright. Purchased with a 20% off coupon and thought this was a great deal.
Great swing
jbb . 2 years ago
My kids had this brand of swing 30 yrs ago and now my granddaughter has one. Timeless and well made. Easy to install. Safe and easy to secure child in seat. hours of family fun!!
Perfect outside swing
allie . 2 years ago
My baby has been using this since she is 4 months old, she loves it and my older kids love pushing her in it. Half the time she falls asleep in it! Definitely recommend , we took one of the swings off and connected it right to the kids swing set.
Great entertainment!
Kali . 2 years ago
My baby has loved this swing for several months! We put her in it from the time she could sit up. she is 9 mo now and we still use it!
Love this!
BB&B Customer . 2 years ago
No complaints! Our babygirl loves this swing
Just what I was looking for, and you n sale too!
BB&B Customer . 2 years ago
Easy to hang from the tree in our backyard, and my granddaughter loved it!
Cute Pink Swing
BB&B Customer . 2 years ago
I bought this for my 2.5 year old for a new swing set we just set up. Even my 5 year old twins want to swing in this more than their standard swings!

Originally posted on bedbathbeyond.com
Safe and secure
Miaboo . 3 years ago
Love this swing and you can't beat the price! I feel ease to put my baby inside and push as high as he likes, and won't worry about the safety like some of the other swing sets because the straps are tight around him, he often doze off while I push him.

Originally posted on bedbathbeyond.com
Difficult to clip in and out
Mama of 2 . 3 years ago
Good quality as expected but to clip a child in and out is difficult and frusrrating
Daily Activity
Brooks711 . 3 years ago
My almost 10 month old loves it! We hung it under our porch and it's so nice to have something to do outside with him right now besides our daily walks!
Showing 1 - 20 out of 169 reviews