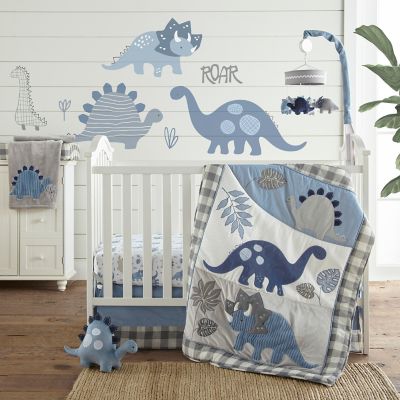 Levtex Baby® Kipton 4-Piece Crib Bedding Set in Blue
$143.99
Get 20% off & earn 5% back in points with Rewards™+
Enroll Now
customer reviews
Showing 1 - 7 out of 7 reviews
Levtex baby 4 pc crib set
BB&B Customer . 7 months ago
Love this item and how the whole room looked adorable for about 40 minutes. Stickers just fall off wall. I am so disappointed. Been on hold with buy buy baby fior half an hour to see if I can get the stickers replaced.

Originally posted on bedbathbeyond.com
Adorable bedding set
Michele . 2 years ago
I love the bedding set - cute and well made. The decals are also cute, but some tore when removing from the paper and some didn't stick well and fell right off the wall.
vinyl stickers
JThomas . 2 years ago
The vinyl dinosaur stickers are not the color the picture shows. They have a more purple and brown tint. The pictures shows them to be light and darker blue which is not the case at all. They don't match bedding.

Originally posted on bedbathbeyond.com
Stickers
Isabella . 2 years ago
Stickers don't stick well
Sticker fail
Misha . 3 years ago
Love The bedding, it's adorable, however the stickers all fell off the wall and got ruined. We have eggshell paint so it's not an unusual finish on wall
So cute!!
Alli . 3 years ago
We got this for our little guy and I'm so excited with how his room turned out!! I wanted to share what we did with it! :)

Review
Misha . 3 years ago
I bought this because I wanted the quilt and the decals. The decals were not sold separately. The decals have not lasted one day on the wall even though we read the instructions! Not happy about that. Overall the quilt is nice.
Showing 1 - 7 out of 7 reviews