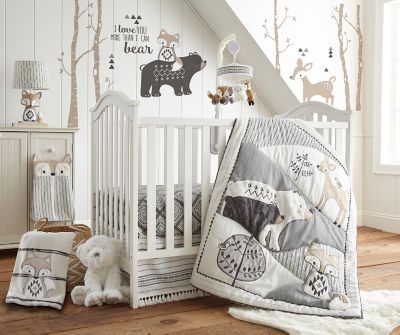 Levtex Baby® Bailey 5-Piece Crib Bedding Set in Charcoal/White
$125.99
Get 30% off & earn 10% back in points with Welcome Rewards™+
Enroll Now
customer reviews
Showing 1 - 20 out of 33 reviews
bit hard but looks amazing once all done
crana . 11 months ago
bit hard but looks amazing once all done

Woodland themed nursery for my little bear
Sarah . 1 year ago
Love this set! We didn't want to be traditional and paint the room blue, so it was nice to find a set without blue taking over! The perfect little woodland set for our little one to come home to.

So much better in person!
KatS . 1 year ago
I was gifted this set from my registry and it's really great in person. The quality is very nice and I really like the different fabric textures for the various animals. I haven't tried out the decal yet, but looking forward to setting this up and decorating!
New Grand Baby
BB&B Customer . 2 years ago
Love the neutral colors of this crib set. New grand baby coming in Oct. We don't know gender yet but this set will go for either boy or girl!!
Stickers don't stick
Amy . 2 years ago
Very disappointed the decal stickers did not stick for more than a few days. Now our nursery walls look plain. I plan to return it.

Overall really love
BB&B Customer . 2 years ago
Overall I love this set! It looks so much nicer in person and is good quality. The only negative is the sticker decals for the wall. The words are almost impossible to get up and straight the first time. In hindsight I would have saved a lot of time finding a nice picture to match instead. Other then the stickers, everything else was perfect and I would recommend this set!

Originally posted on bedbathbeyond.com
Wrong wall decals
Cassidy . 2 years ago
Love the quilt but disappointed that the wall decals are not at all as advertised, not even the same theme.
So cute and soft!
Rachael . 2 years ago
Such a cute set and happy it's soft! Unlike some I have ordered, the sheets were super rough and plastic. These are awesome! And after some cold water and downy the starchy feel goes away. :)
Pretty but stickers were horrible
BB&B Customer . 2 years ago
Everything was so pretty but the tree sticker decals all fell off I was so disappointed. For that amount of money they should not have been made so cheaply.
Gender neutral perfection
DKHGIRL . 2 years ago
We didn't know if we were having a boy or girl so we went with a rustic woodland themed nursery and this set is perfect! We get SO many compliments. We ended up having a girl and I still wouldn't change it. Love that we can use it for our next baby if we're blessed with one!
Cute and well made
Sweetpea . 2 years ago
Everything was as described. My son and daughter-in-law love them for the baby's nursery.
love it!
Maria . 3 years ago
It's very gender neutral and matches almost any color. Super cute for a woodland or mountain themed room. LOVE IT!
love it!
Breeze . 3 years ago
Super cute!! Pretty, gender neutral colors! Can't wait for baby!
love it!
Breeze . 3 years ago
Super cute!! Pretty, gender neutral colors! Can't wait for baby!
love it!
Breeze . 3 years ago
Super cute!! Pretty, gender neutral colors! Can't wait for baby!
Great quality
TjNjmom . 3 years ago
Great quality and super adorable for a boy or girls room! The decals are easy to put up and look amazing! The bedding is made out of great, long lasting materials. We are very happy with this purchase!

Super Cute
Mercy . 3 years ago
Matched perfectly with the grey and white crib. Different from the normal blue for boys.

GREAT PRODUCT
Terri . 3 years ago
Bedding set is beautiful, great quality and makes the room
LOVED this set
Melissa C . 3 years ago
I LOVE this set. It's adorable. everything came in as expected, the wall decals are such a great addition (although a pain in the butt to put up as far as the words/letters are concerned). I knocked off one star only because as i was putting the bed skirt on I got pricked! There was a sewing needle still attached! Super dangerous, so I'm glad at least i was the one to discover it as opposed to baby (down the road) or my dogs. Manufacturer should really make sure this doesn't happen again. Other than that, the set is wonderful and I love walking into the nursery and seeing everything up and ready for my little man's arrival.
Great bundle variety
STello . 3 years ago
This not only has the items essential for a nursery, but also has the added graphics to enhance the overall theme.


Originally posted on bedbathbeyond.com
Showing 1 - 20 out of 33 reviews