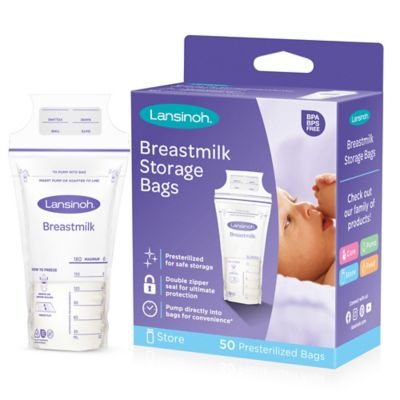 Lansinoh® 50-Count Breastmilk Storage Bags
$9.59
Get 20% off your entire purchase with coupon!
Enroll Now
customer reviews
Showing 1 - 20 out of 8159 reviews
A1 Since Day 1!
patriciam294 . 3 weeks ago
I've tried a number of diff brands breastmilk storage bags and these have been my best choice everytime. They're easy to freeze flat and package several in bricks. They also have the easiest way to defrost bags. They quickly defrost without issues of bags popping or having holes in the process of its transition. The material of the bag itself makes it easier to frost quicker. I've also had these replaced with my health insurance. Majority of health insurance will cover the cost of replacement bags during your breastfeeding journey

Originally posted on influenster.com
Milk bags
sarahf435 . 1 month ago
I use multiple kinds of bags to store my milk however I have found that these bags defrost really well and don't tend to leak as often as the others

Originally posted on influenster.com
Dependable
tylermalynne . 1 month ago
These never let me down! I stored all pumped breastmilk in these, & rarely experienced a leak. Leaks were due to poor storing, not poor quality of the bags! These are my go-to for our next baby!
Originally posted on influenster.com
Pumping must have
mamamur . 2 months ago
I didn't have Lansinoh pump with either child but this storage bag is the one I preferred above any other I tried. The design makes for mess free pouring into a bottle. I lay flat to freeze for more compact storage.
Originally posted on influenster.com
Best breast milk bags!
leighb34 . 2 months ago
I have been using these bags since my first child was born in 2006. I breastfed exclusively and pumped as I was donating to a milk bank. These bags hold up well in the fridge and freezer. I love how they stand up well also when you're pouring your pumped milk in them. Writing on them with a permanent marker works perfectly and doesn't smudged. These are always a gift I give to new nursing mothers I know, and I've happily used them now while nursing six children. They are the best!
Originally posted on influenster.com
Nice
laurenj125 . 3 months ago
These are by far one of the best milk storage brand bags I've used, and I've used many different ones. They are thin, but I've personally not experienced any leaks or issues. The number measurements seems to be pretty accurate also.
Originally posted on influenster.com
Sturdy!
liandrabun . 3 months ago
These are great! I don't produce a ton of milk yet since my baby is only 3 weeks and I couldn't nurse in the hospital so I try to pump when he won't latch and I just use them right now to pump into, I get around 3oz a day and use these with their pump.
Originally posted on influenster.com
Awful Leak Issues
disappointedmomma . 3 months ago
Don't waste your money on these bags. My son was hospitalized after birth and couldn't eat for a couple weeks. I used all 100 bags while in the hospital to freeze my milk. Now we are thawing them to use and almost every single bag has leaked from the bottom corner. I have lost close to 100oz of milk and have only thawed out a portion of the bags used. I cry every time I thaw them and see the puddle of milk. When I can catch it in time I put the bags in a glass cup to try to salvage some of the milk, but some is still lost and I can't always catch it in time. This was a HUGE waste of not only precious milk but also money. I do not recommend this product at all.


Originally posted on lansinoh.com
suggestion on the easy write label
VIOL . 4 months ago
I am a mother of a new lactating mother. I found your product the storage bag easy to use but can I just suggest that the easy write label be written the way the other information in the bag are written like that you are reading on a straight vertical way. in the label you get to put upside down to read the information since they are written on the opposite way.

Originally posted on lansinoh.com
Recommended Breastmilk storage bags
diniv . 4 months ago
Lansinoh breastmilk storage bags are the best. I always use them to keep my milk frozen. They can be flat and save space in my freezer. That's the good thing. Another good thing is that I can write the date and time for the milk so that I know how long my milk stay in the freezer and whether it's expired or not.

Originally posted on influenster.com
By far the best
haleym183 . 4 months ago
These are the best storage bags I've tried. I see everyone always saying they leak but I've been exclusively pumping for 4months, I have a oversupply so I'm constantly bagging milk. I always use my frozen milk for when I'm out and I've never once had a bag leak on me. It's all about proper storing mamas! If you hit them against something or rip apart the bags when they are frozen together they are bound to rip and that's probably what's causing the leaking. Never had a issue.

Originally posted on influenster.com
Several leaking upon thawing
LNI22 . 5 months ago
I have exclusively bought and used Lansinoh breastmilk storage bags, all of which were stored using the storage guidelines and with no more than 5 to 6 ounces. I have two deep freezers full of stored milk. Now that I am starting to thaw them for use, a conservative 25% of the storage bags end up leaking from one of the bottom corners. After the hours and resources spent storing the breastmilk, this is incredibly disheartening, not to mention wasteful. It is not only a waste for the bag that is leaking, but also because I now don't know whether I can thaw 2 bags for the 2 bottles I need for the day, or if I'm going to need to thaw 3-4, just in case some end up leaking and are not usable. If they don't end up leaking, they're wasted because they're not needed with the 24 hours of thawing. If they do end up leaking, they're a waste to begin with, which puts me in a lose lose situation. Very dissatisfied.

Originally posted on lansinoh.com
Perfect for milk storage
sarahs1111 . 6 months ago
These were perfect for milk storage. I always lay them flat to freeze so they take up less room. I never had to worry about leaks with these and never worried about laying them down in the freezer. I love that they have spots to clearly label the time/oz/date of the milk as well.
Originally posted on influenster.com
Love
madalinav . 6 months ago
I loved this bags, it can hold good anount of milk and they seal quite well. I still haven't defeost them but so far so good.
Originally posted on influenster.com
Leaky
Penny . 7 months ago
I used almost a full 100 of these bags to freeze my milk when baby was born. Now that I'm using the frozen milk for bottles/cereal etc I've lost close to 50 oz TOTAL to leaky bags. I'm incredibly disappointed and upset that so much of my hard earned milk has quite literally gone down the drain.


Originally posted on lansinoh.com
Easy to use
chipotliz . 7 months ago
I don't have Much to compare the bags to as these are the first brand of milk storage bags I have tried. They are easy to use no spills. Easy to pour out. Have worked well for me.
Originally posted on influenster.com
easy!
vshcudi . 7 months ago
simple and easy to use! lay them down to freeze to make more space when storing you can never go wrong with these bcus they are cheaper than most and you will throw them away after
Originally posted on influenster.com
Best Breast milk Storage bags!
skullry . 7 months ago
These were recommended by my doctor for when I began breastfeeding, I find the price point and durability of these are superior to that of the competitors. It definitely exceeded my expectations, I would definitely buy again and am very likely to recommend!
Originally posted on influenster.com
Great!
jessied47 . 7 months ago
Great for breastmilk storage! Some of the other storage bags Oz. Level would be off from what the bottle said but these seemed pretty comparable to the measurements on the bottle.
Originally posted on influenster.com
Good
ashleya469 . 8 months ago
Easy to use bags. I didn't use the breast pump from this brand or bottles but it was still easy to store my milk and transfer to the bottles I did use.
Originally posted on influenster.com
Showing 1 - 20 out of 8159 reviews