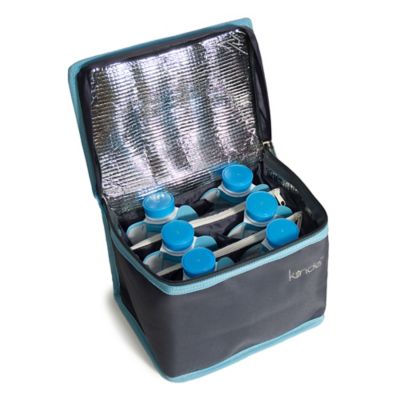 Kiinde™ Twist™ Breast Milk Cooler Bag
customer reviews
Showing 1 - 10 out of 10 reviews
breast milk cooler
Donna . 3 years ago
It's a cooler...what else can I say, haven't used it yet as it was a gift
Perfect for work!
Laura g . 3 years ago
This ya a great storage bag for work and travel. I keep my pumped milk in it while at work and it stays perfectly refrigerated for 8 hours.
Not made as well as it should be
Heather . 3 years ago
It's a good concept but every other cooler we have is much better made than this. The material is very thin. The zipper doesn't keep the cold in, but I guess it's better than having nothing. We ended up returning it since our Rtic cooler is much better made.

Originally posted on bedbathbeyond.com
Great idea, mediocre execution
Yesh . 3 years ago
I love how organized and cold this keeps my milk. however i dislike that the internal zippers busted the first day as previous posters mentioned.
Keeps my milk cold!
Shukonda . 3 years ago
This cooler kept my frozen milk frozen and the thawed ones nice and cold. I'm extremely happy with this cooler bag as an added addition to my Kiinde bottle system and it will work great when I go back to work.
Ice cold!!
Dbrown . 4 years ago
This cooler is amazing! We brought it on a ten hour road trip and when we got there, the ice packs were still completely frozen and the milk was COLDER than it was when we took it out of the fridge at home!
Perfect
BabyBear . 4 years ago
This holds a variety of different storage bags and in a pinch can fit in a small/narrow bottle or two.
nice
Madds . 4 years ago
nice and sturdy, I imagine it will fit the kiinde pouches wonderfully once baby arrives.
True to Form!
mauryharwin . 4 years ago
I work in a very, very ac blasting office environment. With the two freezer ice bags in place, I don't ever have to move my bag to the fridge after pumping. It definitely lasts from 6:45am when I leave my house until 4:45pm when I get home to transfer milk.
Kiinde Cooler
Pwinegar . 5 years ago
I use this every day when transporting my milk from work to the sitter. I love it!
Showing 1 - 10 out of 10 reviews