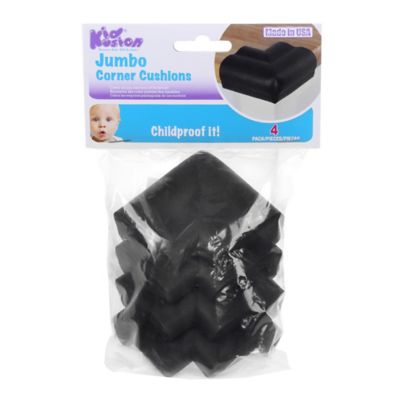 KidKusion® 4-Pack Jumbo Soft Corner Cushion in Black
$7.19
Get 20% off your entire purchase with coupon!
Enroll Now
customer reviews
Showing 1 - 5 out of 5 reviews
great band
lily . 4 years ago
I had bought other brand of this cushion but this is by far the best I love them
Doesn't work
Stretcb . 5 years ago
Kushions do not work, disappointingly they do not fit the end table.
working good
reviewer . 5 years ago
It works just fine as of today, as long as it stays stuck.
Exactly what I needed
FirstMom87 . 6 years ago
Perfect for covering those sharp corners. Adheres well to furnishings.
Life saver!
Candice47 . 6 years ago
Where were these years back when when I busted my head on my great-grandmother's dining room table?! Now, that same table is in my house but those horrifying corners have since been protected with these corner cushions, so that my own daughter does not repeat my steps there ! I've personally discovered that they also work very well protecting us adults' hip bones from agonizing run-ins with those same corners haha.
Showing 1 - 5 out of 5 reviews