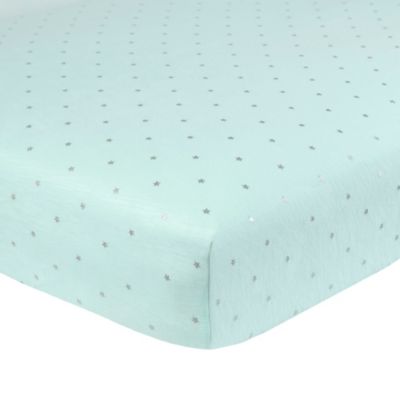 Just Born® Sparkle Star Fitted Crib Sheet in Aqua
$19.99
Get 20% off & earn 5% back in points with Rewards™+
Enroll Now
customer reviews
Showing 1 - 14 out of 14 reviews
Super cute and comfy
MAC . 3 months ago
Love these sheets! Matches my nursery perfectly and have held up after months of washing. Highly recommend.
BB&B Customer . 2 years ago
Perfect fit and soft fabric
super cute
geovy . 3 years ago
super cute set... i would totally rebuy ... hearts are foil so be careful drying in dryer...if you can air dry even better
Love!
jdanna . 3 years ago
We love these sheets. They are soft and fit easily over the mattress. We have the mint and pink and they are beautiful.
The softest!
danichic21 . 3 years ago
So happy I got these off my registry. Great quality, so soft and they are beautiful too.
Cute but too thin
Rach . 4 years ago
Wish it was a little thicker and less transparent
Just Born Sparkle Fitted Crib Sheet
Svr53 . 5 years ago
Love the sheet, beautiful with the decor & a nice tight fit!
Just Born® Sparkle Fitted Crib Sheet
Kazdeja . 6 years ago
i loooove these. I received 2 (one in blue and one in green) the colors are soft and pretty. The material is nice and soft. they match perfect (in my eyes) with the grey sparkle skirt.
cute sheets
NJ17 . 6 years ago
They are very cute sheets. I like this collection by Just Born.
Thin
Mel09 . 6 years ago
Online the sheets look a bit flannel from the pics, but it's a jersey material crib sheet. I wanted something a little thicker, but couldn't resist to buy these sheets. They're beautiful! I ordered the pink sheet with hearts and its adorable (same as shown in the pic too.) I placed a thin warm layer on the mattress and covered it with the crib sheet. The room gets really really cool at night, I wanted my baby to have comfort.
Super Soft
Mary . 6 years ago
I love, love, love these sheets! They are so soft and wash great without any of the patterns coming off.
Just what I was looking for
Lm331 . 6 years ago
I've searched everywhere to find a soft cotton bed sheet for my daughters crib online, luckily I found this. It's absolutely perfect and the color and design is just right for her nursery. It's minimal yet very cute. I got the grey one and was concerned it would be too grey, it was actually just the right lighter shade of it. I'm planning on getting one or two more colors and this will be the go to sheet for years to come!
Love this color
Joni . 6 years ago
The color of this crib sheet is perfect, and the shimmery stars are so sweet! It's super soft, too.
so sweet
Joni . 6 years ago
Love this bedding collection! The shimmery stars are perfectly subtle, and everything is so soft. I like the really simple bumper, too - great for when baby starts teething.
Showing 1 - 14 out of 14 reviews