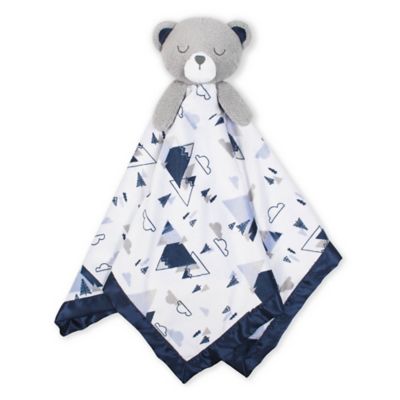 Just Born® XL Plush Bear Security Blanket in White/Blue
$17.59
Get 20% off & earn 5% back in points with Rewards™+
Enroll Now
customer reviews
Showing 1 - 15 out of 15 reviews
Our daughters favorite
Carly . 9 months ago
This blanket is a necessity for our daughter and is great. She takes it everywhere and it holds up well with weekly washings.
Adorable
BB&B Customer . 9 months ago
A little thinner than I expected but absolutely adorable
Buying another as a back up
Kaylee . 2 years ago
We have had this bear for probably two years now and our 3.5 year old is still extremely attached to it. I'm buying a second one so we have a back up since he takes it to daycare and sometimes leaves it there. It has held up nicely to *many* washes and dragging on the ground. It's very soft and he loves it :)

Originally posted on bedbathbeyond.com
Well made
BB&B Customer . 2 years ago
Well -made, sturdy. Holding up through several washes. Small enough to be cuddly & large enough not to get lost as easily.

Originally posted on bedbathbeyond.com
Great silky
Cindy . 2 years ago
My grandson has this as his favorite blanket. He loves the silk and it's the right size to carry around , and will not trip over it.
So cute and soft
Adchic . 2 years ago
I bought this for my daughter and she loves it and sleeps with it nightly.
Love it! and my baby too!
ANDREA . 2 years ago
My one and a half year old baby just can't sleep without his unicorn blanket. We have 4 of these, because we have a couple saved for her.
is this a joke
Bed Bath and Beyond Customer . 2 years ago
are you kidding me, really-and I don't mean it like a middle school girl. product has been sitting in NJ for the last 9 days. reminder I bought this item back on 9/17, so glad I was charged shipping. would love to talk to a human about this. you have my contact info, feel free to reach out. PS-you IT/Data Analytics team needs to find a way to prevent the "Tell us what you think!" emails from going out when the product has yet been delivered-email added gas to the fire. Jason
Security blanket
Meli . 3 years ago
My baby loves this and holds on to it all the time. Cutest and softest security blanket I've seen
Just born security blanket
Grammy4 . 3 years ago
I bought this to keep at Grammy's house. He lost one and Grammy can provide another. Fast delivery and good quality.
Love it just thought it was going to be XL.
Beth S . 3 years ago
Super cute and I love the silky back. Only issue is I thought the XL was going to be longer. I don't know if the dimensions where in the description so if it was it was my bad. Still love it.
Blanket and Lovey in One
Chrissy . 3 years ago
We knew she'd want one of these based on my older nieces and the XL one is perfect combination of a lovey and a blanket! She uses it every night and absolutely loves it!
Great gift
Mona . 4 years ago
Nice and soft. My baby love it and easy to clean.
Perfect!
delaw . 4 years ago
Using this as a cake topper for a diaper cake. It its very soft and cuddly!
So cute!
ashlee727 . 4 years ago
I can't wait until my baby can snuggle this cute blanket - it's so soft!
Showing 1 - 15 out of 15 reviews