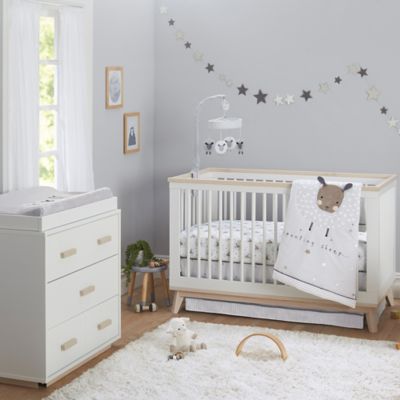 Just Born® One World™ Counting Sheep 3-Piece Crib Bedding Set in Grey
$63.99
Get 20% off & earn 5% back in points with Rewards™+
Enroll Now
customer reviews
Showing 1 - 3 out of 3 reviews
love it
Mrue . 2 years ago
simple and beautiful
Great quality and price.
Bed Bath and Beyond Customer . 2 years ago
Super cute and simple. Loved the material. Bought it for my baby boy. Will work great for boy or girl because of the neutral colors.

Originally posted on bedbathbeyond.com
Looks cute, poor quality
kmaha001 . 3 years ago
I bought two of these for my two kids' cribs (I have a toddler girl and baby boy.) I received a pair of lamb lamps and therefore had to coordinate the nursery in a lamb theme. I wanted a cute, unisex set that didn't break my wallet. However, you get what you pay for and sometimes a bit less. The quality of the materials is poor. The sheet claims to be cotton but it's a terribly low grade/thread count that feels like paper. The polyester comforter is stiff and not soft and is also on the smaller side. I don't know how my babies will snuggle with this thing. However, crib bedding sets are only used for a couple of years. Hopefully this set lasts that long and I can buy something of superior quality for their big kid beds later on. At least it's a really cute design!
Showing 1 - 3 out of 3 reviews