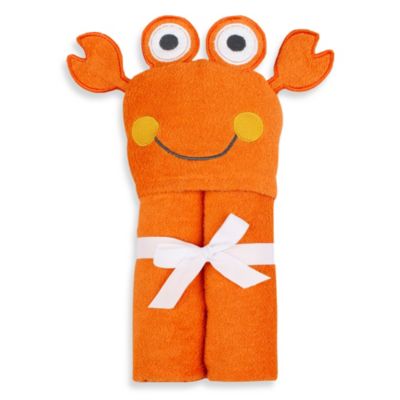 Just Bath by Just Born™ Love to Bathe Crab Hooded Towel in Orange
Unavailable
This item is no longer for sale online
customer reviews
Showing 1 - 13 out of 13 reviews
Highly Recommend!
Kelly B . 1 year ago
Great towel! It is soft, big and cute! Little guy is 8 months and it still covers him fully.
Great for my 3T toddler
Mel . 1 year ago
Love the size because my 21 month old wears a 3T and she loves the crab hood
Absurdly wasteful, obnoxious, DANGEROUS packaging.
Sean . 1 year ago
The number of plastic fasteners used to bind this product was nothing short of offensive. I honestly threw up in my mouth a little bit at the number - I lost count after more than two dozen of them. For a SINGLE TOWEL. ARE YOU KIDDING ME????? Not only are these things bloody awful for the environment but they're legitimately a choking hazard for children. A SINGLE BABY TOWEL came with literally dozens of tiny plastic choking hazards attached to it, which of course become nearly invisible as soon as they hit the carpet. Just a disgusting display of raw stupidity and waste this product is.
Bath Crab Hooded Towel
BB&B Customer . 2 years ago
We are grandparents of 19 grandkids and needed to help when little one visit and go home after a good bath. This hooded towel is just perfect for new norms and younger children. Soft and very comfortable for younger children. So nice to have the right things for bath time
sihissi . 5 years ago
Poor packaging. Tons of pulls in the fabric once I finally got it all the plastic tags out.
son loves this
Brendan125 . 5 years ago
My son loves this towel and has held together very well for 2 years.
Tore after first wash
Alexis95 . 6 years ago
The towel is great. Perfect size and nice and soft for baby. My only complaint is that the crab claw on the hood tore open after the first wash
Great quality
Pam16 . 7 years ago
We love Just Born bath towels for our infant. They are thicker than other brands and wrap around our baby perfectly so he isn't cold when we take him out of the bath. They have a lot of cute designs too!
Going on 2 years!
CheekyMonkey84 . 7 years ago
We've had this towel for my son - going on 2 years. WE LOVE IT! I read the other reviews and was really shocked that it was fraying. Our towel has withstood repeated washings and I think it is one of the better quality towels. It is soft and absorbent and is quite large. I actually came on this website to purchase another for baby #2 due in 4 weeks.
Would not recommend
James . 8 years ago
The towel is adorable but the packaging sucks. There were a million plastic tags to cut and this left tons of tiny holes in the towel. We returned immediately.
Fraying and Unraveling
meowmits . 8 years ago
So disappointed in this towel. We only washed it once and it was already fraying all over. Not just in a few spots but everywhere! We keep finding orange threads on everything that was in the wash with it. We followed the washing instructions exactly too. What a waste!
Nice and big
Me23 . 8 years ago
This towel is a great size. I like that it is not in the shape of a diamond so it covers my son well. I have used this from the time he was 6 months and he is now 15 months. I initially bought this towel to bring to the beach but have continued to use it for the bath. The stitching for the eyes is starting to unravel but I would buy this towel again because I like the quality.
Big for Infants
Talyasmom . 9 years ago
This was so adorable, I couldn't pass it up when scanning. Luckily, someone agreed and bought it for us! Our little one was only 6 lbs and 13 oz when born, so this towel swallowed her up initially. Also, the little claws don't stand up but flop about so that is kind of disappointing - but the eyes do! Overall, the towel is good quality. It needed to be washed a couple of times to remove a lot of the lint on it so be aware of that. I washed it in cold water with other colors and didn't have any issues with color bleeding or fading. This would be a wonderful gift for a toddler or older child. We will use it for her later when she is at that age. We are looking forward to that!
Showing 1 - 13 out of 13 reviews